Workers In Virginia Search For Alleged Time Capsule At Former Robert E. Lee Site
Construction workers in Virginia spent Thursday searching for an 1887 time capsule that was set to be removed after the Robert E. Lee statue was disassembled.
According to state officials, the time capsule is believed to be buried in or around the cornerstone pedestal of the former Robert E. Lee statue. Construction workers used ground-piercing radar devices, metal detectors and other pieces of construction equipment to try and locate the copper time capsule
After crews removed three separate pieces of cornerstone weighing between 500 and 8,000 pounds (225 and 3,620 kilograms), and other large stones around the perimeter, crews ended their 12-hour search, according to Clark Mercer, the chief of staff to Virginia Gov. Ralph Northam.
They also removed a half dozen other large stones around the perimeter of the pedestal so they could search under the cornerstone and the area around it.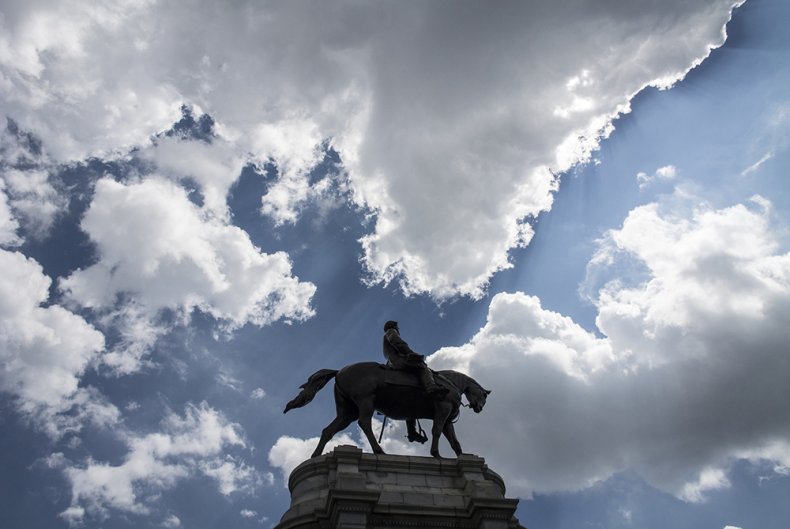 "It's disappointing not to find the time capsule," Mercer said to the Minneapolis Star Tribune. "We looked where we thought it was. It doesn't preclude (us) in the future from finding it, but for right now, the mystery will continue."
A newspaper article from 1887 suggests that the time capsule contains memorabilia from the time period, including a U.S. silver dollar along with a collection of Confederate buttons. Also, "a picture of Lincoln lying in his coffin" is alleged to be in the capsule as well.
On Wednesday, former President Donald Trump issued a press statement regarding the removal of the Robert E. Lee statue in Richmond, Virginia.
Trump started his statement by saying he watched as a "massive crane took down the magnificent and very famous statue of 'Robert E. Lee On His Horse' in Richmond, Virginia. It has long been recognized as a beautiful piece of bronze sculpture."
Trump then took offense, due to the statue "being cut into three pieces" and thrown into storage "prior to its complete desecration."
Trump concluded his press statement by stating that "our culture is being destroyed and our history and heritage, both good and bad, are being extinguished by the Radical Left."
He ended by saying that if we had Robert E. Lee leading our troops in Afghanistan, then "that disaster would have ended in a complete and total victory many years ago."
After the shooting death of George Floyd in 2020, nationwide protests took place, prompting a call-to-action regarding racial injustice, including the removal of Confederate statues across the U.S., including the U.S. Capitol.
On September 2, the Virginia Supreme Court ruled that the statue of the Confederate general can be removed from the Virginia State Capitol.