Working With Donald Trump Was 'Miserable' Experience: WWE Hall of Famer
Pro wrestling star Bill Goldberg, who is known only by his last name while competing in the ring, recently discussed his past unpleasant interactions with former President Donald Trump.
During an appearance on The Untold Stories of Roman Atwood podcast, Goldberg talked about working with the future leader in 2010 while serving as a contestant on Trump's popular reality show The Apprentice.
"Do you know that I tried to get fired from The Apprentice from the first day I arrived?" Goldberg told Atwood. "It was one of the most miserable experiences of mine."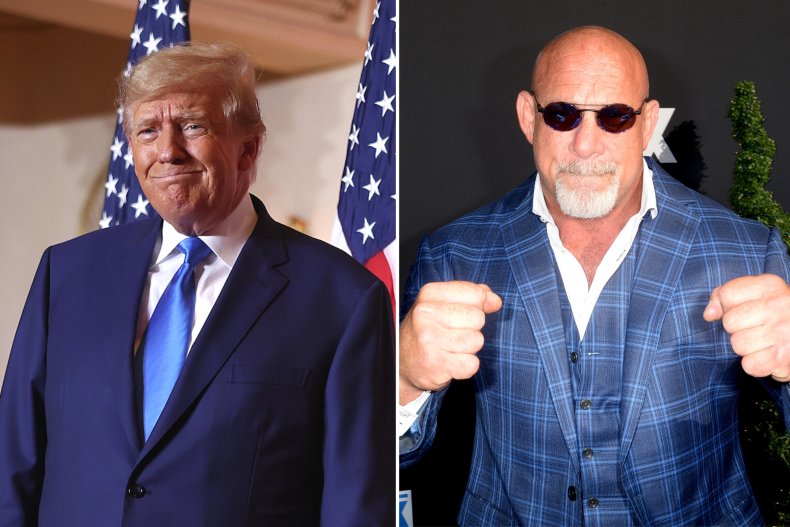 Goldberg is a member of the WWE Hall of Fame, where he still competes as a part-time wrestler for the organization. Before his time in WWE, he was well-known for his successful stint in the WCW wrestling promotion in the 1990s.
Trump is also a member of the WWE Hall of Fame as part of the "celebrity wing." However, Goldberg said on Atwood's show that he didn't think much of the ex-president's way with people.
"He was a piece of work, man. I knew that dude wasn't gonna be the most popular guy in the world when I figured out that he really didn't have any social skills. Like, zero," Goldberg said on the podcast. "You'd go up, and you shake his hand, and he has no social skills. He doesn't know how to interact with a person one-on-one without putting a front up. A lot of people are like that. He was uncomfortable."
However, despite his critical take on his time with Trump, Goldberg indicated he was no fan of President Joe Biden, whom he called a "puppet" during the podcast.
Goldberg appeared on Season 9 of The Apprentice alongside stars like Sinbad, Darryl Strawberry, Cyndi Lauper and Sharon Osbourne. Though he said he tried to get himself fired at the start of the season, Goldberg lasted all the way to Week 6. The eventual winner of the show that year was Bret Michaels, lead singer of the rock band Poison and star of the reality show Rock of Love.
Trump has been involved with the WWE for many years, dating to WrestleMania IV (1988) and WrestleMania V (1989), which he hosted at his Trump Plaza in Atlantic City, New Jersey.
Perhaps Trump's best-known appearance with the wrestling company came at WrestleMania 23 in 2007 when he was involved in a storyline with "Stone Cold" Steve Austin and then-WWE Chairman Vince McMahon.
Goldberg, meanwhile, first competed in WWE for about a year beginning in 2003. He then retired before making a successful return in 2016. His most recent match occurred in February 2022, which saw him defeated by WWE Universal Champion Roman Reigns.
Newsweek has reached out to Goldberg and Trump for comment.
Do you have a tip on an entertainment story that Newsweek should be covering? Let us know via entertainment@newsweek.com.