World Cup Fans Say Qatar Security Confiscated LGBTQ-Themed Hats
The Football Association of Wales is reportedly investigating an incident involving several fans who said that some of their LGBTQ+-themed merchandise was confiscated by Qatar security at the World Cup, according to reports.
Several Wales fans alleged that they were confronted by security for wearing rainbow bucket hats into the match on Monday, when Wales played the United States.
A tweet from an account known as The Rainbow Wall, Wales' official LGBTQ+ supporters' group, showed a photo of the rainbow-colored hat, stating that they were "so proud of them."
"BUT news on the ground tonight is our welsh female supporters wearing them in Qatar are having them taken off them, Not the men, just Women," the tweet continued, before tagging FIFA and writing "ARE YOU SERIOUS !!"
A follow-up tweet added: "We have an update that in the end the Rainbow Hats had been taken from the men also but it didn't start out that way."
On Monday, former Wales Women footballer Laura McAllister wrote on Twitter that before the game, the hats were "confiscated at stadium, mine included. I had a conversation about this with stewards - we have video evidence. This #WorldCup2022 just gets better but we will continue stand up for our values 🌈."
Concern had gathered over the safety of particular World Cup supporters before the event began, given that the country of Qatar still identifies homosexuality to be illegal.
World soccer federation FIFA and the Qatari government have continually said that the tournament will be inclusive and everyone is welcome, though others warned that the event would not be safe for members of the LGBTQ+ community.
"Sadly, this year's tournament is not safe for everyone," Stonewall's director of programs, Liz Ward, told Newsweek in an earlier report.
FIFA President Gianni Infantino stated before the tournament began that "everyone will be welcome to the tournament, regardless of their origin, background, religion, gender, sexual orientation or nationality."
Newsweek has reached out to The Football Association of Wales and FIFA for additional comment.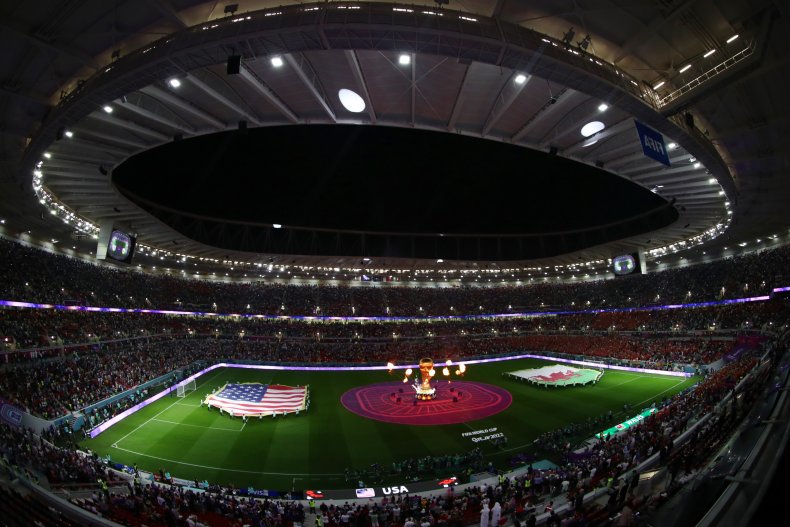 The World Cup taking place in Qatar has been a controversial subject for months now, as the country has also been slammed for accusations of human rights abuses and the prohibition of public consumption of alcohol in the conservative Muslim nation.
On Sunday, British late-night host John Oliver condemned FIFA for its choice in location this year, calling the soccer federation "a cartel-like group of scumbags and assorted criminals who occasionally put on soccer matches."
An investigation last year from The Guardian found that more than 6,500 migrant workers had died in Qatar during the construction of the World Cup stadiums since the country was awarded the tournament in 2010.
Furthermore, FIFA was accused of accepting bribes from Qatar after its 2010 decision to award the 2022 tournament to the country, though officials from Qatar have denied paying FIFA anything.