FIFA Indictment Is the 'World Cup of Fraud'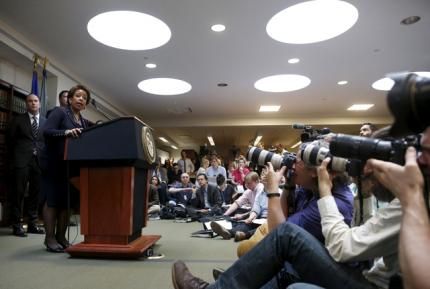 Top soccer officials allegedly took hundreds of millions of dollars in bribes over more than two decades to arrange marketing contracts and award tournaments and to fix elections, U.S. law enforcement officials said on Wednesday.
Following a years-long FBI investigation, the U.S. Department of Justice indicted 14 Fédération Internationale de Football Association (FIFA) officials on 47 counts of federal corruption charges. The department indicted nine officials from FIFA (which regulates soccer worldwide), four sports marketing executives and one intermediary on charges of racketeering, wire fraud and money laundering conspiracy. Four others previously pleaded guilty.
"They were expected to uphold the rules that keep soccer honest.... Instead, they corrupted the world of soccer," U.S. Attorney General Loretta Lynch told reporters Wednesday in Brooklyn, New York. "They used their positions of trust to solicit bribes over and over, year after year, tournament after tournament."
Swiss authorities arrested seven of the defendants charged in the indictment earlier Wednesday during a raid at a hotel in Zürich, where the executives had gathered for their annual meeting. Extradition is the next step, Lynch said.
Investigators have identified $151 million in kickbacks and bribes in exchange for selling broadcasting and marketing contracts for tournaments, including the 2016 Copa America, which will be played in the United States.
The defendants, who come from several continents and dozens of countries, also abused the U.S. financial system and violated U.S. law by using banking and wiring facilities in the country, Lynch said. They allegedly used bribes for presidential FIFA elections and to determine the locations of tournaments. Lynch said they took money to name South Africa as the host for the 2010 World Cup.
Investigators have not found similar conduct related to the 2014 World Cup in Brazil. "This really is the World Cup of fraud, and today we are issuing FIFA a red card," said Richard Weber, criminal investigation chief for the Internal Revenue Service.
The defendants' actions date as far back as 1991. Racketeering charges come with a maximum jail sentence of 20 years, Lynch said.
The defendants include two current FIFA vice presidents and the current and former presidents of the Confederation of North, Central American and Caribbean Association Football. Longtime FIFA President Sepp Blatter was not charged. Besides organizing the World Cup, FIFA is responsible for maintaining soccer as an accessible sport and providing soccer balls for children in developing countries. FIFA's slogan is "For the Game. For the World."
"The game, according to the allegations in this indictment, was hijacked. That field that is so famously flat was made tilted in favor of those who are looking to gain at the expense of countries and kids who are enjoying the game of soccer," FBI Director James Comey told reporters in Brooklyn.
Officials in Switzerland have opened a separate criminal investigation into the 2018 and 2022 World Cup bids in Russia and Qatar, respectively. Officials on Wednesday stormed FIFA's headquarters in Zürich and are seeking additional defendants.
"What they did have in common was greed," Acting U.S. Attorney Kelly Currie told reporters. "This is the beginning of our effort, not the end."