The World Cup Is Over, but Has Vladimir Putin Come Out the Big Winner?
Russian President Vladimir Putin is proud and happy, by his own admission. For a month, he has watched as his country hosted the biggest party in the world, as hundreds of thousands of people from over 32 nations paid a boisterous visit to Moscow, St. Petersburg and nine other cities. As Putin hands over the role of host to Qatar, the Kremlin is left to reap the rewards of a job well done, but also to deal with the risks of Russians who will not want to see the party end.
The gains for Putin and Russia are already visible. Images of South American fans dancing at the walls of the Kremlin, footage of Japanese and Senegalese fans endearingly tidying their stands, and fans from across Western Europe following their teams across Russia without major risks from infamous ultras or harassment have become have been the focus of much social media coverage during the tournament. Russia's tourism board expects to cash in hugely after this public relations rehabilitation, projecting up to a 25 percent increase of visitors in 2019, deputy head Sergey Korneev has said, according to the Interfax news agency. The country's sluggish return from recession could get a boost by as much as 0.2 percent of GDP by the third and fourth quarters of this year, despite the vast price of hosting the tournament, Russia's Gaidar Institute has estimated, according to Reuters.
The international image boost for the Russian government, only four years since losing its seat at the G8 and accruing more Western sanctions than almost any country besides North Korea and Iran, are immeasurable. At Moscow's Luzhniki stadium, the sight of a smiling Putin shaking hands of top-class athletes Luka Modric, Antoine Griezmann, Paul Pogba, Ivan Rakitic and others is far cry from the pariah villain many outside Russia will have had of him. World leaders from many competing nations including Spain's King Felipe and France's President Emmanuel Macron have also happily rubbed shoulders with him or his Prime Minister Dmitry Medvedev in the VIP box, despite their countries' stern tone toward Moscow.
"Whether we like it or not, Russia is back," Spain's new Foreign Minister Josep Borrell told the El Pais newspaper earlier on Sunday, in remarks that Russia's state media have candidly shared. "Putin has enormous popularity because he represents the return on the international scene of a country that was humiliated."
Abroad, that may truly be the impression. But Putin's popularity has quietly dropped at home. One state poll estimated that by the second week of the tournament his popularity had dropped from 79 percent to 72. Another state poll, FOM, estimated the president's popularity steeply fell at the end of June as 54 percent of Russians were ready to vote for him in a hypothetical election last month. This is down from 62 percent at the start of the month, and it marks the first time in five years that the poll has reported Putin's support sliding below 60 percent.
Russia's respected independent poll the Levada Center has another damning statistic for Putin. Only 48 percent of Russians felt he was trustworthy last month, dropping from 60 percent. The trend is identical when Russians were asked about their feelings on where their country is going. A steep decline from April and May, only 46 percent said Russia was going in the right direction. Meanwhile, 41 percent felt Russia was headed the wrong way. The last time all of these figures were so low was in 2013, when Putin was facing a wave of anti-government protests at home and a crisis of popularity that only the annexation of Crimea appeared to offset. Russia may be at the heart of the world's biggest party, but it may be that the taste of fun the World Cup has brought has only papered over the cracks.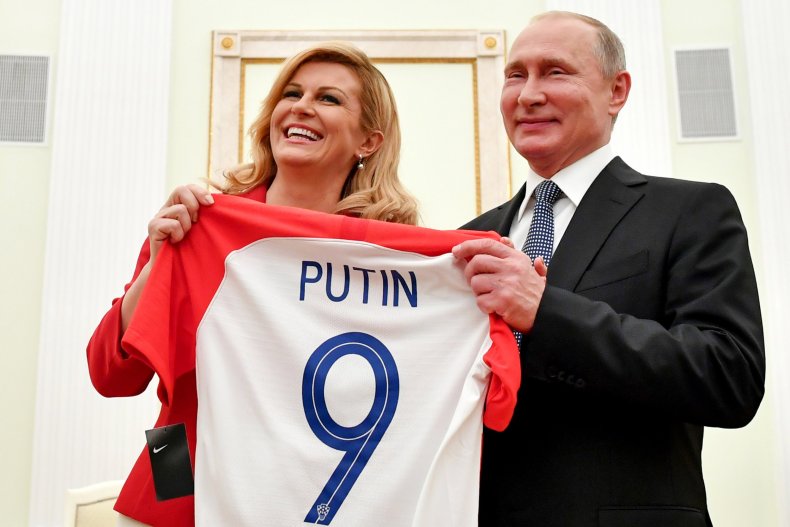 The Russian government has made no commitments to suggest that its World Cup mode will become a permanent feature for Russians. Some strict rules have been loosened to allow colorful, cosmopolitan celebrations while the world's attention focused on Russia for a full month. The visa-free travel in and out of the country is one bonus World Cup visitors have experienced that Russians normally do not. Russia's strict laws on public assembly without permission, waving political banners, disguises and LGBT symbols are administrative and potentially criminal offenses under normal circumstances. Kremlin-critic Alexey Navalny frequently spends a couple of weeks in jail for such offenses, and so do protesters against anti-LGBT laws. Public drunkenness is punishable, but some reports suggested fans in smaller host cities have drank their surroundings dry of beer. But as carefree as the competition has been, Russians know better than to believe great change is coming, Andrei Kolesnikov, expert at Moscow's Carnegie Center has said.
"Let's not forget that Russia has always put its best side on show for visiting foreigners. This is the country which invented the Potemkin Village in the 18th century," he wrote in his report for the think tank earlier this month. "In short, nothing has changed in Russia, even as the country joyfully celebrates the festival of football."
One reason for Russians to feel skeptical as the World Cup trophy leaves their shores: the government's decision to quickly push through a long-rumored increase in retirement age, a day after the Russian team's thumping 5:0 victory over Saudi Arabia. While the vestige of a fun-loving atmosphere covered the tournament, to the attention of the many foreign visitors, Russians received news their pension ages would be postponed from 60 to 65 for men and 55 to 63 over the next decade. The average Russian life expectancy is just over 70.
It is this attempt at sleight of hand from the Kremlin that sparked the steep decline of trust in Putin and his government, Alina Polyakova, fellow at the Brookings Institution, says.
"The government was hoping to use the World Cup as a cover to avoid slips in the polls, but they weren't able to avoid it," she says. "I wonder what those numbers would have been like without the 'cover' of the World Cup."
Read More: Why did Trump and Putin choose Helsinki as the place for their summit?
"These opinion polls show that at the end of the day what Russian citizens care about, even during this big event, is their economic well-being and their quality of life. They care more about that than a couple weeks of fun," she says.
The most dramatic threat to Putin's government from the Russian public was arguably in 2012, whe liberal figureheads rose up to protest his return to power. The country's low opinion of Putin continued until his unprecedented military operation in Ukraine, two years later. Protests have already assembled to voice opposition to the retirement age, albeit out of the centers of the big cities where the World Cup still looks like the main order of business for visitors and authorities. But Polyakova warns that the Kremlin must know its popularity trends are no fluke worth ignoring.
"The government is in a more precarious position now, and they are realizing they are not as secure that they have been," she says. "They will try to do something to amend these trends. There is one argument that some have made stating that the formula Putin has discovered to keep support at home is foreign policy wins abroad. Crimea is the moment when he realized that. But the context for Crimea was unique. There's not another Crimea and there is not another country like Ukraine, where Russia getting involved there would galvanize the same patriotic fervour. Ukraine is a special case."
"In that sense, the Kremlin is a bit stuck, which is why they are in a much more precarious position than in 2014," she says.
In the immediate aftermath of the 2012 protests came a new enthusiasm for Russian opposition figures to enter public office. Navalny's run for mayor of Moscow in 2013 earned him around a third of the vote—a statistic he still cites as a barometer for success in a robust, pro-government system. This autumn Moscow and other cities and regions will elect representatives again. While the boost of Russia's World Cup for Putin's image abroad and a possible boon for tourism is likely, the taste of illusory freedom is fading fast for Russians. The fond memories of this summer may matter a lot less to them, when they turn to their government after the confetti has fallen.