Armistice Day: Trump Shuns Trudeau, Gets Thumbs Up From Putin At WWI Memorial Service
Vladimir Putin gave President Donald Trump a warm greeting as they joined other world leaders in Paris to mark 100 years since the end of World War I.
The Russian president was seen shaking Trump's hands after arriving at the ceremony, as well as flashing a "thumbs up" sign and patting him on the arm, the Associated Press reports.
Putin also greeted several other leaders, including French President Emmanuel Macron and German Chancellor Angela Merkel. They were sat on the front row of the service at the Arc de Triomphe on the Champs-Elysees, paying tribute to the millions who died during the four-year conflict.
Trump did not extend a handshake to Canadian Prime Minister Justin Trudeau, who the president described as "very dishonest and weak" following a disagreement during the G7 summit earlier this year, reports Agency France-Presse.
Prior to the solemn event, a topless protester from the radical feminist group FEMEN ran toward Trump's motorcade as he and first lady Melania Trump made their way to the Arc de Triomphe. The protestor was taken down by police.
The women appeared to have the words "fake peacemaker" scrawled across her body, reports Reuters.
During the ceremony, Macron said that traces of WW1 "never went away" and warned about the dangers of nationalism destroying world peace.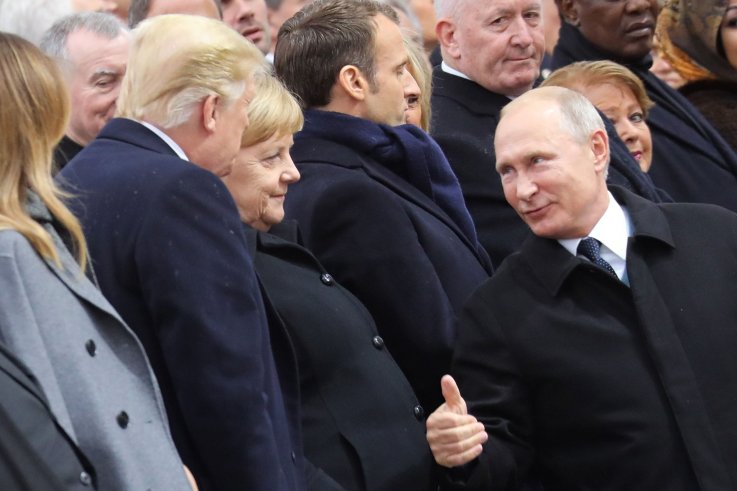 "The old demons are rising again," Macron said, reports AP. "We must reaffirm, before our peoples, our true and huge responsibility."
Macron will host the inaugural Paris Peace Forum, a new annual event that aims to bring together international cooperation in order to tackle "global challenges and ensure durable peace."
Trump will not be attending the forum. Instead, he plans to visit the American cemetery at Suresnes on the outskirts of Paris. He earlier canceled a planned visit to pay respects to American soldiers at the Aisne-Marne American Cemetery and Memorial near Belleau Wood outside of Paris because it was wet.
Trump and Putin are also set to meet at a working lunch in the Elysee Palace in the French capital, Kremlin aide Yuri Ushakov said, reports Reuters.
The pair are expected to meet for more comprehensive talks at a summit of the G20 nations in Argentina at the end of November.
Trump was previously criticized in July after he appeared to staunchly defend Putin and Russia during a summit in Helsinki, Finland, over accusations they interfered in the 2016 presidential election.
Trump infamously told a press conference that he did not "see any reason why it would be" Russia interfered in the election, although he later claimed he misspoke and instead meant to say "wouldn't."
Armistice Day: Trump Shuns Trudeau, Gets Thumbs Up From Putin At WWI Memorial Service | U.S.