Wounded Russian Soldier Tells Ukrainians 'Just Finish Me' in Video
A video circulating on social media shows a wounded Russian soldier pleading with Ukrainians in the southern Kharkiv region to end his life.
The 2-minute clip, which was published by multiple local Telegram channels and on Twitter, shows a Russian soldier with his leg trapped underneath a collapsed wall.
A Ukrainian soldier can be heard in the video telling his fellow troops to cover him so that he can rescue the trapped man.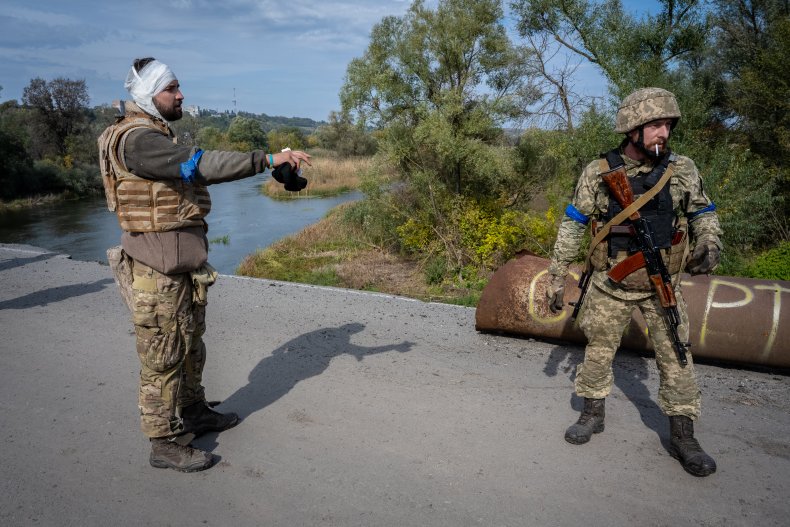 "How's it going?" the Ukrainian soldier asks, as he climbs over obstacles to get closer to the Russian soldier.
The Russian soldier pleads: "Just finish me."
The Ukrainian fires, missing intentionally, and replies: "That too easy! We are not like you, damn it!"
After the Russian soldier's request to end his life, the Ukrainian soldier begins to help him and asks him questions about his background.
"Where's your weapon? Where did you come from?" the Ukrainian soldier asks.
The Russian soldier responds by saying he is from Kostroma, a riverside city in western Russia, and that he is a doctor.
"We're in Kup'yans'k. What doctor are you? Why did you come to kill people?" the Ukrainian can be heard saying angrily.
"I didn't kill anyone," the Russian fires back.
It wasn't immediately clear when or where the footage was filmed. However, in early September Kyiv conducted a major counteroffensive in the Kherson region, where the city of Kup'yans'k is located. Ukrainian forces recaptured swathes of territory that were seized by Russian forces in the early days of the war.
The Security Service of Ukraine released a photo on September 18 of special forces personnel taken in Kup'yans'k, saying that the region had been liberated from Russian troops.
"Special forces personnel of the Centre of Special Operations 'A' of the Security Service of Ukraine are in Kupyansk which has been and will always be Ukrainian! We will free our land to the last centimeter! We move further! Glory to Ukraine!" the post read.
Ukraine is now pressing on with its counteroffensive in the southern Kherson region after claiming full control of the key eastern supply hub of Lyman, located in the Donetsk region,
Ukrainian President Volodymyr Zelensky announced which settlements in Kherson were being retaken from Russian troops in addresses to the nation this week.
Joel Hickman, deputy director of the Transatlantic Defense and Security program at the Center for European Policy Analysis (CEPA), told Newsweek that there is no doubt that Ukraine currently has the battlefield momentum in its favor.
"If Ukraine can retake Kherson itself this will obviously be hugely significant," said Hickman, noting that the region's location northwest of the Dnipro River would enable Ukrainian forces to cement their defense of western Ukraine and give them a foothold from which to launch future attacks into currently occupied territory, including even potentially Crimea.
Newsweek reached out to Russia's foreign ministry for comment.