Potato factory workers in New Zealand recently made a bombastic discovery.
Last Tuesday at a Mr. Chips factory in New Zealand an employee working a conveyor belt reportedly noticed something peculiar among an estimated 28 tons of Ranger Russets: a grenade estimated to be over 80 years old.
Stuff reported that the grenade was confirmed to be a Mills bomb, formerly used for training during World War II. This grenade, however, posed no threat.
It was likely dug up from a farm in Matama, New Zealand, and made its way to the factory in East Tamaki, a suburb of Auckland.
Mr. Chips employee Richard Teurukura was the one who made the discovery during his night shift, according to the outlet. While plucking stones from some 100,000 potatoes that were making their way from delivery trucks and down the conveyor belt, he noticed an oddity.
Teurukura initially thought it was just a large stone, but after peeling apparent mud he saw the grooves and stopped the belt to get a second opinion. A war buff on his 3:30 a.m. shift confirmed it was a grenade.
"I think it's quite remarkable he did pick it up, hats off to him [Teurukura] for keeping his cool about the whole thing," Roland Spitaels, the factory operations manager of Mr. Chips, told Stuff. "The guys took the right safety precautions but there was still extreme interest."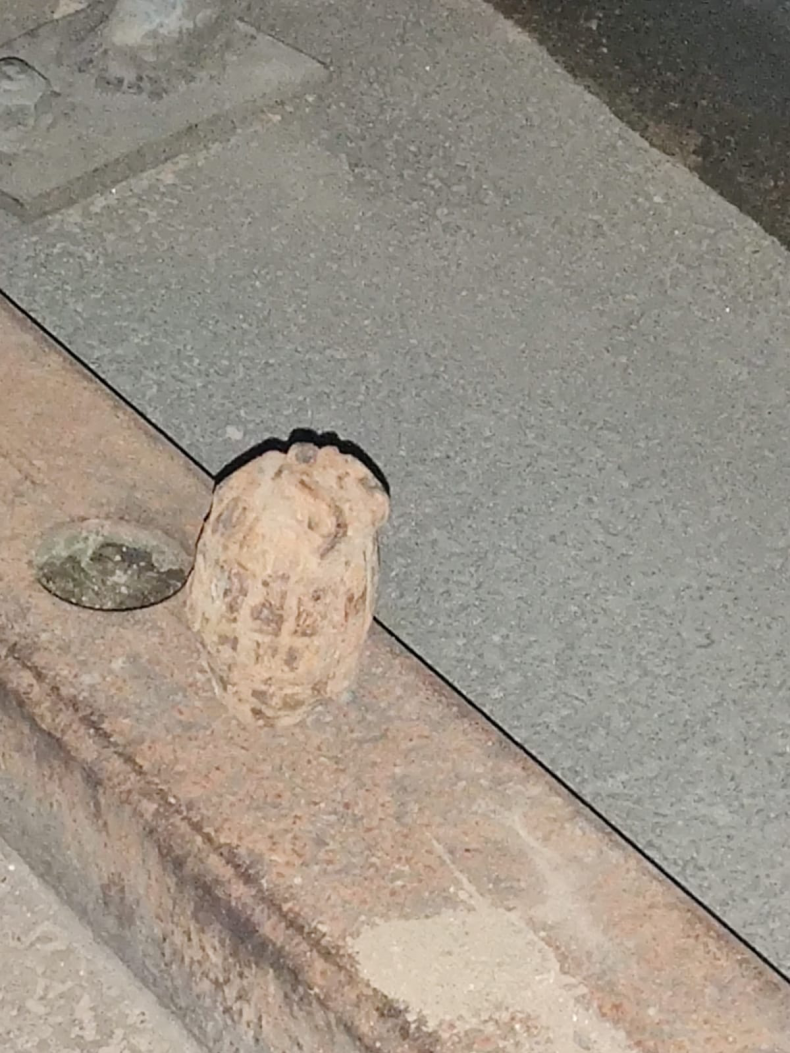 The grenade was placed on a concrete car parking sleeper and never made it inside the factory. The area was taped off and cones were placed to prevent anyone from getting within proximity of the potentially dangerous discovery.
Police arrived after 4 a.m. and were accompanied by the New Zealand Defense Force's bomb squad team, which assured that the grenade was just a dud in a pile of spuds.
The situation could have potentially been more dire.
In 2019 a World War I grenade was discovered in a shipment of potatoes sent to a Hong Kong snack factory. That grenade, which was ultimately destroyed by police, previously discharged but failed to detonate.
A police officer later told Spitaels that its the second such grenade found in New Zealand in the past decade.
Historian Glyn Harper told Stuff that the training version of the Mills bomb was given to every Home Guard unit in the country. He said it was unclear whether that particular grenade was made in New Zealand, but estimated it was used until the 1970s.
"They are very common, and they wouldn't be that dangerous," Harper said. "But you've got to treat them with caution."
Spitaels said this was the first instance of something like this happening in the factory's 30 years of existence.
"It made for a more interesting night than we normally have," said Spitaels, who said he wants the grenade back from police following their investigation so it can be displayed in the factory's trophy room.
Newsweek reached out to Mr. Chips for comment.
Updated 04/11/2022, 5:28 p.m. ET: This story has been updated with a verified photo of the incident.