'WWE 2K20' Players Voice Displeasure of Annual Release with #fixWWE2K20
WWE 2K20 is out now, but it seems fans who bought the game on Day 1 have begun to notice some problems with the annual game.
The WWE 2K series has never been a masterstroke of video game development as years past have seen their share of bugs and glitches, but WWE 2K20 has thus far endured a particularly heated launch that has many fans fuming. So much so that #fixWWE2K20 has begun trending on Twitter and fans have compiled a list of bugs and missing features from this year's offering.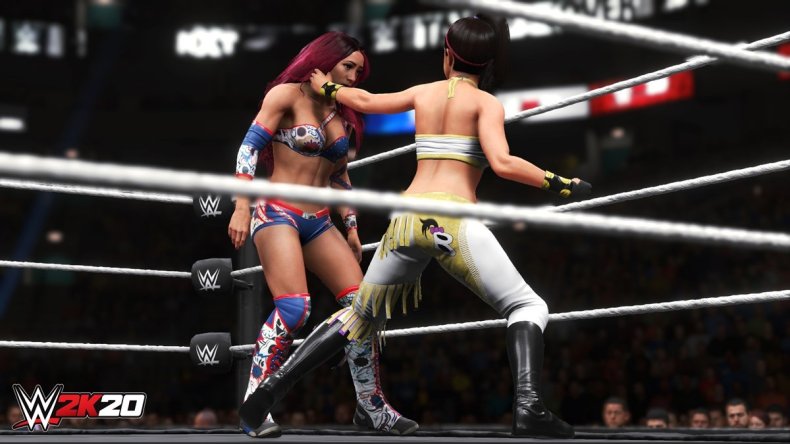 The WWE 2K20 team already confirmed that creating custom titles won't be in the game at launch and will be patched in at a later date, but there seems to be more serious problems with the title. Many players have noticed that some of the controls from 2K19 have unexpectedly changed while the game's image uploader has seemingly stopped working entirely.
And then there are the graphical bugs and glitches.
A massive 12.6GB update will be required on Day 1 to (hopefully) fix some of these issues, but there may be a bigger crisis at hand for 2K Games.
Many are pointing to the fact that this year's game did not have the help of the studio, Yukes, which has developed these annualized games since 2013. The studio confirmed back in August that it wouldn't be a part of WWE 2K20, leaving Visual Concepts to take over making the game on its own.
"We thank Yuke's for their years of partnership and are excited to see what the Visual Concepts team brings to the franchise moving forward," 2K said in a statement to Polygon. The news was first reported by Video Games Chronicle.
Back in September, players of NBA 2K20 took to social media to voice their displeasure regarding another 2K Game's annual release. Many players of that title cited glitches, the over abundance of microtransactions among other similar problems. It appears the publisher has faltered the release of its two big annual releases.
As for WWE 2K20 reviews, there are only a couple out now with Forbes' Brian Mazique emphasizing the gameplay as "not fun" and that 2K19 played better. Give Me Sport's Oliver Browning was more forgiving, as he feels the remapped controls make it easier to play, but more experienced players will need extra time to adjust.
WWE 2K20 is out now for PS4, Xbox One and PC.
Have you purchased WWE 2K20? Are there any bugs you've encountered? Let us know in the comments section.