2K Games revealed new details on WWE 2K20 including the pre-order bonus and what its new feature, called Originals, will include.
WWE 2K20 Originals is post-launch content featuring characters and DLC based on a particular theme. Fans who pre-order WWE 2K20 will receive the first Originals pack for free, while also being sold separately for $14.99. The title of the first Originals pack is"Bump in the Night."
This DLC pack will feature a horror theme with Bray Wyatt's "The Fiend" making its playable debut. It'll also include 2K Towers with stories and new versions of WWE superstars. Here's everything included in the first WWE 2K20 Originals pack.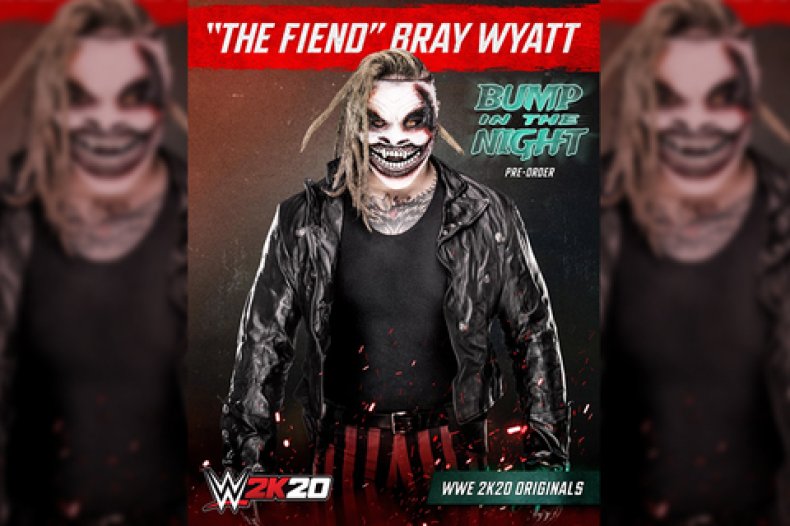 Story 2K Towers
2K Towers with full stories and unique versions of WWE Superstars
"The Fiend" – "The Fiend" Bray Wyatt stars in his own tower
"All Fed Up" – "Fed-Up" Sheamus is forced to take on some of his former fellow Superstars, who have all become zombies
"Nowhere to Run" – "Twisted" Nikki Cross looks to "play" with other Superstars in her own twisted game
"One of the Family" – "The Swampfather" Bray Wyatt decides to bring on one of his past recruits. Can Daniel Bryan avoid becoming one of "The Swampfather's" thralls?
"Nowhere to Hide" – "Survivor" Mandy Rose has had enough of "Twisted" Nikki Cross and her games. She's going to do what she can to put an end to the madness
Horror-themed WWE Superstar Characters
"The Fiend" Bray Wyatt
"Demon King" Finn Bálor
"The Swampfather" Bray Wyatt
FrankenStrowman
"Wicked" Aleister Black
"Unleashed Apex Predator" Randy Orton
"Fed-Up" Sheamus
+2 mystery versions of WWE Superstars
Arenas
Wyatt Swamp Arena
Cemetery Brawl Arena
Horror-Themed Creation
Dozens of Create-a-Superstar parts
New Create-an-Arena parts
New weapons
New moves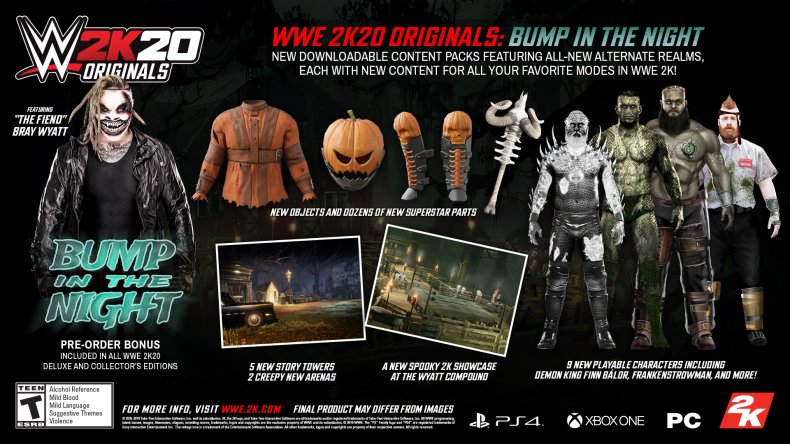 There will be four WWE 2K20Originals packs based on different themes and all-new fictional realms. They'll include unique 2K Showcases, 2K Towers, playable characters, creation suite parts and much more.
More information on the other three WWE 2K20 Originals pack will be released in the coming months with the final DLC pack released in Spring 2020.
WWE 2K20 will release October 22 for PS4, Xbox One and PC.
What do you think of the contents of the first WWE 2K20 Originals pack? Who do you want to see added in future DLC? Let us know in the comments section.