WWE Fans React to "The Fiend" Not Winning Universal Championship at Hell in a Cell with AEW Chants & More
The ending to the 2019 Hell in a Cellpay-per-view may go down in history for one of the more disappointing finishes in modern WWE history.
The Universal title match between Seth Rollins and "The Fiend" Bray Wyatt ended in a disqualification, which is unusual considering it was held in Hell in a Cell. The rules of this match are relatively simple, you win via pinfall or submission and there is no disqualification so anything goes.
However, after multiple shots to the head using chairs, ladders and a tool box Seth Rollins hitting "The Fiend" with a sledgehammer caused the referee to disqualify the Universal Champion, leaving the crowd at the Golden 1 Center in Sacramento booing, chanting for AEW, and even asking for a refund.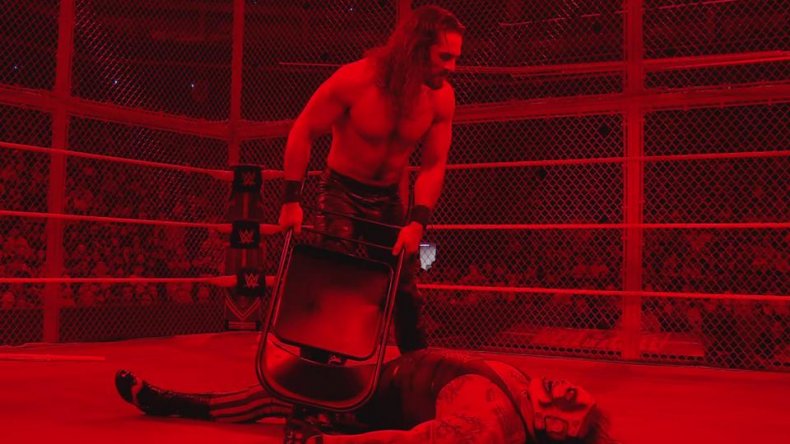 Here are some of the reactions from the crowd at Hell in a Cell:
When the match between Wyatt and Rollins was announced, it seemed like an inevitability that "The Fiend" would become Universal Champion. Wyatt's transformation is tremendously over with the fans and his Firefly Fun House segments are among the top clips of Monday Night RAW and SmackDown LIve each week on the company's YouTube channel.
Everything started off as fans expected with "The Fiend" getting most of the offense in and no-selling many of Rollin's attacks. However, the match began to change along with the crowd's mood. Rollins would hit a flurry of his finisher, The Stomp which couldn't put Wyatt away. Rollins pulled out The Pedigree, which didn't help and the Universal Champion continued to hit finisher after finisher after finisher.
Finally, Rollins would get a chair and hit "The Fiend" in the head. He then took a ladder and hit a prone Wyatt. "The Architect" would use a tool box to smash a chair he placed on Wyatt's head. He then found a sledgehammer under the ring and after the referee warned Rollins no to do it, the champion did causing the official to throw the match out.
This obviously didn't go over well with the fans watching at home as the #HIAC continues to trend for the wrong reasons. WWE fans have begun to create memes about the ending to Hell in a Cell while questioning the logic behind the promotion's booking.
And here are some of the reactions from fans on social media
What did you think of the ending to this year's Hell in a Cell? Do you think "The Fiend" will get the Universal Championship soon? Let us know in the comments section.