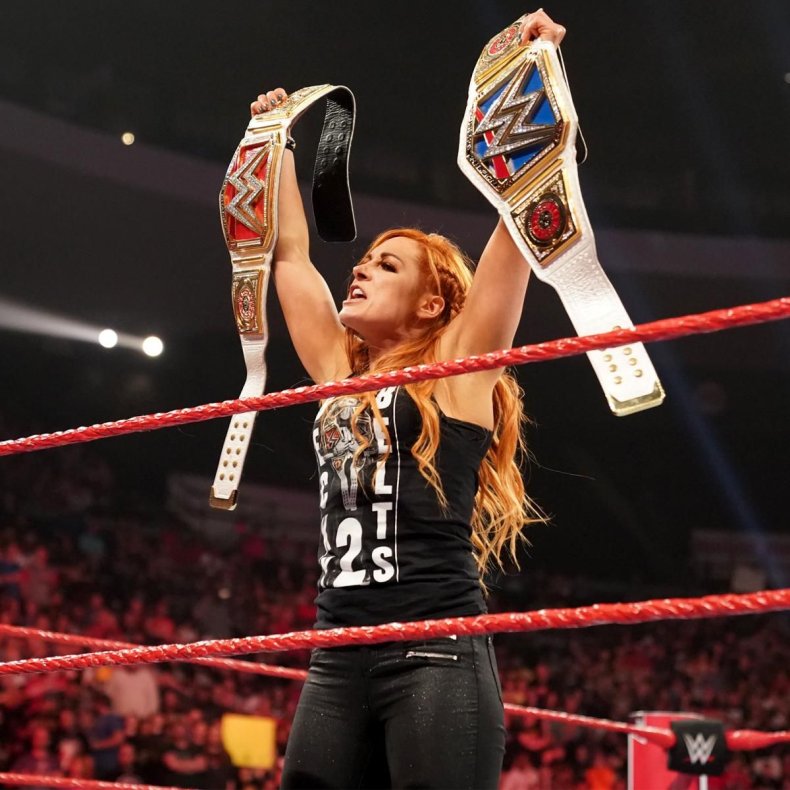 It's the final Monday Night RAW before this year's Money in the Bank pay-per-view and WWE looks to make the go-home show worthwhile.
Becky Lynch will be on RAW to take part in a double contract signing with Lacey Evans and Charlotte Flair, the two women she will face on Sunday - in separate matches. As with just about every contract signing, fists will almost certainly fly and a table or two will break. But as she heads into her title defenses, should Lynch risk getting into these scrums?
It's also good to see Charlotte on TV again after being off last week. But Mr. McMahon's "Wild Card Rule" brings her over from SmackDown Live for this special occasion.
The Miz brings Miz TV back tonight with Roman Reigns as his guest. Roman will take on Elias this Sunday while Miz will take on Shane McMahon in a Cage Match. Reigns makes his way to RAW thanks to, you guessed it, Mr. McMahon's "Wild Card Rule" and he probably won't be the only SmackDown Live superstar appearing in this segment.
In a list of matches featuring Money in the Bank participants, WWE fans will get Ricochet vs Baron Corbin and Braun Strowman vs Drew McIntyre. The four RAW women in Sunday's ladder match - Naomi, Alexa Bliss, Natalya and Dana Brooke - will face each other in a fatal fourway.
Fans will also see the build towards the Universal Championship match between Seth Rollins and AJ Styles continue tonight. After Styles inadvertently hit Rollins during their tag match last week, don't expect Seth to take things lying down.
And finally, Bray Wyatt's "Firefly Fun House" returns. The Eater of Worlds teased on Twitter today that tonight's episode will be a special one and that he's "dying to show us."
Here's everything that happened on the May 13 episode of Monday Night RAW.
Note: With RAW being taped in London, the show has already ended and the following is based on first-hand accounts. This section will be updated when the episode premieres at 8 p.m. EDT.
MONDAY NIGHT RAW LIVE RESULTS
Opening Segment
Show starts with Miz TV as Miz hypes up the MITB pay-per-view and his match against Shane McMahon.
Roman Reigns is brought out as the Miz's guests and is asked about Elias. Roman puts him over a bit, Miz asks Roman about his upcoming movie. Roman says that Miz is starting to sound like the "old" Miz. He didn't come out here to talk with the "old" Miz, he wants to talk with the "new" Miz. The Miz that defies Authority and chased Shane all over the arena last week. Miz talks to Shane and says that he will drop him faster than Roman dropped Vince after a Superman Punch.
Shane comes out and talks to Roman and Miz when Elias and Bobby Lashley appear from behind and take them down. The heels peeter out when Shane makes a tag team match.
Miz and Roman Reigns vs Bobby Lashley and Elias
Reigns and Miz win via disqualification after Shane interferes.
After the bell, Reigns knocks out Shane and Miz chases Lashley and Elias with a chair.
Braun Strowman Segment
Strowman is asked about what he did to Sami Zayn last week. Strowman has no remorse when he's approached by a stagehand who tells him that Shane wants to talk to him.
Zayn is seen pleading to Shane about what happened last week. He is asking the McMahons to make things right by giving him Strowman's spot. Shane says that Braun has a match with Drew, but Sami says that he can figure out something else for McIntyre to do. Sami even suggests to make it a Fall Count Anywhere match.
Shane makes the match official for later in the night.
Mojo Rawley vs Apollo Crews
Mojo Rawley (in his new face paint) defeats Apollo Crews
Alexa Bliss and Nikki Cross Segment
Alexa Bliss is seen on the phone. Her luggage has apparently been lost. Nikki Cross comes out, much calmer than usual, and asks if everything is ok. Nikki says that she's been on RAW for four weeks and no one notices she's there. Alexa apologizes that she hasn't approached her since she got to RAW but she doesn't know what to do since her ring gear is lost.
Nikki suggests Alexa ask the McMahons to replace her. Alexa says that Nikki can replace her in the match and Cross agrees.
Becky Lynch Contract Signings
Becky says she's going to take a beating against both women but she doesn't care. She's going to
Charlotte says that Becky's mouth is getting her in trouble and that will show on Sunday. Lacey says that she's happy that Charlotte is here to show Becky how to dress for a formal event.
Becky says that Lacey can't afford to lose her first title opportunity and Charlotte can't afford to lose her millionth. So she's not the only one who is under pressure.
Charlotte and Lacey Evans put Becky through a table to end the segment.
Baron Corbin vs Ricochet
Corbin pins Ricochet after an End of Days.
After the match, Corbin sets up a ladder to try and get the MITB briefcase. Ricochet pushes the ladder over.
Backstage Segment
Cesaro approaches Rey Mysterio and jokes about how Dominick looks more like Samoa Joe than Mysterio because of his size. Mysterio takes offense and the two brawl.
AJ Styles Interview
AJ says he had a chip on his shoulder coming into the WWE and it hasn't left. He says he's walking out the new Universal Champion on Sunday.
Natalya vs Nikki Cross vs Naomi vs Dana Brooke
Nikki Cross pins Natalya
Should be noted that Nikki Cross was being her crazy self again while she was wrestling.
After the match, Nikki and Alexa put up a ladder and Cross helps Bliss take the MITB briefcase
Cesaro vs Rey Mysterio
Firefly Fun House
The Revival Segment
The Revival challenge The Usos to a match and say they are tired of being embarrassed.
Sami Zayn vs Braun Strowman - Falls Count Anywhere Match
Zayn pins Strowman with the help of Baron Corbin and Drew McIntyre. Commentary is playing up the fact that Corbin and McIntyre doesn't want Strowman in the MITB match.
Sami now takes Strowman's place in the MITB ladder match.
After the bell, Strowman choke slams Sami through the announce table.