WWE Monday Night RAW Live Results: Batista Returns, But Why?
After last week's Monday Night RAW saw the return of Batista, the WWE Universe will want to keep their eyes on this week's show to see the fallout of his assault on Ric Flair's birthday celebration and how Triple H will respond.
With less than two months until WrestleMania 35, Triple H is set to address what happened last week in an apparent build towards his supposed awith The Animal.
In the women's division, Becky Lynch got herself arrested last week after she crashed Ronda Rousey's tag team match. Following the arrest, Ronda demanded that the McMahons reinstate Becky from her suspension and reinsert her into the WrestleMania match. Stephanie McMahon denied the request, so Rousey dropped her RAW Women's Championship in the ring and declared that she doesn't need it.
Monday night should further this story after Charlotte Flair, who is set to take on Rousey in April, saidon SmackDown Live she will come to RAW to be crowned the new RAW Women's Champion. Whether this happens or not is yet to be seen, but Becky may have a thing or two to say about that.
Considering the Twitter feud between Ronda and Becky just got really real, it'll be interesting to see if the two will interact tonight.
Another storyline that WWE fans will likely see tonight is the continued story between Roman Reigns - fresh off his remission announcement - Seth Rollins and Dean Ambrose. After Rollins and Reigns saved Ambrose from the group of Elias, Drew McIntyre, Bobby Lashley and Baron Corbin, a Shield reunion may be in the works. At least until Dean leaves in April when his contract expires. Current reports say he will not re-sign with WWE.
With Fastlane this Sunday, expect to see set-ups for matches for the last pay-per-view before WrestleMania 35. Here's everything that happened on the March 4 episode of Monday Night RAW.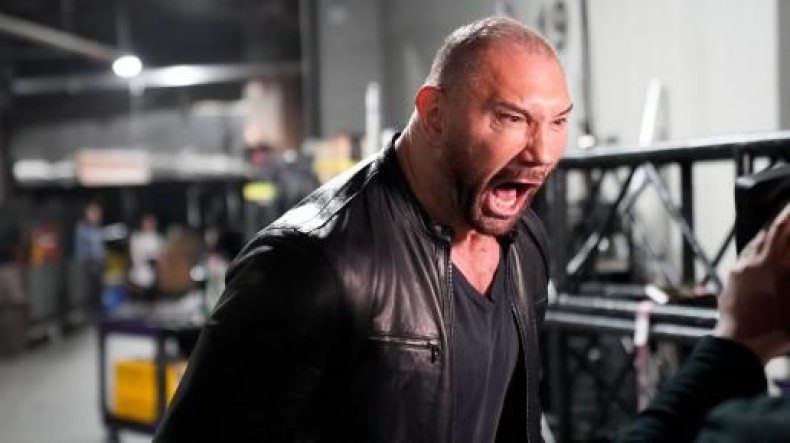 WWE MONDAY NIGHT RAW LIVE RESULTS
Opening Segment
Roman Reigns starts the night saying last week was the comeback, and this week is when they take their yard back. He says that there is one person in the way of what he wants, and that is Seth Rollins. He calls Seth out to the ring.
Seth Rollins comes out and says that Roman's announcement last week was one of the best moments of his career and now he feels like he can do anything. He's going to take the motivation from last week to take out Brock Lesnar. Seth says he understands Roman having to vacate the title and that he deserves to get his championship back. So if that's what he was thinking, let's talk about it.
Roman says that Seth is wrong. And when he was gone, Seth was the one man that looked out for Monday Night RAW. The only thing he has to say about that is good luck. But he needs a favor, Roman wants to get the Shield back together one last time.
Seth says anything but that after what Ambrose did and when he did.
Roman says tomorrow is not guaranteed and the most important thing is the relationships we make and that Seth and Dean are his brothers. He doesn't know if Ambrose is leaving or whatever, but he wants one more time with the Shield before none of them can anymore.
Seth says he put that part of his life behind him, but Roman is right. If Reigns wants the Shield one more time, for him he will do it. Roman calls out Dean to come to the ring.
Dean comes out to the ramp on the mic, but before he can say anything Elias hits him with a guitar to the back. Seth and Roman chase Elias off and try to help Dean up, but the Lunatic Fringe shoves them away and walks to the back.
Backstage
Charlie Caruso is talking to Drew McIntyre, Bobby Lashley, Lio Rush and Baron Corbin, but Drew reminds her that he was the one who broke up the Shield.
Corbin says that when they have their match against Kurt Angle, Braun Strowman and Finn Balor, they will show the WWE Universe who the real powerhouses are.
Braun Strowman/Finn Balor/Kurt Angle vs Drew McIntyre/Baron Corbin/Bobby Lashley (with Lio Rush)
Lashley pins Finn after a Spear.
Before the finish, Lio Rush was taken out by Braun Strowman after going through the barricade. The rest of his team didn't seem to care that Rush got taken out.
After the match, Balor and Angle are beat down by Lashley, Corbin and McIntyre.
Heavy Machinery Interview
Charlie tells Heavy Machinery that some of the RAW Tag Teams are not happy they are there. A video of Ascension talking to Zack Ryder/Curt Hawkins, and the B-Team about Heavy Machinery being on RAW.
Otis says that the video hurt his feelings, but Tucker Knight says that he's going to take out each of those teams and they will learn how much Otis will hurt those who hurt his feelings.
Natalya vs Ruby Riott (with Liv Morgan and Sarah Logan)
Natalya wins via pinfall after a reversal of a roll up.
After the match, Lacey Evans walks down the ramp in front of Natalya but again doesn't enter the ring or say anything.
Saturday Night Live Segment
Michael Che and Colin Jost walk into Stephanie McMahon's office. It's announced that both will be special correspondents at WrestleMania 35 with Colin doing everything he can to get the fans to boo him (wear a Mets hat in Philadelphia).
Triple H Promo
Batista on Instagram says he is not at RAW because he doesn't want to be and doesn't like Philadelphia
Triple H talks about Richard Fliehr, and how he traveled the country with him and how the man behind Rick Flair was his mentor. Flair was sent to the hospital after Batista's attack and everytime Triple H got a call he was afraid.
Triple H said that Rick Flair was not supposed to be at RAW but he wanted to show the people who Flair was at least one more time. But it didn't happen because of Batista.
Triple H says that Batista did what he did because he didn't get what he wanted just like when he was in the WWE. Whenever Batista was in the WWE and didn't get the crowd reaction or whatever he wanted he quit. But Triple H will go anywhere Batista wants him to be, at his house on the movie set wherever. Batista has his attention.
Stephanie McMahon Interview
Stephanie informs the WWE that all charges against Becky Lynch are dropped and her suspension as been lifted. However, since she is not 100 percent healthy she needs to sign a hold harmless agreement to have her match against Charlotte Flair at Fastlane for the vacant RAW Women's Championship.
Backstage
Roman walks up to Dean in the back who is visibly hurt. Roman says that there is a locker room where he can sit next to him whenever he wants.
Dean says that he has to stay focused for his match against Elias later tonight.
Heavy Machinery vs B-Team/The Ascension/Zack Ryder & Curt Hawkins - Gauntlet Match
Otis pins Bo Dallas
Otis pins Victor after a splash
Otis pins Curt Hawkins after a Caterpillar
Backstage with Che and Jost
Che and Jost walk backstage and Michael tells Colin he needs to brush up on the WWE before WrestleMania. They run into EC3 and No Way Jose.
Charlotte Flair Interview
Charlotte says that she will put Becky on the shelf for good after their match at Fastlane.
Backstage with Dean
Seth Rollins walks up to Dean backstage and The Architect says that they have one shot to get the Shield back together.
Ambrose says there's no Shield reunion and he has to deal with Elias on his own.
Elias vs Dean Ambrose
Elias pins Ambrose after a Drift Away
After the match, Seth and Roman come out to try and convince Dean to reunite the Shield. Ambrose left through the audience but Corbin, McIntyre and Lashley come out to take down Seth and Roman. Ambrose sees this and runs to his brothers' aid.
The Shield ward off the heel team and after some hesitation, Ambrose does the Shield fist with Roman and Seth.
Tamina (with Nia Jax) vs Sasha Banks (with Bayley)
Tamina pins Sasha after a Samoan Drop
The Revival (c) vs Aleister Black and Ricochet - RAW Tag Team Championship Match
During the match, Bobby Roode and Chad Gable come out to ringside
The Revival win via disqualification after Roode and Gable take out the champions on the outside.
Gable and Roode go into the ring and have a staredown at Aleister and Ricochet. The two have a small scuffle but Roode and Gable are thrown out of the ring.
Charlotte/Becky Contract Signing
The two superstars sign the contract, but then Ronda Rousey appears.
Ronda says she wants her title back. Stephanie says she left her no other choice, but gives the title back to Rousey. However, Stephanie makes the stipulation at Fastlane so that if Becky wins on Sunday she will be added to the championship match at WrestleMania. If Becky loses, she is out of any title match.
Ronda tells the WWE Universe that she is not their "dancing monkey" and that she can't believe they booed her out of the Staples Center and continue to cheer for Becky. She then kicks Charlotte out of the ring and start to beat down Becky.