WWE Monday Night RAW Live Results: Hell in a Cell Fallout Begins
It's the day after the Hell in a Cell pay-per-view and the WWE Universe is curious to see how the promotion will continue its build towards the Crown Jewel and Survivor Series shows.
The main showcase for tonight's show is the arrival of Tyson Fury, the heavyweight champion boxer. Fury appeared at the Fox premiere of SmackDown when Braun Strowman threw Dolph Ziggler at the boxer and now Tyson will have an open mic to address "The Monster Among Men's" actions. Will Strowman and Fury come to blows or are the WWE Universe going to be treated to something else?
A rematch from Hell in a Cell is scheduled for tonight as Natalya takes on Lacey Evans in a Last Woman Standing match. Natalya won on the Hell in a Cell Kickoff show, but will Evans have the last laugh?
At Crown Jewel, the main event will be Team Hogan against Team Flair and on Monday Night two representatives will face off. Rusev will take on Randy Orton on RAW to build some momentum heading into Saudi Arabia. Orton is coming off a victory over Ali on Sunday while Rusev had his wife Lana taken by Bobby Lashley.
Can Rusev put his marital problems behind him to defeat Orton or will The Viper strike?
The Viking Raiders are on a winning streak and that has given them a shot at Robert Roode and Dolph Ziggler, the current RAW Tag Team Champions. While Erik and Ivar head into RAW to take on the champs in a non-title match, Roode and Ziggler want to continue their own winning streak atop the tag team division.
Asuka and Kairi Sane, The Kabuki Warriors, are the new Women's Tag Team Champions. Now that they are the champs, they can float between brands defending it against any team that's brave enough to face them. Will Alexa Bliss and Nikki Cross demand a rematch or will a new team step up?
Here's everything that happened on the October 7 episode of Monday Night RAW.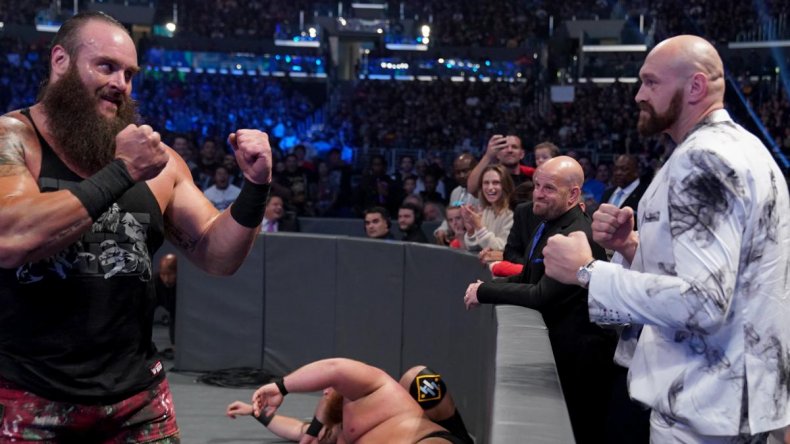 MONDAY NIGHT RAW RESULTS
Rusev vs Randy Orton
Just as the opening credits finish, Orton and Baron Corbin are beating down Rusev. He fends them off, before Bobby Lashley gets on the titantron. Lashley is wearing Rusev's robe and is at his house. Lashley gets in Rusev's bed and Lana joins him.
Lana says that she took everything from Rusev including his bank account.
Once the video goes black, Rusev goes to the outside where Orton and Corbin are laughing. Rusev takes out both men.
Lacey Evans vs Natalya - Last Woman Standing Match
Before the match, Evans gets on the mic and says that she and Natalya are at the end of the road. She says after last night there's only one way to go and that's in a Last Lady Standing Match. She says that Natalya will be taken out like the trash she is as she stands near a metal trash can with Natalya's name on it.
Natalya wins after powerbombing Lacey Evans off the stage onto a table.
Aleister Black Vignette
Aleister says he desperately requires a battle. He says underneath this calm and collective demeanor that's now who he is. He says he as unforgiving as fire and as cold and permanent as death. He says for the WWE to stop this showcase and someone pick a fight with him.
Street Profits
They recap what happened on RAW so far and then talks about the upcoming Draft. They do their own scouting report. They talk about Apollo Crews, Buddy Murphy and Drake Maverick.
They joke about how Drake hasn't consummated his marriage before they talk about Tyson Fury and show a recap of last week's SmackDown on Fox.
Tyson Fury Interview
He's asked about provoking Braun Strowman. Fury says he isn't, and he probably shouldn't have jumped the barrier. He says he's here for an apology from Braun and if he doesn't get it, Strowman will get his hands.
The Viking Raiders vs Robert Roode and Dolph Ziggler
Viking Raiders win via pinfall after a Viking Experience
Aleister Black Promo
Aleister Black is shown in his ring gear. He says that on second thought, he sees how things are done around here. He's going to go down to the ring.
The Singh Brothers vs Aleister Black
They say that this WWE Showcase is the perfect time for them to return to RAW. They are going to prove to the world why they should be the top picks of RAW and SmackDown. They call out Aleister Black whose music interrupts them.
Aleister wins via submission
Braun Strowman Interview
Strowman says he was trying to have some fun with Tyson Fury. If Fury is going to get serious, then he'll get serious. If Tyson wants an apology he needs to ask nicely because if he doesn't he may get these hands.
Rey Mysterio Interview
Mysterio says that Dominick took a beating like a man and is resting and up for the task.
He calls Brock Lesnar a bully and he felt truly helpless. He feels like he let his son and family down. He was by his son's bed in the hospital when Dominick's godfather, Cain Velasquez showed up. If anyone is going to avenge the Mysterio family, it's Velasquez.
AOP Vignette
AOP continues to talk about how the tag team division isn't ready for them.
The OC vs Lucha House Party
AJ Styles pins Kalisto after the Phenomenal Forearm
After the match, The OC take out the Lucha House Party and AJ hits Lince Dorado with a middle rope Styles Clash
Miz TV
Becky Lynch and Charlotte Flair are Miz's guest for the evening.
Miz runs down the list of accomplishments for Becky Lynch in the year. Becky says her accomplishments are great, but she has to admit that Sasha Banks took her to hell and back but she would remind her if she was here that she kicked her ass.
Miz hypes up Charlotte's win from last night but then talks about the Draft and how they can end up on the same brand. Miz says we will find out how dominate they are when they go up against Asuka and Kairi Sane.
Becky says she wants to right a wrong by beating Asuka. She says Charlotte is looking smug with the belt she made famous. Charlotte says she made Becky famous.
Asuka and Kairi Sane come out to interrupt and talk strictly in Japanese. Becky Lynch calls Asuka to get into the ring and the four women brawl.
Becky Lynch and Charlotte Flair vs The Kabuki Warriors
Kairi Sane pins Lynch with a roll up
The finish was set up when Asuka spits the green mist in Lynch's fist.
After the bell, Charlotte attacks both Sane and Asuka. However, the tag team champions take the advantage. Alexa Bliss and Nikki Cross come out for the save.
Apollo Crews Interview
Apollo says Ricochet and him are friends but when they fight tonight nothing is personal.
Viking Raiders Promo
Viking Raiders say that next week they are going to raid and capture the RAW Tag Team Championships.
Ricochet Interview
Ricochet says that he agrees that things aren't going to be personal between him and Apollo. But he's here to prove that superheroes are real.
Apollo Crews vs Ricochet
Ricochet wins via pinfall after a Recoil
Tyson Fury/Braun Strowman Segment
Fury comes out with Jerry Lawler on the mic. Fury says last week Braun made him look like a fool and he's out here to demand an apology.
Braun Strowman comes out and says he was having fun with him last week. That was until he saw how he looked at him and it looked like you wanted a piece of him. He says that Tyson Fury would have been laid out if he got in the ring. The two eventually come to blows before being pulled apart by personnel and the locker room a few times.
Backstage, Strowman says that Tyson is tough but he's going to get these hands. He won't give Fury an apology after coming there. Strowman runs back in the ring and the show goes off air