WWE SmackDown on Fox Results: Will Brock Lesnar Win the WWE Championship?
It's the first episode of SmackDown on Fox, and the WWE will bring plenty of familiar faces and possible title changes.
The biggest headline from the premiere episode of SmackDown on Fox is the WWE Championship between Kofi Kingston and Brock Lesnar. Lesnar arrived two weeks ago to challenge the New Day member, and Kofi, being the fighting champion that he is, accepted the match.
Many WWE fans feel the result is clear and Lesnar will become champion once again, but Kingston could feasibly shock the world and slay the beast.
Dwayne "The Rock" Johnson confirmed he will make an appearance on Friday Night SmackDown last week, giving the show an extra dose of star power. WWE also announced scheduled appearances from Kurt Angle, Lita, Mick Foley, Booker T, Hulk Hogan, Trish Stratus, Goldberg, Jerry Lawler, Mark Henry, Ric Flair and Sting.
The feud between Kevin Owens and Shane McMahon will soon come to an end, as the two will square off in a ladder match this Friday. McMahon and KO will put their careers on the line as they vie for the briefcase suspended above the ring. With Shane making KO's life a living hell, Owens is trying to save the WWE Universe from future McMahon angles and matches. Will KO prevail, or will SmackDown continue to be run by the boss' son?
Roman Reigns will square off against Erik Rowan ahead of their tag team match at Hell in a Cell on Sunday. Reigns and Rowan have butted heads for weeks, but the return of Luke Harper threw a wrench in Roman's plans to defeat the former tag team champion. Will Harper get involved again, and will the uneasy alliance between Roman and Daniel Bryan even the odds?
And finally we have a tag team match between the Four Horsewomen of the WWE. Charlotte Flair and Becky Lynch will team up against Sasha Banks and Bayley. Lynch and Banks will square off at Hell in a Cell on Sunday, so prepare for lots of hostility between all four women.
Here's everything that happened on the October 4 episode of SmackDown Live.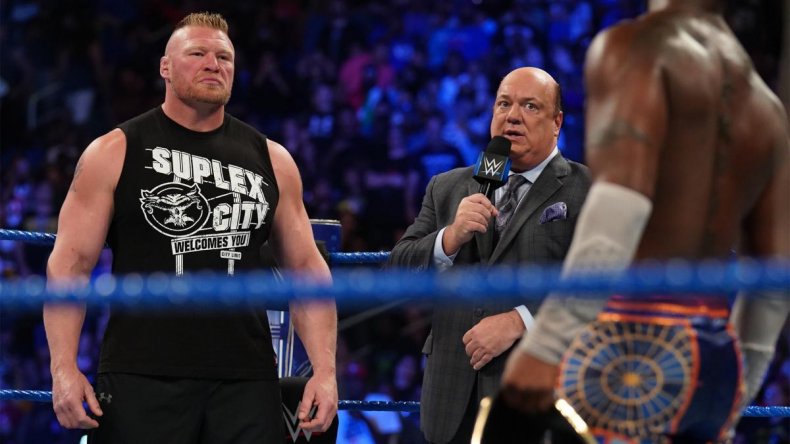 SMACKDOWN LIVE RESULTS
Opening Segment
Vince and Stephanie McMahon come out to welcome the WWE Universe to SmackDown on Fox.
Becky Lynch Promo
Lynch comes out to say that SmackDown always has a special place in her heart since that's when she won her first championship.
King Corbin interrupts and says that he should be the one opening SmackDown on Fox when The Rock interrupts him.
The Rock comes down to the ring and he and Lynch have a staredown before doing a handshake. Rock says he is home, but Corbin says this is not his home. Instead, he's the "most electrifying king in sports entertainment." Rock says just because Corbin won the King of the Ring it doesn't make him an actual king. He says Becky is "the man" and that doesn't mean she'll walk around with a pair of testacles. Becky says if she did they'd be bigger than Corbin's.
Segment ends with Rock saying that he and Becky will kick his ass and the two start to punch King Corbin. Lynch hits a Leg Drop while Rock hits Corbin with the People's Elbow.
Becky Lynch and Charlotte Flair vs Bayley and Sasha Banks
Flair submits Bayley with a Figure Eight
Kofi Kingston Interview
Erin Andrews interviews Kofi, Big E and Xavier Woods. Kofi says he will overcome the odds in his match against Brock Lesnar tonight.
Firefly Fun House
Seth Rollins is getting ready to hit the ring when the Firefly Fun House interrupts.
Seth Rollins vs Shinsuke Nakamura (with Sami Zyan)
This match didn't have a winner. The lights went down and when they went back up, Nakamura was in the ring alone. Seth was being attacked by The Fiend at the top of the ramp with the Mandible Claw. The Fiend then tosses Seth Rollins off the stage.
Kevin Owens vs Shane McMahon - Ladder Match
Kevin Owens wins.
After the bell, Owens gets on the mic and fires Shane before Stunning him.
Braun Strowman, The Miz and Heavy Machinery vs AJ Styles, Randy Orton, Robert Roode and Dolph Ziggler
Strowman, Miz, Heavy Machinery win
A big angle at the end was when Strowman inadvertently tossed Ziggler into Tyson Fury who was ringside. Fury jumped the barricade but was stopped by security as Strowman stood in the ring laughing.
Roman Reigns vs Erick Rowan - Lumberjack Match
Kofi Kingston (c) vs Brock Lesnar - WWE Championship Match
Lesnar wins after one F-5 in about 10 seconds
After the bell, Rey Mysterio comes out with Cain Velazquez. Mysterio had his arm in a sling and when the two got in the ring, Lesnar charged at Velazquez who would take Brock down. Lesnar runs out of the ring and thinks about going back in, but doesn't.
Show ends with Velazquez and Mysterio in the ring standing tall.