WWE 'Monday Night RAW' Results: Bray Wyatt Invited to the KO Show Tonight
Just days before the upcoming 2020 WWE Draft, Monday Night RAW will continue to build towards the Hell in a Cell pay-per-view and the rest of the year with the top story continuing to be the feud between Drew McIntyre and Randy Orton.
WWE Champion McIntyre has fended off Orton multiple times, but "The Viper" made it personal when he attacked the legends that helped Drew at Clash of Champions. Ric Flair, Big Show, Christian and Shawn Michaels were attacked by a chair-wielding Orton to likely provoke McIntyre into a rematch.
Tonight, McIntyre will look to get a bit of revenge as he teams up with the RAW Tag Team Champion Street Profits as they go against Orton, Dolph Ziggler and the returning Robert Roode.
How will McIntyre respond to Orton's attack from last week? And will this match lead to The Street Profits' next opponent being Ziggler and Roode?
Kevin Owens visited Friday Night SmackDown last week to interview Alexa Bliss to see if there's a reason for her "darkness" so he can help Aleister Black on RAW. What KO found was "The Fiend" who promptly attacked him.
Now, ahead of their singles match this Friday, Kevin Owens is inviting Bray Wyatt to the KO Show tonight. Fans know that Wyatt and "The Fiend" are essentially different characters, so Owens is hoping to get some answers from Bray on KO's home turf.
Will we see Alexa Bliss show up on RAW, or will "The Fiend" become KO's actual guest?
RAW Women's Champion Asuka has taken out every challenge on Monday Night RAW, but who will step up to challenge the "Empress of Tomorrow"?
WWE announced that Shayna Baszler and Nia Jax, the current Women's Tag Team Champions, will take on The Riott Squad tonight. After having to miss Clash of Champions due to being "not medically cleared," how will Baszler and Jax bounce back and can Ruby Riott and Liv Morgan capture their first titles in the WWE?
Here's everything that happened on the October 15 episode of Monday Night RAW.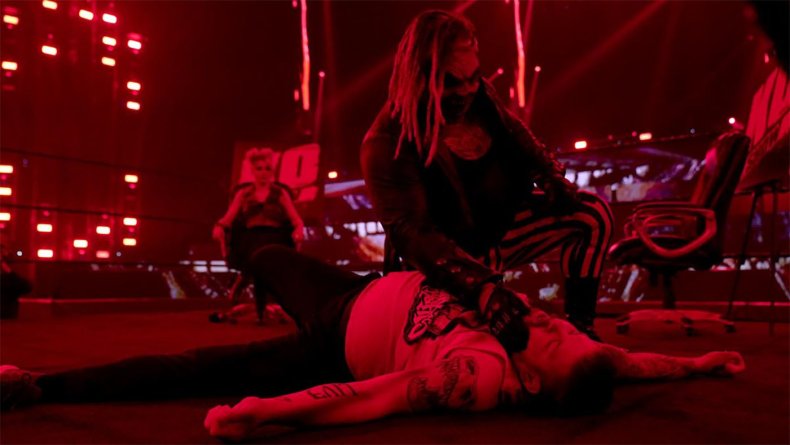 WWE MONDAY NIGHT RAW RESULTS
Randy Orton Promo
Backstage, Orton starts talking how he remembers the Ambulance Match against McIntyre and being ambushed by all the legends. He thinks about last Monday how he saw McIntyre raising the title he didn't earn.
He brings up how The Street Profits toasted the legends last week and now they are his opponents. He says that he felt the legends deserved what they got last week and that they felt everything he felt when he was put in that ambulance. He goes on about what he did to all the legends and challenges Drew to a match in a Hell in a Cell.
Drew McIntyre all of a sudden opens the door to the room he's in, and the two start fighting with Drew getting the upperhand. Officials including Adam Pearce hold Drew back as Randy leaves the room.
Asuka, Dana Brooke and Mandy Rose vs Zelina Vega, Lana and Natalya
Mandy Rose pins Lana after a Pump Knee Strike.

After the bell, Nia Jax and Shayna Baszler come out and take out Lana and Natalya. Lana is put through the table by a Samoan Drop from Nia.
R-Truth Segment
Truth is talking to Lil' Jimmy about his WWE Mock Draft when a masked custodian tries to hit him with a mop. Truth says Randy Orton won't get him and tries to run away, but trips over the mop bucket letting the custodian to pin Truth to become the next 24/7 Champion.
The custodian unmasks to reveal himself to be Drew Gulak as he runs away.
Backstage
MVP walks up to Ali, Apollo and Ricochet. MVP wants to talk to them about the upcoming draft. He brings up how Apollo was doing nothing on SmackDown and then became a champ on RAW.
He tells the three that tonight one of them can be in the Hurt Business. He says that it doesn't matter if they're on RAW or SmackDown, if they're with him they'll be good. MVP, Apollo and Ali walk away, but Ricochet stays back and looks to be pondering the offer.
Seth Rollins and Murphy Segment
Rollins and Murphy come out before their match against Humberto Carrillo and Dominik Mysterio. Murphy tells Seth that he should apologize to Alyah, but Seth berates his disciple by saying he went easy on her and could have showed the DMs how she felt about her family not recognizing her accomplishments and tells Murphy he's below the messiah.
Carrillo and Dominik come out and start fighting Murphy and Rollins before the match is made official and RAW goes to commercial.
Seth Rollins and Murphy vs Dominik Mysterio and Humberto Carrillo
Murphy pins Carrillo after hitting Humberto with a pump knee as he was going for a splash.
Throughout the match, Rollins kept telling Carrillo he didn't need his help. After the bell, Murphy walked up the ramp, leaving Seth alone.
Backstage
Adam Pearce is talking on the phone when he's approached by Braun Strowman. Strowman says since RAW Underground isn't happening tonight, he wants an opponent. Pearce says since Braun isn't on the RAW roster, he'll give him an exhibition match.
Braun agrees and walks away. Keith Lee then approaches Pearce and tells him to sign him up for the match against Strowman.
Backstage
Following the commercial, Seth Rollins walks up to Murphy and tells him he needs to apologize to him and he has until 10pm tonight.
The KO Show
Kevin Owens says that tonight's show has a different feel and he feels different. He says he's felt this way for a couple of days and then he realized that people were right when they say that when The Fiend touches you, you change. He says he feels changed and he won't need the chairs and stage because tonight's KO Show isn't about the show it's about what happened on Friday Night SmackDown.
After replaying last week's SmackDown segment, he says that the only thing that he cares about is that Bray Wyatt comes down to the ring so they can chat.
Bray Wyatt shows up in the Firefly Fun House on the titantron and says that Kevin is his new friend. He starts to sing a song about friends, but Kevin Owens stops him.
KO says that they could have been friends, but then he did what he did on SmackDown. He's telling Wyatt to get in the ring so he can fight him. Bray says that he and The Fiend doesn't like bullies and he's just going to warn him once, and he says goodbye.
KO says he's not going to wait until Friday to fight him so he'll go back there and get him. KO starts to walk up the ramp, but Aleister Black hits him from behind and lays him out with the Black Mass.
Drew McIntyre Interview
Backstage McIntyre is asked about Randy Orton's challenge. He says that he thanks Orton for the challenge because he will be locked in the cell with him. He will send Orton straight to hell.
Braun Strowman vs Keith Lee - Exhibition Match
There's no winner as both men are counted out early in the match.
After the bell, Strowman shoulder tackles Lee into the barricade and breaks it. After Braun walks up the ramp, Lee stands up and the two start fighting on the ramp. Lee throws Braun into the LED boards at the top of the ramp. He then tackles Strowman off the stage.
Bianca Belair Vignette
Bianca is playing Trivia Pursuit against some friends when she answers all the questions with ease proving she's the "smartest."
24/7 Segment
Drew Gulak is hiding behind a dumpster when Truth and a referee emerge from the dumpster. He tries to run away, but runs into a garbage. Akira Tozawa comes out of the garbage before Truth suplexes Gulak into the dumpster. Tozawa jumps in and they all fight before Truth comes out with the title after a three count.
The Hurt Business Promo
MVP says that he needs to clear something up. He says that Apollo, Ali and Ricochet may have won the match last week, but they didn't win the fight. He calls them talented, which is why he offered them a spot with the Hurt Business.
He says that the win last week wouldn't have happened without the distraction from Retribution. MVP calls out Retribution and says that they are what nightmares are made of.
Ricochet and the crew come out. They joke about the Hurt Business' loss last week when Ricochet says that he has an answer to MVP's offer. It looks like he's going to accept, but he says that he passes. MVP tries to explain that they are about to get a lot of hurt. Ricochet says that he didn't back down last week and he's not now. The two sides get in each others faces.
MVP tells the referee to ring the bell, and tells Benjamin and Lashley to put extra hurt on Ricochet.
Ricochet and Apollo Crews (with Mustafa Ali) vs Bobby Lashley and Shelton Benjamin (with MVP)
Lashley taps out Apollo after the Hurt Lock.
Backstage
Murphy is walking backstage when he sees Aalyah. He apologizes to her, but Aalyah says that he doesn't have to, but asks if he's thinking of apologizing to Seth Rollins. Murphy just walks away.
When RAW comes back from commercial, the Hurt Business are walking backstage when Mustafa Ali walks up to them. He tells Shelton and Bobby to come out to the ring because he's going to beat MVP. And once he's done with MVP, he'll beat Shelton and then finish with Lashle before walking away. Lashley, upset, is about to go after him when MVP stops him to tell him it's not worth it.
Seth Rollins/Murphy Apology
Rollins waits for the apology, but Murphy doesn't say anything. Seth says they've been through so much together and he saved his career. All he has to do is apologize.
Seth keeps berating Murphy to apologize and when he doesn't he grabs him by the beard and tells him to apologize. Murphy instead tackles Rollins and the two start brawling on the outside.
Seth grabs a kendo stick, but Murphy avoids and takes it away from him. The two get back in the ring and Seth apologizes as Murphy hits him, but Murphy tells him to apologize to Aalyah. He does and when Murphy lets his guard down, Rollins gouges his eyes and starts wailing him with the kendo stick. Rollins grabs a chair and rolls into the ring, but Aalyah is in the ring telling him to stop. Dominik runs in, which forces Rollins to retreat.
Rey and his wife come in and they are all in the ring with a hurt Murphy as Rollins walks away. Rey tells the family to leave as they all go to the back, leaving Murphy alone in the ring.
Nia Jax and Shayna Baszler (c) vs The Riott Squad - Women's Tag Team Championship Match
Baszler taps out Riott after a Kirufuda Clutch
Mustafa Ali vs MVP (with Bobby Lashley and Shelton Benjamin)
During the match, Retribution appears and surround Ali and The Hurt Business. MVP asks Ali if he's with them and he joins them in the middle, but then rolls outside to step up to Mace and T-Bar.
However, Ali turns around and smiles and tells Retribution to attack The Hurt Business.
Retribution takes out The Hurt Business as Ali stands in the middle of the ring as the rest of Retribution gather around him.
Drew McIntyre and The Street Profits vs Randy Orton, Dolph Ziggler and Robert Roode
Orton pins McIntyre after an RKO.