WWE 'Monday Night RAW' Results: What's Next for Asuka After SummerSlam Victory?
It's the Monday Night RAW after SummerSlam and the WWE will look to have a "reset" of sorts to breathe new life into its product.
First, Monday Night RAW will make its debut in the WWE ThunderDome. Virtual fans will line the walls of the Amway Center in Orlando as wrestlers make their entrances surrounded by lights and pyro. With two shows--Friday Night SmackDown and SummerSlam--being the test runs for the ThunderDome will we see an improved viewing experience tonight?
WWE Champion Drew McIntyre is set to start tonight's show. After defeating Randy Orton at SummerSlam, what will the champ have to say and who will likely step to him next?
Keith Lee lost the NXT Championship to Karrion Kross at Takeover: XXX, but the "Limitless One" will make his main roster debut tonight. What will Lee's first program be? Who will Lee face in a match first? Those questions answered tonight.
Aleister Black has been off television for weeks, but the former NXT Champion makes his RAW return tonight as a guest of the Kevin Owens show. Will fans see a change in Black's demeanor or presentation? What will he say on the KO Show?
Asuka reclaimed the RAW Women's Championship from Sasha Banks last night, but with Shayna Baszler asking for a title shot will the "Empress of Tomorrow" oblige? What's next for Asuka and what is next for Banks and Bayley who will defend their Women's Tag Team Championships this Sunday on the Payback pay-per-view?
The Street Profits and Apollo Crews retained the RAW Tag Team Championship and US Championship, respectively, at SummerSlam, what's next for both acts?
Here's everything that happened on the August 24 episode of Monday Night RAW.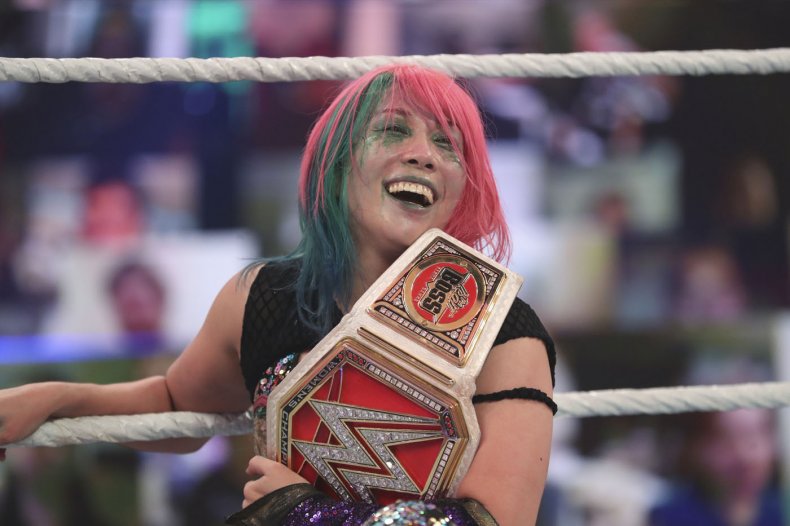 WWE MONDAY NIGHT RAW RESULTS
Drew McIntyre Promo
After a recap of McIntyre and Orton's match from SummerSlam, Drew welcomes everyone to the first Monday Night RAW in the ThunderDome.
McIntyre says that he defeated Orton because he's hungrier than Randy. He says he's proud to be WWE Champion. McIntyre says that Orton doesn't know what the fans are going through because he's always been protected. McIntyre puts over Orton as the "absolute best" but last night he was that much better.
McIntyre brags to Orton that he beat Randy the self-imposed "greatest wrestler" with a wrestling maneuver and if he wants to go again he'll kick Orton's head off
McIntyre walks up the ramp and is attacked by Orton. The two fight in gorilla position when Orton hits McIntyre with two punts as RAW goes to commercial.
Backstage
When RAW comes back from commercial, Drew McIntyre finally gets to his feet and tell the officials that he's fine and walks to the back.
Nia Jax Interview
Nia Jax is walking backstage when she's approached and asked why she's there when she was suspended.
Nia Jax says she was reinstated after apologizing to the official she put her hands on. She then scares away Sarah Schreiber.
Shayna Baszler comes up to her and welcome her back passive aggressively. Nia wishes Shayna luck in her match against Bayley tonight. The two trade trash talk before Shayna leaves welcoming Nia back.
Bayley (with Sasha Banks) vs Shayna Baszler
Before the match starts, Nia Jax comes out on the entrance ramp to watch the match
Shayna wins via disqualification after Jax pulls Shayna off the apron
The two fight and Jax rolls Shayna into the ring. Sasha and Bayley are laughing at Baszler before Jax chases them off. Nia and Shayna stop fighting and look at Sasha and Bayley
Backstage
Kevin Owens finds Aleister Black's room. KO opens the door and asks if Black is going to appear on his show. Black doesn't respond and KO says he'll see him out in the ring.
The Kevin Owens Show
KO introduces the return of Aleister Black to Monday Night RAW.
Black comes out in a suit and a wrap over his injured eye. Black doesn't want to use the steel steps so he rolls into the ring
KO asks about Black's eye and how it's healing. Black tells KO to show the clip of Murphy putting his eye into the corner of the ring steps. Owens says he knows what Aleister is feeling and knows how Seth Rollins gets in your head
Black doesn't respond but instead hits KO with a back elbow and then the Black Mass before leaving
Backstage
Bayley and Sasha are talking when they are approached about what happened between them and Jax/Baszler. The duo doesn't bother talking about them because they have to get ready for Sasha's rematch tonight and then they'll deal with Jax and Shayna.
Cedric Alexander (c) vs Akira Tozawa vs R-Truth vs Shelton Benjamin - 24/7 Championship Match
Tozawa wins via pinfall after rolling up R-Truth
The finish was set up when Truth threw Benjamin out of the ring and Akira's ninjas hold Shelton down while Tozawa rolled up Truth.
Randy Orton Promo
Orton says that he promised everyone that he would hit McIntyre with the RKO and punt him to take his title, but he didn't. He said that he would put down all the legends and he did because he's the legend killer.
Orton says that McIntyre offered a rematch out of pity and asks who the hell is Drew? He's the legend killer.
Keith Lee interrupts (with a new entrance theme). He introduces himself to Randy Orton and challenges Orton to a match right there.
Orton takes off his hoodie and asks if Lee wants a match right now. Randy says maybe later and rolls out.
Backstage
Angel Garza is with Demi Burnett and Zelina Vega. Charlie Caruso asks Zelina if she's ready to admit to poisoning Montez Ford. Zelina still says that she didn't do it but she has to get ready for her match tonight
Garza invites Demi and Charlie to be ringside for his match tonight, which confuses Caruso.
Angel Garza (with Andrade) vs Montez Ford (with Angelo Dawkins)
Demi Burnett is watching the match at commentary
During the match, Ivar of the Viking Raiders comes down to ringside to give Burnett a turkey leg. He asks her if she wants to get out of here and she leaves with him.
Montez Ford wins via pinfall after a Frog Splash
Backstage
Nia Jax walks up to Shayna Baszler and says that they can win the Women's Tag Team titles and she wants them.
Shayna says that if she helps Nia with that, then Jax needs to get off her back
Jax says as long as she does what she says. Shayna slaps Jax and walks away
Liv Morgan and Ruby Riott walk into frame when Bianca Belair meets them and they say they are ready to win their match
The IIConics and Zelina Vega vs Riott Squad and Bianca Belair
Belair pins Vega after the KOD
Backstage
Ricochet and Alexander are arm wrestling when Cedric wins. Mark Henry offers to take on Alexander, but he declines.
MVP walks up to Ricochet and Alexander and runs down Ricochet and how Alexander is wasting the best years of his life.
Apollo Crews vs Bobby Lashley - Arm Wrestling Challenge
Mark Henry is in the ring as the host of the arm wrestling challenge. He introduces the competitors
Henry says that Apollo and Bobby's cohorts are barred from ringside. Lashley says that he doesn't need MVP or Shelton to beat him and he'll beat Apollo for the US Championship at Payback. Apollo says that he'll beat Lashley just like he beat MVP
Apollo beats Bobby when Lashley didn't look ready. Lashley complains before going after Apollo, but the champ knocks him out and takes out MVP and Benjamin before running out.
Mysterio Family Interview
Rey, Dominik and Angie Mysterio are backstage when they are asked about last night and the tag match for tonight
Rey calls Dominik the future of the WWE.
Natalya and Lana Promo
Nattie and Lana cut a promo bashing Mickie James.They say that she's a trailblazer, but all trails must come to an end. They are here to retire Mickie James.
Nattie says she put together a highlight package celebrating her greatest moments. There is no footage and the two laugh. James runs down and pushes Nattie and hits a roundhouse kick to Lana
RAW Underground
Lashley and the rest of the Hurt Business run up to Shane McMahon outside of the entrance and he says that he wants to fight against anybody. Shane likes the idea and lets them in before commercial.
When RAW comes back from commercial, Lashley chokes out a fighter before Dolph Ziggler gets in the ring.
After a back and forth, Lashley shoulder tackles Ziggler out of the ring and into the crowd of people. The Hurt Business throw in another fighter and Lashley knocks him out with one punch.
Randy Orton vs Keith Lee
Orton wins via disqualification after Drew McIntyre grabs Orton when he was preparing for the RKO
Orton runs off as Drew McIntyre stands alone in the ring.
Backstage
Drew McIntyre says he's happy for Keith Lee tonight, but he doesn't feel good about Orton after he tried to end his career with those punts. He is about to call out Orton when he's attacked from behind by Randy and takes the third punt of the night.
When RAW comes back from commercial, Charlie Caruso is outside the trainer's office and says she has overheard the doctors saying that McIntyre has suffered a skull fracture.
Asuka (c) vs Sasha Banks (with Bayley) - RAW Women's Championship Lumberjack Match
Asuka submits Banks with an Asuka Lock
The finish was set up when Bayley grabbed a chair and tried to give it to Sasha, but Shayna grabs Bayley causing a distraction
Backstage
Drew McIntyre is put into an ambulance and it drives away.
Keith Lee is interviewed about McIntyre. He says he would have told Drew not to interfere in his match, but his injury makes him upset and he knows that McIntyre will be ok. The same can't be said for Randy Orton
RAW Underground
Lashley takes on Cedric Alexander and beats him with a submission
Ivar tackles Lashley and Benjamin tackles him. The Viking Raiders and the Hurt Business brawl but the Hurt Business end up on top.
Rey and Dominik Mysterio vs Seth Rollins and Murphy
The match is thrown out when Retribution shows up
Seth Rollins and Murphy leave, and Retribution surrounds Dominik and Rey before beating them down. Retribution, which consists of six members this time, all stand triumphant in the ring as RAW goes off air.