WWE 'Monday Night RAW' Results: Bayley & Sasha Banks Take On Kabuki Warriors
WWE is promoting the July 13 episode of Monday Night RAW as a night of "grudge matches."
The night of grudge matches is highlighted by the Women's Tag Team Championship match between Bayley and Sasha Banks, and The Kabuki Warriors. Bayley and Sasha have held a tight grip on the women's division of all brands as of late, but RAW Women's Champion Asuka and Kairi Sane look to kick the duo down a peg before this Sunday's Extreme Rules pay-per-view.
Can The Kabuki Warriors become two-time tag team champions or will Sasha and Bayley's dominance continue?
Seth Rollins will take on Kevin Owens in a rematch from this year's WrestleMania. Rollins has an "eye for an eye" match with Rey Mysterio coming up this Sunday, but he can't look past Owens who has had his number in recent weeks. Will the "Monday Night Messiah" go into Sunday with some momentum or will Owens put doubt in Rollins' mind before the pay-per-view?
The Viking Raiders will take on Angel Garza and Andrade in a continuation of their mini feud. Erik and Ivar have been feuding with Garza and Andrade since their tag team championship loss to The Street Profits a few weeks back, but Garza and Andrade are trying to get on the same page and move up in the tag team division standings. Who will get in the driver's seat for a RAW tag team championship match?
Randy Orton has been taking out legends left and right in weeks and now R-Truth is in The Viper's sights. Truth crossed the wrong man last week, but will Orton make him pay?
Here's everything that happened on the July 13 episode of Monday Night RAW.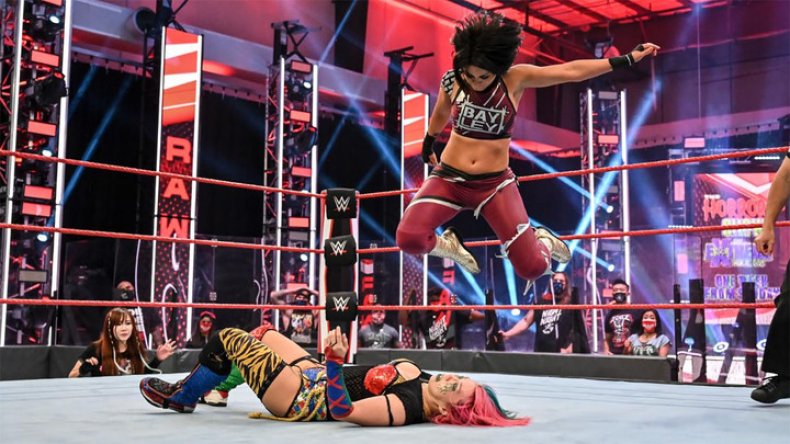 WWE MONDAY NIGHT RAW RESULTS
VIP Lounge
Dolph Ziggler is MVP's guest tonight.
After a recap of what Dolph did to Drew McIntyre last week, MVP says that Ziggler made the champion and he's smart for not disclosing the stipulation for their match on Sunday.
MVP thanks Ziggler for what Dolph has done for Drew McIntyre because the champion won't do it.
Ziggler says that Drew's lack of humility will be why McIntyre loses on Sunday. Drew interrupts. McIntyre says that he was never Dolph's friend, he was his muscle. He puts over Ziggler's ability, but says that on Sunday he's going to hurt and maim him. He says whatever happens on Sunday is going to be on Dolph.
McIntyre says he doesn't know if he can wait until Sunday and he wants some action right now. Drew punches Ziggler and feints hitting MVP with a headbutt before leaving the ring.
Backstage Interview
Charlie talks to Zelina Vega's crew. Zelina says there's a false narrative regarding her clients. The facts are that they already defeated The Viking Raiders and successfully won their match last week with Randy Orton. They also have The Street Profits running scared.
Angel Garza flirts with Charlie while Andrade says that if Garza has his back, he will have his and they'll win the RAW Tag Team Championships.
The Viking Raiders come into frame and say they've been the most dominant team on RAW for a week. They say that they've dishonored competition with their cheating and disrespecting their friends the Street Profits. So tonight they'll run through Andrade and Angel Garza
Ivar takes the rose that Garza was holding and gives it to Charlie, with Angel looking upset.
The Viking Raiders vs Angel Garza and Andrade (with Zelina Vega) - Elimination Tag Team Match
Andrade pins Erik after a Hammerlock DDT. Garza took out Ivar with a basement DDT to knock him off the ring
Garza and Andrade are notably on the same page for this match
Ivar eliminates Andrade after taking a roundhouse kick. Andrade saved Garza from it
Ivar hits Garza with a roundhouse kick and is about to win when Andrade puts Angel's leg on the rope
Garza pins Ivar after reversing a seated senton into a powerbomb.
Ruby Riott Interview
Backstage, Riott's interview is interrupted by The IIConics. They joke how they defeated her two weeks in a row and now their tag team match is about to be a handicap match.
Ruby laughs and says she has a partner and brings out Bianca Belair.
The IIConics vs Ruby Riott and Bianca Belair
Bianca pins Billie Kay after a KOD
Backstage
R-Truth approaches Cedric Alexander and Ricochet. He talks to them about his match later tonight they tell him not to worry and walk away.
He walks further and sees Akira Tozawa, Akira tries to roll him up but Truth breaks out. Akira's ninjas appear and Cedric and Ricochet come back to help Truth when R-Truth tells Akira to meet him in the ring for a match.
R-Truth (c) vs Akira Tozawa - 24/7 Championship Match
Before the match, Truth asks why Akira came out with his ninjas while he came out alone.
Shayna Baszler comes out and stares down the ninjas. Baszler destroys Tozawa's ninjas. Akira rolls out of the ring not wanting any of Shayna. Baszler turns and looks at Truth. Truth throws Shayna the mic and walks out.
Shayna Baszler starts talking. She says that she's been so patient and has let everyone have their fun, but she's done. Shayna says that she's here to give a reality check to the other women on RAW and she is that reality.
Backstage
Seth Rollins asks Murphy what's on his mind. Murphy asks about Sunday's match with Rey Mysterio.
Rollins says that sacrifices are necessary and not to worry about his match with Mysterio, just focus on his match with Aleister Black tonight.
Seth Rollins Promo
Rollins says he knows what eye for an eye means. He says he thought when Rey Mysterio made the stipulation that it was a metaphor, but he understands now that Mysterio meant it literally
He says that he's been trying to make a point for weeks, but now he has to win by plucking Rey's eye out of its socket. He did everything in his power to fulfill the prophecy from the WWE Universe. The WWE Universe have asked Rollins to brings Monday Night RAW to the future and that's what he's doing.
He says he will do what is necessary on Sunday. Rey Mysterio won't be able to see his son get married, see his wife's face again. Extreme Rules will be the end of Rey Mysterio, but it will be a new beginning.
Kevin Owens interrupts and says that he didn't expect Rey Mysterio to pick that stipulation. But he's more surprised that Seth Rollins can be such a scumbag. He blames Rollins for pushing Rey to the point that he wants to gouge Seth's eyes out.
KO says that he asked his friend Jean-Pierre LaFitte for a favor and brought Seth an eye patch.
Rollins had enough and calls Murphy to come out. Aleister Black shows up to attack Murphy before RAW goes to commercial.
Murphy (with Seth Rollins) vs Aleister Black (with Kevin Owens
Black wins via disqualification after Seth pulls Aleister off of the pin on Murphy
Rey Mysterio and Dominik come out
Kevin Owens vs Seth Rollins
Owens wins via pinfall after a Stunner
The finish was set up when Black and Dominik get on the apron to distract Seth after Rollins raked KO's eyes.
After the match, Mysterio says that Rollins is walking into their match with two eyes but walking out with only one.
Backstage
Big Show walks up to Ric Flair. Flair talks about his career and Show's, but says that Randy Orton is the most dangerous he's ever been.
Show says that Orton tonight will face another friend in R-Truth, but he asks if Flair is willing to risk his friendships so Randy can be the "Legend Killer."
Randy Orton Promo
Backstage, Orton talks about the friends he has. Orton says that when Edge returned all he had to do was reunite Rated RKO and he wouldn't have done what he did. Christian defended his friend's honor, but the mistake was that Christian selfishly accepted one more match
Orton says that R-Truth has given the WWE Universe so much and it's going to be a shame when he's another victim of the "Legend Killer."
Ric Flair comes in and tells him to get to the ring. Orton says he'll be right behind him, and just stares at Ric walking away.
R-Truth vs Randy Orton (with Ric Flair)
Ric Flair comes out and congratulates Truth's career. He also says that Randy Orton likes him and he won't punt him across the room, but he'll deliver a single RKO.
Orton wins via pinfall after an RKO
After the match, Orton looks at Truth and Flair shakes his head and tells Randy not to do it. Orton sets up for the punt when Big Show comes out.
Orton gets on the mic and tells Show not to take another step unless he wants Truth to get it. Randy says he wasn't going to punt Truth, he wants to punt Big Show. He challenges Big Show next Monday to an unsanctioned match. Show agrees and rolls into the ring, but Orton and Flair peeter out.
Backstage
Bobby Lashley and MVP walk up to Cedric Alexander and Ricochet. MVP asks Cedric if he's thought about his offer. Ricochet asks what MVP is talking about. Alexander says what he said last week stands and they walk off.
Sarah Schreiber comes up to MVP and asks about his match against Apollo Crews this Sunday. MVP says his victory is a foregone conclusion.
Sarah finds Drew McIntyre and asks about not knowing Dolph's stipulation. McIntyre starts to say it doesn't matter what the stipulation is when Ziggler jumps on McIntyre and the two fight before referees and backstage officials break them apart.
Bobby Lashley (with MVP) vs Ricochet (with Cedric Alexander)
Lashley wins via submission after catching Ricochet in the Full Nelson
Lashley wouldn't let go of Ricochet causing Alexander to come in and try to stop him, but he gets the Full Nelson before taking a slam.
Sasha Banks and Bayley (c) vs The Kabuki Warriors - Women's Tag Team Championship Match
Before the match, Bayley and Sasha run the video package they played on SmackDown hyping each other up
Before the bell, Bayley and Sasha attack The Kabuki Warriors
Banks submits Kairi Sane after reversing a basement forearm into the Bank Statement