WWE 'Monday Night RAW' Results: What's Next for Asuka?
Last week, the WWE landscape was changed when RAW Women's Champion Becky Lynch announced she was pregnant and would relinquish her title to Money in the Bank winner, Asuka.
Now that "The Empress of Tomorrow" is at the top of the Monday Night RAW Women's division what's next for her? Shayna Baszler continues to set her sights on the title and will go through anyone who stands in her way, which included Natalya last week.
Hopefully, Asuka's next opponent will step up to build the next feud for the upcoming Backlash pay-per-view.
Also in the women's division, Alexa Bliss and Nikki Cross are defending their Women's Tag Team Championships against the returning IIconics. Can Cross and Bliss remain the champs or will Peyton Royce and Billie Kaye win back the titles they won at last year's WrestleMania?
WWE Champion Drew McIntyre is a fighting champ and has invited anyone from any brand to come and face him. King Corbin will be Drew's first opponent using this new "brand to brand invitational" rule that was implemented last week.
Corbin is fresh off a loss to Elias in the first round of the Intercontinental Championship Tournament on this past Friday Night SmackDown, but can he get back some of his momentum?
The Street Profits and Viking Raiders continue to go back and forth in non-wrestling competitions. Last week, the Profits defeated the Viking Raiders in a game of basketball, which Erick and Ivar apparently let the tag champs win.
This week, The Street Profits will have to defeat the Viking Raiders in axe tossing tonight.
Here's everything that happened on the May 18 edition of Monday Night RAW.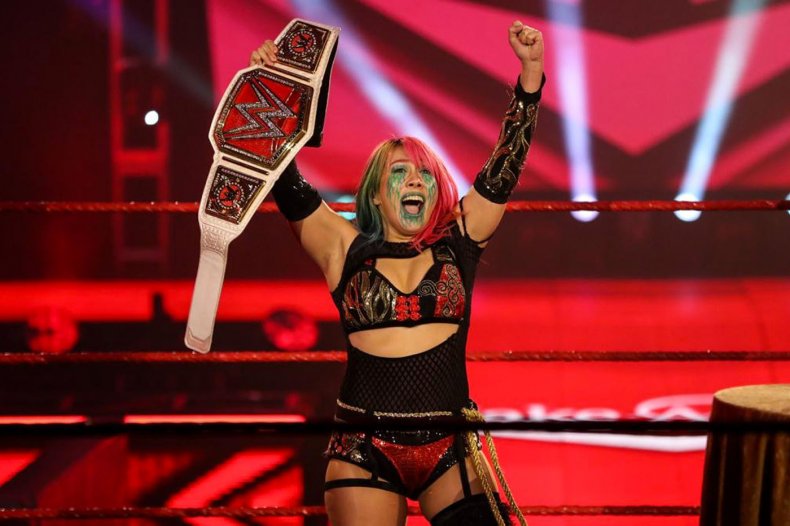 WWE MONDAY NIGHT RAW RESULTS
Randy Orton Interview
In the ring, Randy is asked about his challenge to Edge. He says at WrestleMania it pains him to say that he lost, but he's the better wrestler and he wants to prove it at BackLash.
Randy then talks to the camera to address Edge. He says that he saw doubt in Edge's eyes last week, and fear has replaced his grit.
Edge comes out and says that last week Randy gave him a lot to think about. He says that Randy sees this as another paycheck, but says that Orton is a phenomenal wrestler who didn't really want to be a wrestler. This was his backup plan because he was handed everything.
Seth Rollins Promo
Seth Rollins is standing backstage in a suit when Murphy comes up to him. Rollins says that he has a message for the people.
After the commercial, Rollins says that sometimes in life you have to lose who you are to truly find yourself. He says that when he lost to Drew McIntyre at MITB, a part of him believed he lost everything. He fell into a dark place, but he says that without darkness there can be no light. He says he's seen the light and thanks Rey Mysterio for helping him. He says what happened to Rey Mysterio was unfortunate but necessary. It's a sacrifice for the greater good.
Seth tells Rey Mysterio "you're welcome."
Humberto Carrillo interrupts and says that Seth is a coward and is here to stand up for his idol, Rey Mysterio. Murphy gets in between him and Rollins. Seth says that he's not dressed for a fight and while Murphy has a match against Aleister Black tonight, he'll be happy to oblige Humberto right now.
Murphy (with Seth Rollins) vs Humberto Carrillo
Murphy wins via pinfall after Murphy's Law
After the match, Murphy and Seth beat down Carrillo but Aleister Black comes out for the save and fends off the heels.
Backstage
King Corbin orders a backstage hand around when he talks to the referee for his match against Drew McIntyre. He says that they are going to talk about what's going to happen tonight before RAW goes to commercial.
Liv Morgan
Liv says that her mother helped her become a better person because she never learned to quit even when she didn't have anything and struggled.
She brings up her loss to Charlotte, but she learned that she's like her mother. She's determined and one day will become RAW Women's Champion.
Charlotte Promo
Charlotte lists all the times she's been on television in the last week. She brings up her upcoming match against Bayley and says that she's excited to teach the SmackDown champion a thing or two.
She calls out Ruby Riott because she knows she has something to say.
Charlotte vs Ruby Riott
Charlotte wins via submission after a Figure Eight
The match was competitive
Bobby Lashley Interview
MVP interrupts the interview and says that he and Lashley won't be working together because Bobby is busy dealing with clowns like R-Truth and Lana. MVP says that it's been 13 years since Lashley had a title. He asks when is Lashley going to free Lashley
Asuka Celebration
Kairi Sane introduces Asuka and gives the new champ a bouquet of flowers.
Asuka says she's so happy for Becky Lynch and for being the new champion. Kairi says that Asuka has held every women's championship in the WWE. She's a grand slam champion. Kairi starts to play on the recorder when Nia Jax interrupts
Nia says there's nothing to celebrate. She says she was handed the RAW Women's Championship and lucked her way into a temp job. She'll be replaced by someone more deserving, herself. She says when they get in the ring and Nia wins the championship then there will be a celebration. Kairi Sane steps up to Nia when Jax tells her to chill, but that gives Asuka an opening to attack the challenger and throw her out of the ring
King Corbin Interview
Corbin says that he chose to have this match with Drew and he knows McIntyre better than anyone else. He helped Drew when he first got on RAW and although McIntyre beat Lesnar he's capable of mistakes. And when he beats Drew tonight, the next time he faces McIntyre at WrestleMania he'll take his championship away.
Drew McIntyre is watching this interview backstage
R-Truth vs Bobby Lashley
Before the match, Truth rolls a recap of what happened last week. He says that John Cena would never give up when facing a mean man like Lashley. He also won't give up getting the 24/7 championship back from Tom Brady
Lashley wins via submission after a Full Nelson
After the match, MVP comes out and congratulates Lashley. Backstage, Lana is upset at what she's seeing
Backstage
Asuka and Kairi Sane are talking backstage and say bye to each other. Nia Jax is lurking in the back and looks in the direction Kairi went
Alexa Bliss and Nikki Cross (c) vs The IIConics - Women's Tag Team Championship Match
Before the match, The IIConics ask Bliss and Cross if they learned anything from the loss last week. They show a recap of last week's match and say they are glad that Bliss and Cross came by to give them their titles.
Bliss and Cross win after the referee stops the match when Peyton Royce, who wasn't the legal competitor, kept ramming Bliss into the corner and didn't listen to the referee.
Backstage
Kairi Sane is seen playing the recorder when Nia Jax comes up from behind and slams her against a road case.
Billie Kay and Peyton Royce are fighting backstage when Billie slaps Peyton. Kay apologizes as the two hug and cry.
Kairi is being tended to by medical personnel with Asuka trying to comfort her friend. Asuka storms off and yells for Nia Jax. Asuka catches up to Nia and starts to yell at her in Japanese. Not knowing what she's saying, Nia walks around Asuka but the champ pulls her by the braids and kicks her.
Natalya vs Shayna Baszler - Submission Match
Baszler wins via submission after a Kirifuda Clutch
After the match, Nattie is visibly upset and while the production crew is trying to set up for the Kevin Owens show, she starts to destroy the set.
Backstage
Austin Theory, Andrade and Angel Garza are arguing backstage when Zelina Vega breaks them up and tells them
Kevin Owens Show
KO thanks Nattie for destroying the set. He then says that at WrestleMania he was banged up which is why he hasn't been on RAW lately. But he's ok now.
Zelina Vega and her crew are KO's guests and Vega says she's sick of people talking about how her group is dysfunctional.
KO brings out Apollo Crews who runs in and attacks Andrade
Kevin Owens and Apollo Crews vs Andrade and Angel Garza (with Austin Theory and Zelina Vega)
Crews pins Garza after a Power Bomb
The finish was set up when Theory tried to hit Crews with a punch, but Apollo ducked and Austin hits Garza instead. This allows Crews to hit his finish on Angel Garza
After the match, Theory tries to explain how it was an accident but Andrade starts to beat down Austin. He and Garza take out Theory with Vega telling him that she never should have brought him on. The group leaves Austin Theory in a heap
Drew McIntyre Interview
He's asked about having the brand vs brand invitational. Drew says that he's having a great time and every Monday Night is a great time for a Claymore party. The invitational is fantastic because it allows for dream matches. Drew says that his first dream match with Corbin is happening tonight and says that he is a terrible human outside the ring, but is dangerous in the ring.
Drew says that Corbin is crazy to come looking for a fight with him and he has a Claymore waiting for him.
Aleister Black vs Murphy (with Seth Rollins)
Austin Theory is still outside of the ring and Seth Rollins is talking to him
Black wins via disqualification after Rollins directs Theory to attack Black. Murphy and Theory attack Aleister. After the attack, Seth hugs Austin
Apollo Crews Interview
Apollo says that this has been the longest 3 weeks of his life and he can't waste his time anymore and make something happen. He says that he's going to challenge Andrade for the US Championship next week
Zelina Vega comes out and tells Apollo that he could walk away from this match with one good knee. Or he can have the match and not walk again. Apollo says Andrade better be ready for next week.
Drew McIntyre vs King Corbin
Before the match, Bobby Lashley and MVP come out. MVP says that they have an interest in this match. Lashley gets on the mic, and says that he's putting Drew on notice. He's coming after the WWE Championship.
McIntyre wins via pinfall after a Claymore