WWE Monday Night RAW Results: Will Seth Rollins and Brock Lesnar Meet Before Their SummerSlam Match?
It's the final Monday Night RAW before SummerSlam this Sunday, and WWE will look to push current feuds further before the "biggest party of the summer."
According to the official Monday Night RAW preview, Universal Champion Brock Lesnar will appear on the go-home show. After Lesnar's beatdown of Seth Rollins last week, it's unclear whether "The Architect" will also show up on RAW before his rematch with Lesnar on Sunday. Fans can expect Lesnar and his advocate, Paul Heyman, showing up to drop a promo criticizing Rollins' misplaced confidence. But after the brutal attack on Rollins last week, it'll be shocking to see Seth return for one last staredown before SummerSlam.
One of the oddest moments from WWE television last week was the forklift accident at the end of SmackDown Live that almost hurt Roman Reigns. While Reigns left unscathed, the WWE Superstar was visibly shaken by the event. Roman was set to announce a challenge for SummerSlam, but his attacker could show up on Monday Night RAW tonight.
Becky Lynch remains the top champion of the RAW Women's Division and her match against Natalya at SummerSlam has turned into a Submission match. While the two will pit the Sharpshooter against the Dis-Arm-Her, how will the feud escalate heading into Sunday's bout?
The OC - AJ Styles, Karl Anderson and Luke Gallows - hold the RAW Tag Team and US Championships heading into SummerSlam. While Styles will take on Ricochet for the US Title on Sunday, will a team challenge Anderson and Gallows for the RAW tag straps? The duo just won the titles last week, so The Revival, The Usos or both could look to regain the championships.
And finally, the history of the 24/7 Championship got a lot more interesting when Maria Kanellis became the first WWE pregnant champion after pinning her husband, Mike. Now that she's lauding the 24/7 Championship over the locker room it'll be interesting to see where this saga goes.
Here's everything that happened on the August 5 episode of Monday Night RAW.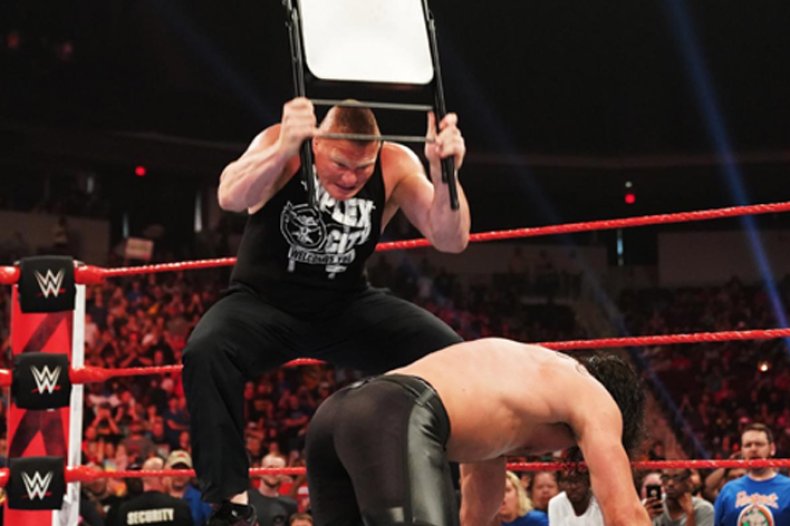 MONDAY NIGHT RAW RESULTS
Show starts with a moment of silence for the victims of the El Paso and Dayton attacks over the weekend.
Opening Segment
During the new RAW opening, Samoa Joe gets on the mic and interrupts it. He gets in front of the commentary team and says he's tired of people saying he's the one who tried to harm Roman Reigns on SmackDown Live last week.
Joe demands to look at the footage to see if he was anywhere near there. After not seeing anything that can show he's the one behind it, Samoa Joe says that when Roman Reigns arrives tonight he's going to get in the ring and wait for an apology. He's interrupted by Becky Lynch's music.
Becky Lynch and Charlotte Flair vs Natalya and Trish Stratus
Lynch and Charlotte wins via disqualification
Natalya put Lynch in the Sharpshooter and wouldn't let go even after Becky got to the ropes, forcing the referee to call for the bell.
Charlotte Flair hit Lynch in the back after Becky tagged herself in. This led to Nattie hitting the Sharpshooter and Flair left the match.
After the bell, Trish Stratus (who didn't get involved in the match at all) pulled Nattie off of Becky and Natalya pushed Stratus before leaving.
Rey Mysterio vs Andrade (with Zelina Vega)
Andrade wins via pinfall after a Hammerlock DDT
Finish was set up when Andrade tried to take Mysterio's mask and the referee pulled him off. In the distraction, Zelina Vega hung up Mysterio on the middle rope allowing for Andrade to hit his finisher.
24/7 Segment
Earlier in the day - at 2pm - Mike and Maria Kanellis are at the OBGYN. In the waiting room, Maria says that Mike is tasked with protecting her and the 24/7 Championship. Mike says he won't let her down, and Maria hits back with "that'll be the day."
She is called into the office and takes Mike with her. Mike tries to relax Maria while she's in the stirrups. He hugs her while she's lying down, and a referee who is dressed as a doctor, counts three. Mike is the new 24/7 Champion.
Mike runs into the waiting room where R-Truth, in a dress, and Carmella - dressed like a guy - are waiting for him. Truth says that his water broke and pulls a baby doll out from under the dress and throws it at Mike. Kanellis catches it, causing a distraction and Truth to roll him up for a three count. Carmella jumps on Truth's back and they run off with the title.
Becky Lynch and Natalya Interview
Lynch says that Nattie can bring her whole family to SummerSlam. She brings up how Natalya said on social media that the machine has gotten behind her and not Nattie, but Becky says that she is on top because of the work she put in while Natalya has tried to make everyone like her.
Elsewhere, Natalya is asked to respond and Nattie says that Becky can put the Dis-Arm-Her on but she won't tap, even if her arm is broken. But she plans to end Becky's career with the Sharpshooter.
Brock Lesnar/Paul Heyman Promo
Heyman asks wasn't Seth Rollins supposed to be the man who would take down Brock Lesnar? Heyman shows footage from last week's beat down.
Heyman says that the Seth Rollins is here tonight. He says that Rollins has more balls than he has brains. Rollins' music hits, interrupting Heyman, before Seth slowly walks out with a steel chair.
Seth goes at Brock with the chair, but Lesnar kicks Rollins in the ribs. Brock then starts to hit Seth with the chair. Brock then starts to push and toss Rollins into the corner. The segment ends with Lesnar hitting Seth with the F-5
After a commercial break, Seth gets on the mic and says that it's gotten to the point where he asks himself if it's worth it. If the thing you love is worth fighting for and taking a beating for. He says it is because this is all he's ever wanted and this is all he's got. Seth says he'll be at SummerSlam and he'll beat Brock Lesnar. He guarantees it.
Kurt Angle Interview
Kurt Angle is the special guest referee for tonight's match between Drew McIntyre and Cedric Alexander. He's interrupted by The Street Profits who plug NXT Takeover: Toronto for this Saturday.
Montez Ford pulls out milk from a cooler and starts to pour some out to Kurt. Angle says that he promised his wife that he wouldn't do anything crazy. Dawkins asks if he's Kurt Angle or Mike Kanellis. Angle agrees to take some, but the gang are interrupted by Drew McIntyre.
Drew wants to remind Kurt the last time they were in the ring together and to call the match straight down the middle or he'll put a boot to his skull.
Viking Raiders vs Local Enhancement Talent
Viking Raiders win via pinfall after the Viking Experience
Cedric Alexander vs Drew McIntyre
Kurt Angle is special guest referee
Before the match, McIntyre attacks Cedric from behind on the ramp
While the two fight on the ramp, The Fiend attacks Kurt Angle in the ring using the Mandible Claw
New Day (Xavier Woods and Big E) vs Karl Anderson and Luke Gallows (with AJ Styles)
Luke Gallows is wearing face paint similar to what he wore in Japan
New Day wins via disqualification after AJ Styles got involved and the three beat down Xavier Woods and Big E.
Ricochet comes in for the save
New Day and Ricochet vs The OC
Gallows pins Xavier Woods after a Magic Killer
Finish was set up when AJ Styles tripped up Woods while the referee was distracted.
Samoa Joe Promo
Joe gets in the ring and says that he's giving Roman Reigns the chance to come out and apologize to him.
Samoa Joe gets a chair and sits in the ring. He says that Monday Night RAW is shut down until Roman comes out. He gives Roman to the count of three to come out. After three, Roman doesn't come out. After a few seconds, a stagehand tells Joe that Roman is in the parking lot. Samoa Joe goes out to the parking lot to meet him.
Joe meets Roman in his car and the two are about to square off when Roman sees a car about to ram him and he jumps in his car. The car hits Roman's car and Joe checks on Reigns and screams for medics.
Kabuki Warriors vs Mandy Rose and Sonya Deville vs Alexa Bliss and Nikki Cross vs The IIconics (c) - Women's Tag Team Championship Match
The match is Fatal Fourway Elimination
Mandy Rose pins Billie Kaye
Asuka submits Mandy Rose after an Asuka Lock
Alexa Bliss pins Kairi Sane after a Twisted Bliss
The finish was set up when Nikki Cross stopped Sane from doing her finisher while the referee was distracted.
Miz TV
Miz says he wanted to make sure Dolph Ziggler showed up for their match on Sunday. He brings out Shawn Michaels.
Dolph says he's the only living, breathing legend in the ring right now. Miz says that it's not him that he's facing on Sunday and that he should have read the contract before signing. Dolph looks at Shawn Michaels, but the Hall of Famer says he's not Ziggler's opponent at SummerSlam.
Goldberg's music hits as Ziggler leaves the ring. Goldberg signs the contract and tells Dolph that he's next.
When Ziggler turns around on the ramp, he's hit with Sweet Chin Music from Shawn Michaels.