After many twists and turns, it was finally revealed that Rowan was the one who attacked Roman Reigns.
On the August 27 episode of SmackDown Live, the show was bookended by the "who attacked Roman Reigns" storyline. Daniel Bryan and Rowan have asked for Roman to apologize for accusing them, and Reigns began the night saying he'll say what he has to say in the ring.
It wouldn't be until the final segment of the night when Reigns shows a backstage video to Daniel Bryan and Rowan. In that video, it's shown that Rowan - in a black hoodie - was the one who pushed the travel crates onto Roman in the first attack.
After seeing the evidence, Daniel Bryan goes ballistic on Rowan asking what he did. Before Rowan can explain himself, Bryan repeatedly slaps his tag team partner causing him to leave. Bryan walks to the ring to confront Roman and explain to him that he wasn't the one behind the attacks. Roman doesn't let Daniel finish as he spears the former WWE Champion as the episode ends.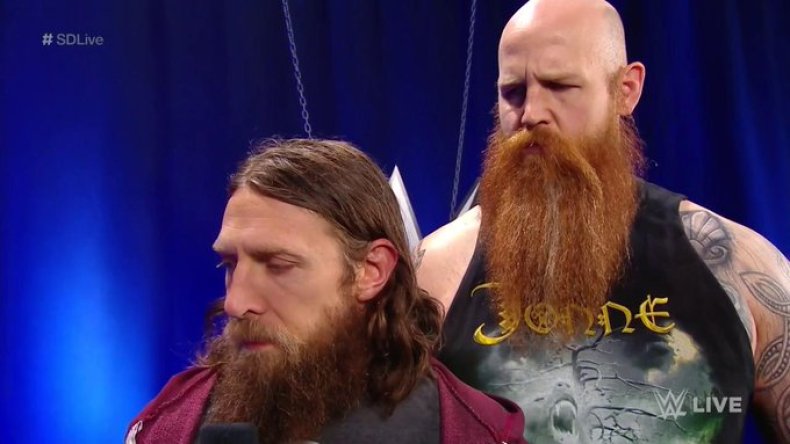 It should be noted that commentary made a point of questioning whether Rowan acted alone or was told to do it by Bryan or someone else.
The attacks on Roman Reigns began before SummerSlam when a lighting rig fell on the former Universal Champion while he was preparing for an interview. Luckily, Reigns was not hurt.
Reigns would then begin to accuse Samoa Joe, who he was feuding with at the time, of being behind the incident. On an episode of SmackDown Live, Joe would confront Roman Reigns in the parking lot of the arena when someone tried to hit Roman with a car. Samoa Joe would help Roman out of his vehicle.
Roman would apologize to Joe for accusing him, but he had questions for Buddy Murphy who was identified at the scene of the lighting rig accident. Reigns confronted Murphy and after a brawl, Buddy would say Rowan was at the scene of the crime.
Daniel Bryan would come to the defense of his tag team partner and say that Murphy only said Rowan's name because Roman gave him no other choice. Bryan and Rowan would approach Murphy backstage and force him to admit he was lying about Rowan being the one who tried to hurt Roman.
The next week, Roman Reigns approached Buddy Murphy asking if he was lying to him or to Daniel Bryan. Murphy swears he thinks he saw Rowan at the scene. Roman doesn't like that Buddy isn't so confident with his answer and promises to return if he finds out Murphy is lying to him.
The story got really weird when on the following SmackDown, Rowan and Daniel Bryan found someone who they say was the one behind the attack. It's revealed at the end of the episode that it was a backstage crew member who looked similar to Rowan.
Many in the WWE Universe believe it's actually Daniel Bryan who is the mastermind of the attacks. And as Dave Meltzer reported on an episode of Wrestling Observer Radio before SummerSlam, the plan was to have Reigns vs Bryan, but the WWE missed their timing.
Now that Roman has attacked Daniel Bryan, we're likely to see this story and feud build towards Clash of Champions on September 15.
What do you think of Rowan being the one who attacked Roman Reigns? Where would you like to see this story go? Let us know in the comments section below.
Uncommon Knowledge
Newsweek is committed to challenging conventional wisdom and finding connections in the search for common ground.
Newsweek is committed to challenging conventional wisdom and finding connections in the search for common ground.
About the writer
Phillip Martinez is a game and culture reporter for Newsweek. Prior to joining Newsweek in 2018, he was a reporter and editor for iDigitalTimes and Player.One. A Bronx native, he graduated with his Bachelor's degree in Journalism from St. John's University in 2010. An avid Nintendo fan and wrestling mark, he's always looking to become a Pokémon Master while fantasy booking this year's WrestleMania. You can contact him at p.martinez@newsweek.com