WWE SmackDown Live Results: Roman Reigns Responds to Daniel Bryan and King of the Ring Continues
Last week's SmackDown Live ended in odd fashion with Daniel Bryan revealing to Roman Reigns that a backstage crew member who "looks" like Rowan could be behind the attacks.
While that episode ended on a cliffhanger, this week's show will continue the "who dunnit?" storyline involving Roman, Bryan and Rowan. Daniel Bryan is demanding an apology from Roman for accusing Rowan, but will "The Big Dog" oblige or are there still questions that need to be answered?
The first round of the King of the Ring tournament will conclude tonight with two more matches. Buddy Murphy and Ali will square off in the first round in what can be the match of the night. Both former 205 Live competitors have had some classics in the past and with Murphy putting on back-to-back incredible matches against Roman Reigns and Daniel Bryan, this could be a three-peat.
The other match is between former tag partners, Chad Gable and Shelton Benjamin. Both competitors have not been showcased in the ring as of late, so this could be a springboard for one of them to get more TV time in the future.
WWE Champion Kofi Kingston and Randy Orton are in the midst of their personal war, and after Kingston got the better or The Viper last week fans can expect some sort of retaliation on tonight's show.
Here's everything that happened on the August 27 episode of SmackDown Live.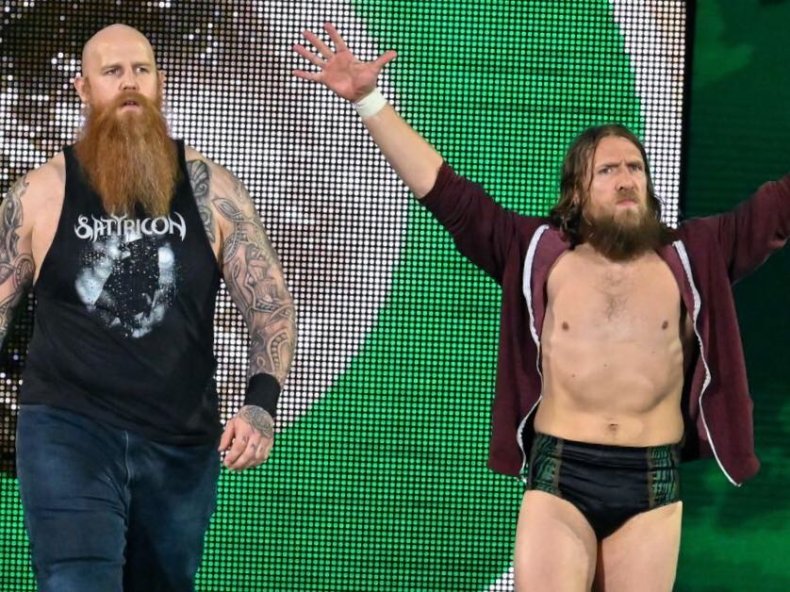 SMACKDOWN LIVE RESULTS
Opening Segment
After a recap package of the Roman Reigns storyline, Roman is asked if he had anything to say to Daniel Bryan or Rowan. Reigns says he has plenty to say, but it's best if he says it in the ring.
Kofi Kingston comes out to the ring and says that Randy Orton made everything personal when he involved his family and tried to take out Xavier Woods with the help of The Revival. He says that the last thing we saw was Orton scared because Randy saw the look in Kofi's eyes and that he's not here to play around. They will have their rematch at Clash of Champions for the WWE Championship and he gets to prove to Orton that he was ready in the past and ready now.
Orton gets on the titantron and calls Kofi stupid some more. He pulls out a letter from a fan who says to stop hurting Kingston. Orton says that the one who wrote the letter is Kofi's son. Randy says that he's staying at the same hotel as Kingston's family and he can pay him a visit right now. Randy leaves, and Kofi runs to the back.
Orton meets Kofi in gorilla and the two brawl and even officials and producers can't pull them apart. The brawl ends when Orton hits Kofi with an elevated DDT onto the floor.
Backstage
Big E leaves the trainer's room and he's asked about his match with Randy Orton later tonight. Big E says that Kofi will be ok for Clash of Champions, but he can't say the same for Orton.
Ali vs Buddy Murphy - King of the Ring Tournament
Ali wins via pinfall after 450 in a highly-competitive match
After the match, the two shake hands
Backstage
Ember Moon walks up to Bayley. Bayley asked her here to talk about SummerSlam. Ember says she's moved past that and she will have another shot later.
Ember says that Charlotte is wrong and that Bayley is the face of the division because the champ has given her and a lot of them an opportunity.
Lacey Evans shows up and says that Bayley is bringing the title and the division down. Evans says that she is the face of the division and she will prove it in her match with Bayley tonight.
Miz Promo
Miz gets on the mic and says that Sami hitched his wagon to Shinsuke because Zayn hasn't had success in the WWE. Miz says that he's made the Intercontinental Championship the most prestigious title in the WWE and he can do it again. He challenges Shinsuke Nakamura for the IC title at Clash of Champions
Sami comes out and says that he's a liberator. He has liberated Shinsuke and is feeling more free and stronger than he has in years. Sami finds it funny that Miz talks about the IC title like it's his, but Shinsuke is the Intercontinental Champion. Sami calls Miz the king of soft style.
Miz tells Sami to get in the ring and fight. Sami tells Miz to come out to the ramp and come and get him. Miz walks out, but Shinsuke attacks Miz from behind all while Shinsuke is laughing and gloating on the mic. Shinsuke hits Miz with a Kinchasa against the ring. Shinsuke rolls Miz into the ring and hits another Kinchasa.
Backstage
Elias is strumming in Shane's office when Kevin Owens comes in. KO asks why Elias is in the office, but Elias asks why Owens was there.
KO says he came to talk to Shane, but Elias says that Shane isn't there. Kevin Owens thanks Elias and walks out.
Bayley vs Lacey Evans
During the match, Charlotte Flair walks out to the ramp and stays to watch
Bayley wins via pinfall after a Flying Elbow
Daniel Bryan and Rowan Interview
Bryan says that they delivered the person who did the deed to Roman last week and they haven't received an apology. Daniel says they won't leave the arena until they get one.
Randy Orton vs Big E
Big E walks down the ramp with a serious face and just drops his title on the ramp.
Orton wins via pinfall after an RKO
The finish was set up when The Revival came down to distract and when the referee tried to get out of the way of Big E, they hit him while the official's back was turned.
After the match, The Revival and Orton hit a Super RKO on Big E.
Chad Gable Interview
Gable says that Benjamin could make his jokes, but at the end of the night it will be him who looks up at him.
Shelton walks up to Sarah and says that he's looking for Chad while staring daggers at Gable.
Elias Segment
Elias is sitting in the throne, holding the scepter and wearing the crown. He says that past champions like Kurt Angle and Brock Lesnar could not wear the crown like him.
Kevin Owens pops up behind Elias and they brawl until they get into the ring. Owens eventually hits Elias with a Stunner and KO walks away.
R-Truth slowly walks into the ring with a referee and pins Elias, but Drake Maverick pulls Truth off. Drake then pins Elias and runs away with the 24/7 Championship.
Chad Gable vs Shelton Benjamin - King of the Ring Tournament
Roman Reigns Promo
Before Roman talks, Rowan and Daniel Bryan appear on the titantron. Bryan says all Roman has to do is say, "I'm sorry."
Roman asks the crowd if should apologize. The crowd says no, and Roman says they should check out this video.
A video of the first attack on Roman is shown with a spotlight on Rowan who is seen pushing the crates on Roman. Daniel Bryan gets upset at Rowan and starts to slap him and says that he hates liars. Rowan tries to explain himself, but Bryan doesn't give him a chance. Rowan walks away while Daniel Bryan gets into the ring with Roman.
Bryan says that someone told Rowan to do this and it wasn't him. He tries to tell Roman that it wasn't him, but Reigns hits Bryan with a Spear.
Commentary makes a point that they still don't know if Rowan was acting alone or not.