WWE SmackDown Live Results: Who Attacked Roman Reigns?
Tonight is the final SmackDown Live before this year's SummerSlam and feuds on the blue brand will push forward toward Sunday, including the mystery as to who Roman Reigns' attacker is.
The last two weeks saw Roman Reigns as a victim of an accident involving scaffolding and someone trying to hit him with a car. It's unclear who is trying to take out the Big Dog, but longtime rival Samoa Joe is the prime suspect. However, on this week's Monday Night RAW, he was staring down Roman when the car almost hit the former Universal Champion.
While Joe seems to be innocent, who will want to hurt Roman just days before SummerSlam?
Kevin Owens is set to take on Shane McMahon for the soul of SmackDown Live, but before their match Shane will be KO's guest on the Kevin Owens Show. KO will have to quit the company if he loses on Sunday, so the stakes are high for the prize fighter, but will the self-proclaimed "best in the world" Shane McMahon do anything to make sure he is the victor?
WWE Champion Kofi Kingston challenged Randy Orton to a match at SummerSlam, which The Viper accepted. Last week, Orton explained in a video package why he believes Kingston isn't a legitimate champion and isn't ready to hold the mantle. Tonight, Kofi will respond to Orton's words in a sit down interview. What will the champion have to say just days before SummerSlam?
Trish Stratus is returning to the ring this Sunday to take on Charlotte Flair. Stratus was goaded into a match with Flair after she claimed she was the best female wrestler in any generation and that Trish should simply go back to being a mother.
Stratus looks to prove Charlotte wrong and cement her legacy as one of, if not the, best women's WWE superstar ever.
A lot is expected to happen on SmackDown Live tonight, here's everything that went down on the August 6 episode.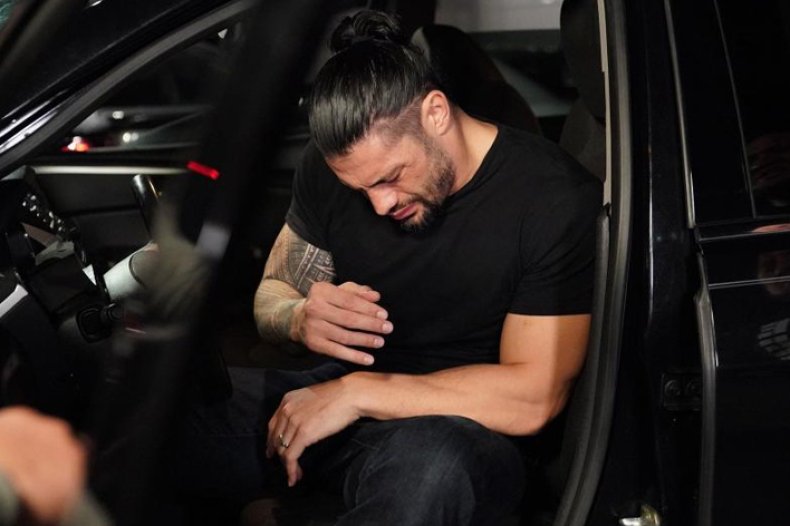 SMACKDOWN LIVE RESULTS
Opening Segment
Charlotte Flair comes out to the ring and tells the fans that they are witnessing greatness when they see her. She says that people who aren't superior can only strive for greatness, and when they can't they do something different just like Trish Stratus.
She says that Trish left to go home to have a family when the women's division becoming the best its ever been. The division is much better than it was when Trish was wrestling and Charlotte will prove that she's superior in Stratus' home country.
Charlotte shows a hype package of her achievements, but it changes to a hype package for Trish. When it's done, Trish comes out She says that she showed that video to remind Charlotte why she has the opportunities. Trish says that Charlotte is right and has been dreaming of one more match. Trish says that Charlotte is the embodiment of everything she fought for. Maybe it's to show her family.
Trish says that Charlotte may be the queen but she's not her. Charlotte says she will make Trish bow down to her before Stratus slaps her. Charlotte is upset but decides to laugh and get out of the ring.
Dolph Ziggler vs Rey Mysterio
Ziggler comes out to Goldberg's music and does his entrance
Before the bell, Ziggler jumps Mysterio on the outside and hits him with the superkick.
Ziggler gets on the mic and says another legend goes down by his hand. He says that his match with Goldberg on Sunday will be the Hall of Famer's last.
Ali comes out to check on Mysterio before he starts to fight Ziggler.
Dolph Ziggler vs Ali
Ziggler wins via pinfall after a Superkick
Roman Reigns Interview
The interview was taped earlier in the day. Roman says he doesn't know what's going on or why he's being attacked. WWE has offered Reigns personal security, but he wants to do things alone.
Roman says that he knows Samoa Joe isn't the guy and he apologizes to him. Roman then says he will find out who did it.
Natalya vs Ember Moon
Match ends in double count out when Natalya puts the Sharpshooter on Ember on the outside and doesn't let go.
Bayley comes out for the save, but Natalya pushes Bayley into the barricade.
Kevin Owens Show
KO tells Shane McMahon to get out here.
Kevin asks why didn't Shane put his career on the line. He realizes that he's a McMahon and he can say and do whatever he wants. But he's changed his stance and challenges Shane to put his career on the line at SummerSlam.
Shane tells Owens no. He reminds KO that it's his ego that got him in this mess, but there's no shame losing to the "best in the world."
Owens says that he finally proved that he doesn't have any balls.
Shane says why don't they give the people a preview of Sunday. KO clears the ring, but Elias comes out and they double team Owens. However, KO gets the upperhand and hits Elias with a Stunner on the table.
Shane then hits KO before pinning him between the barricade and the announcer's table. He then drop kicks a chair into KO's head.
Sami Zayn Promo
Sami says last week he offered Aleister Black a way out by losing to him at SummerSlam. Sami says that Black hasn't said anything toward the challenge and that's because he's afraid to lose to him.
Aleister Black cuts Zayn off and tells him that their match isn't happening at SummerSlam, it's happening now.
Aleister Black vs Sami Zayn
Black wins via pinfall after a Black Mass
Shelton Benjamin Segment
Shelton is asked if he'll ever compete for the 24/7 Championship. Shelton looks around and says "well" before smiling and walking away.
Firefly Fun House
The episode starts with Huskus the pig lying on a table surrounded by candy. Bray Wyatt comes out and says that Finn Balor isn't afraid of anything and he loves that.
Wyatt says that Finn's courage is just ignorance in disguise for challenging The Fiend. He says that they have been hurting for so long, but it's Finn's turn to hurt.
Backstage
Chad Gable is working out backstage when Elias tells him to get his weight bands away from his guitar. And that short people can't step to him.
Kofi Kingston Video Package
New Day vs Daniel Bryan and Rowan
New Day wins via disqualification after Rowan throws the steel steps at Xavier Woods after a long and competitive match.
After the bell, Rowan and Bryan lay out the New Day.
Backstage
Roman Reigns is walking backstage and enters the locker room. He tells everyone to leave instead of Buddy Murphy. Roman says he saw Buddy in the footage and asks if he did it.
Murphy repeatedly says he didn't do it, but Buddy says that if he did do it he wouldn't tell him.
Roman hits Buddy Murphy and the two fight before Reigns pins him up against the wall and asks again who did it. Murphy says Rowan did it but he didn't see Daniel Bryan.
The show ends with Daniel Bryan and Rowan looking at the backstage footage from the ring without saying or doing anything.