WWE SmackDown Live Results: Shane McMahon Addresses Kevin Owens Firing
Following a chaotic Clash of Champions, SmackDown Live will build towards Hell in a Cell starting tonight.
First on the docket for the blue brand is a six-man tag match pitting The New Day against Randy Orton and The Revival. The "Top Guys" got the best of Big E and Xavier Woods on Sunday to capture the SmackDown Tag Team Championships, but not all was lost as Kofi Kingston retained his WWE Championship against Orton.
How will all parties react when they clash on Tuesday night?
Baron Corbin won the King of the Ring tournament on Monday Night RAW, and tonight will be his coronation. What will Corbin do with his new title, and will someone step up to take him down a peg?
SmackDown Women's champion Bayley escaped with the victory and her title on Sunday after resorting to dirty tactics to defeat Charlotte Flair. A couple days later and Flair will likely want a rematch for the championship. Will Bayley grant her one?
Erick Rowan improbably defeated Roman Reigns at Clash of Champions thanks to an assist from a returning Luke Harper. Rowan will have a sit down interview on Tuesday night to hopefully give some answers as to why he attacked Roman and where Harper plays into this.
And finally, Shane McMahon will explain to the WWE Universe why he fired Kevin Owens last week. After Owens was selected to be the special guest referee against in McMahon's match against Chad Gable, Owens didn't "do his job" to help the boss' son win. Owens has teased a return to NXT, but will Shane bring KO back or is this the last we see of the "prize fighter" on SmackDown Live?
Here's everything that happened on the September 17 episode of SmackDown Live.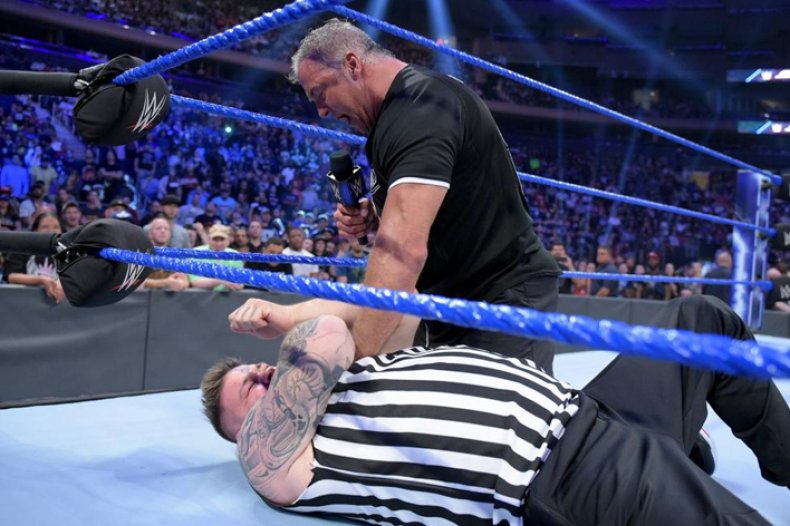 SMACKDOWN LIVE RESULTS
The New Day vs The Revival and Randy Orton
Kofi pins Dawson after a Trouble in Paradise
The match was almost 20 minutes long
After the bell, Brock Lesnar and Paul Heyman come out. Kofi tells Big E and Xavier Woods to get out the ring.
Heyman says that Lesnar not only stands in front of Kofi but in front of the longevity of Kingston's title reign. He informs Kofi that Lesnar will challenge Kingston for the WWE Championship on the SmackDown premiere on Fox (October 4).
Kingston gets on the mic and says he made a promise that he'll be a fighting champion. Kofi accepts Lesnar's challenge. Brock holds out his hand to Kofi, but instead hits the champion with the F-5.
Sasha Banks and Bayley Interview
Banks is asked about facing Becky Lynch in Hell in a Cell. Banks says she's the star of the women's division and she'll accept any challenge. Sasha says she's already been in a cage match before, but Lynch hasn't.
When Sasha is asked about tonight's opponent Charlotte, Bayley interrupts and says she will answer everything in the ring.
Erick Rowan Interview
Rowan is asked about Luke Harper. He says that if he wants to know about Luke, Michael Cole should ask him. Talk to Rowan about Rowan.
Erick Rowan says that the attacks on Roman Reigns were to scare him. Cole says that he tried to kill Roman. Rowan warns Cole about raising his voice. He says that the attack on Roman was to shift the perception of Reigns and of him. He says that everyone thinks of him as just a grunt or a goon who does things for people. Rowan says he's not a follower, he's a leader.
Rowan is asked about betraying Daniel Bryan. Erick Rowan says that he's far superior mentally and physically than Bryan. And he won't let anyone disrespect him again.
Ali vs Shinsuke Nakamura (with Sami Zayn)
Sami Zayn gets on the mic before the match and says that he likes Ali. He respects him but he says that Ali will never be a champion. Ali attacks Shinsuke and Sami grabs Ali's leg allowing Nakamura to hit the Kinchasa. He then hits a Kinchasa again.
After the attack, Kevin Owens is seen taking a seat in the audience.
Backstage
Shane McMahon in his office sees Owens get in his seat when a referee tells him that he has someone looking for him. Shane leaves his office and the GM is served with papers. He opens the envelope and looks annoyed.
Shane McMahon Segment
Shane comes out to the ring with security. Shane tells Kevin Owens to get in the ring and to talk about this letter he received.
KO gets in the ring and Shane tells the crowd that he received a "wrongful termination" lawsuit. If KO wins the lawsuit, he will win $25 million.
Shane says Owens' case is weak. Kevin disagrees and says that he fired him for "not doing his job" but he did his job just fine. It's not his fault that Shane tapped out. He says he's hurting Shane where it hurts most, his wallet and his pride. Owens says that not only will he win the money, but he will come back and get to fire Shane.
Sasha Banks (with Bayley) vs Charlotte Flair
Charlotte wins via disqualification after Bayley breaks up the pin
Bayley and Sasha beat down Charlotte when Carmella comes out for the save. Commentary talks up how Carmella and Bayley are friends. Charlotte and Carmella clear out the ring.
King of the Ring Coronation
Corbin puts on the robe and crown before getting on the mic.
Corbin says that he's not only the King the WWE Universe wanted but needed. He says he has everything that it takes to be King. Baron says that he won the tournament with honor and should be respected. And if he doesn't get the respect he deserves, he can rule with an iron fist.
Corbin calls Chad Gable and begins to make short jokes and puns. He says he called Gable out because he's just like the fans, no matter how big you dream and work you always come up short. This causes Gable to tackle Corbin on the throne, which breaks. Gable breaks the scepter and robe. He then stomps on the crown.
Heavy Machinery vs B-Team
Heavy Machinery wins via pinfall after a Compactor on Bo Dallas
Daniel Bryan Promo
He says that he was right that he wasn't the one who attacked Roman Reigns. But he wants to talk about Erick Rowan. He saw Rowan, he saw the potential and when they won the tag team championships, he didn't just see him as an equal he treated him like one. And he treated him like a friend.
Erick Rowan comes out and says that he's tired of Bryan speaking. He says he was always the one behind him and not allowing him to talk. He asked Daniel if he ever asked him about what he felt about anything. He doesn't want to be disrespected.
Bryan says he feels disrespected do something about it. There's nothing worse than breaking up their friendships. Bryan drops the mic and dares Rowan to hit him. Luke Harper comes out and attacks Bryan as the two brutes take him down.
Roman Reigns comes out, passes Harper and hits Rowan with a Superman Punch. The duo get the upperhand and lay out the security guards from earlier. Harper and Rowan put Bryan through the announce table