WWE Superstar Sonya Deville Talks Opportunities, Acting, Mandy Rose and More
Like Wall Street, the stock of WWE superstars are constantly in flux. But when an opportunity presents itself, it's best to run with it. That's what Sonya Deville has done.
Deville--whose real name Daria Berenato--arrived in the WWE five years ago on the competition show Tough Enough before signing with NXT. After years of being in the midcard with Mandy Rose, the duo played a big part in the hottest storyline in WWE this year with Otis and Dolph Ziggler.
The story seemingly culminated at WrestleMania 36 with Sonya and Mandy's friendship dissolving. But weeks later, the 26-year-old has thrived using her vicious striking ability and equally scathing promos to become a highlight of SmackDown! each week in her continued feud with Mandy.
But Deville doesn't just grapple in the ring. She's become an advocate for the LGBTQ community being the first openly lesbian wrestler in WWE. And as Deville told Newsweek, she has a lot of other passions outside the ring. Those include acting and building up her own businesses, including Damandyz Donutz with Mandy, and a clothing line called Rainbow Love.
Newsweek caught up with the SmackDown! superstar ahead of her and Dolph Ziggler's mixed tag match Friday night against Mandy and Otis to talk about her wrestling journey, acting, and making the most of this opportunity.
Note: This interview has been edited for clarity and length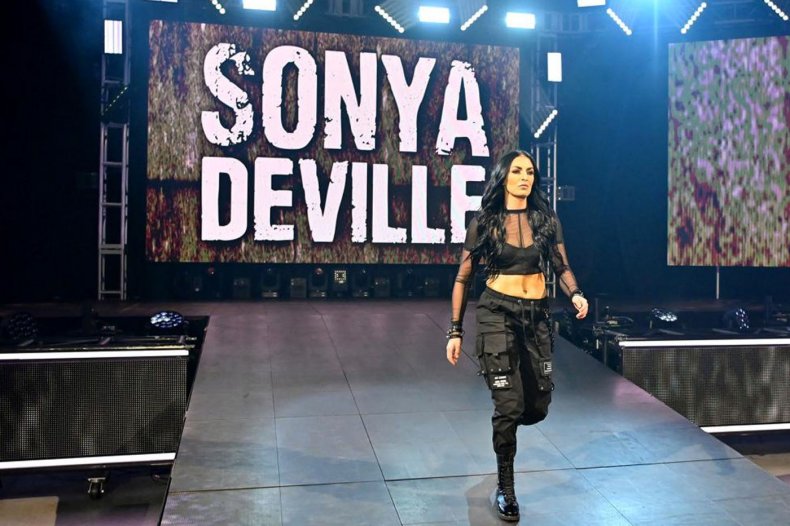 How has it been working without a crowd during this time?
I'm just proud to be a part of something that's giving people a little light and entertainment at home right now. There's so much going on in the world and it's good to have a little departure once in a while, so it's cool to be a part of that. It's cool as a performer and as a wrestler to be able to recreate and reinvent because we can't perform the same way we did with a crowd. So it's been fun as a creative mind to be able to do that as well.
Have you found it different to perform when there's no crowd?
For sure it's different. A lot of what we do in sports entertainment and WWE is interact with the fans. Without that, you have to stay in the moment in what you're doing. But I've been blessed to be in such a passionate story where it's been easy to feel that frustration and chaos between me and Mandy, because there is a lot of history there. So it's been good for us.
Not having fans lets viewers really hear and listen to what's being said in promos. Does it make it easier for you?
I don't think it's necessarily easier or more difficult. I just feel that it definitely gives the fans at home an unaltered look at what we're doing or what we're feeling. Because, like you said, you don't hear the yays and the boos. So it's up to you guys to decide unbiasedly what you feel and think about what's going on. It's just the two of us out there and I'm telling her how I felt over the last five years being her friend. It gets intense and it really helps us feel that emotion.
You've been in the company for some time and now you're now getting this opportunity. How has it been?
Listen, I've wanted to act since I was a little girl. That's the first dream I had. I've been on and off with lessons over the past decade or so. So I've always wanted an opportunity to show what I can do on the microphone to show that it's compatible with what I do in the ring. It's definitely been an opportunity I've been asking for. But I think that everything happens when it should and timing is everything in sports entertainment. And so I think all the places fell in the right place with the right story and I think it benefited everyone involved.
When you're having these promos with Mandy, are there some real life feelings that you put in there?
You have to, in my opinion. What makes a great storyline, you have to put some real in there. Obviously everything is magnified and has a creative spin to it, but I think it's very important to bring real life elements in there. When I was working on the first promo I did with Mandy, I was helping write it and threw in there that she came to my sister's wedding with me, and she was my roommate. Those are things that maybe the writers or someone wouldn't have known. So you're sitting at home [and] hopefully that gives you the ability to be like, "Wow, this cuts deep. They weren't just friends on TV--they are actually real-life friends and sisters."
You speak about working with the writers. Is it mostly you guys coming up with the story or is it a collaboration with the writers?
For sure a collaboration. They've done a great job in taking our ideas from the beginning and running with it and putting a spin on it. It's been a mutual effort that's been really fun for us as creators to have a part in what we do. It's really cool.
Getting in the ring with Mandy you're not pulling punches. Does it make it easier to be so aggressive with a frirend?
[Laughs] I know she can handle it, she's a tough cookie. This isn't her first rodeo, beating each other up we've worked a lot together in NXT, too. There's definitely no punches pulled.
Your promo work has been fantastic. Do you take inspiration from someone or is it you?
It's mostly just me. I work with a great acting coach who has been working with me the last two years mostly. You know it's just a lot bringing real life elements that can make it feel real for me. I'm an all-or-nothing type of person. Everything is black and white in my world. If I'm going to do something I have to go all the way with it. I've always been very passionate. So I try to use those personality traits in a story like this and see what comes out [laughs].
This Friday you're teaming with Dolph Ziggler. Can you talk about working with a veteran like him?
He's the best. I can't say enough good things about Dolph. He's a true vet of the game and he loves to go out of his way and teach us what he's learned in his many years in the WWE. He's incredible to work with, so talented and so charismatic, and I love working with him.
Do you look back at those early years on Tough Enough and NXT and are surprised that you're here?
Being with Mandy for so long, we've always talked about one day when we have this opportunity to feud it will be so awesome. I have a Rolodex of things that I kept along the way, I actually have them on a notepad on my phone of the things that could potentially trigger Sonya as a character and in real life. I've kept those mental notes and used them to progress the story.
Was there frustration when your story with Mandy was seemingly started and stopped over the years?
Yea, but you know what? I'm a firm believer of everything happens for a reason. So there's disappointment in that moment. But it's easy for me to realize that our path is what it is for a reason, and it'll work out as it should if you put the work in and keep fighting for what you want. That's what we did and I think everything fell as it should at the exact right moment. I wouldn't have wanted it any other way, looking back at it.
With Becky Lynch leaving, there's a hole that's left in the women's division. Is it an exciting time for you?
Absolutely. Becky is someone I think is incredible and who has elevated the women's division on all three brands to the next level. I think that I can continue that and enhance it even further. There's definitely going to be a void and we're going to miss Becky. She's a good friend of mine and I'm so happy for her and Seth [Rollins]. I can't wait to step up. If there's ever been a better time for Sonya Deville as a character, I think this is it. It's her chance to grab that brass ring. [laughs]
I've read in past interviews you've wanted to get in the ring with Becky, which has to be put on hold. Who do you want to get in a feud with?
I still have a lot to go with Mandy. I'm definitely not done with her yet. When I eventually am, Asuka is at the top of my list. I would say Asuka is number one.
Would you say your MMA background would lend to some great matches with Shayna Baszler?
Absolutely. It's a match that fans will eventually or already do want to see. Shayna is a more catch wrestling/grappling style. I'm more of a striker, but I have that grappling background, too. I would love to see how our styles match up.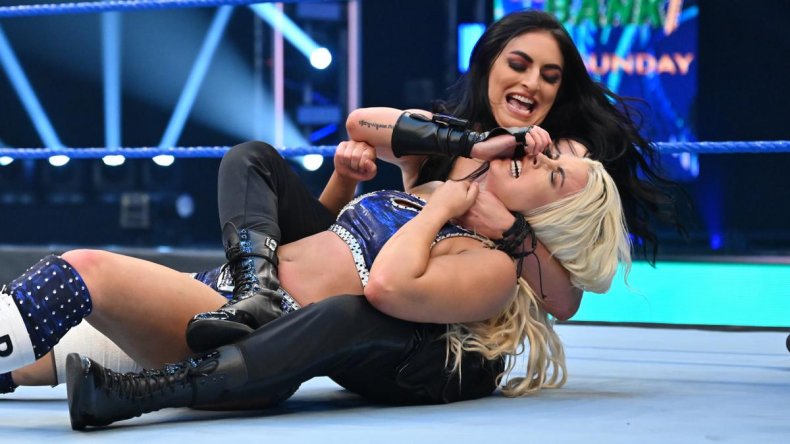 You talk about wanting to act and you have a new clothing line along with your advocacy work. Are you setting yourself up for life after the ring?
I'm one of the younger females in the locker room and I want to be doing this for a long time. That's my main focus. But that being said, things come to an end. Hollywood and acting is definitely on the top of my list, I'm very passionate about my clothing line Rainbow Love, which is a collaboration with Heavy Heart. It's an LGBTQ and suicide prevention forward line. So that's very personal and dear to my heart. And then we have Damandyz Donutz and hope to open and franchise doughnut shops.
So I have a lot of eggs in my basket right now, but that's how I've always been. I'm a hustler. I like to be busy. We've had a little down time with the quarantine. Even though we still wrestle we have off days that's allowed me to work on other things. It's important to build yourself as a wrestler, but also as a brand.
You've made headlines recently about wanting to replace Ruby Rose on the CW show Batwoman.
I'm telling you right now, that role is mine. In all of the things that I've done in the acting world, and anything that I've done, what's more of a perfect fit than Batwoman? The first Batwoman, Ruby Rose, was the first LGBTQ Batwoman. To continue that role with a strong, powerful message--I would love that role. Stay tuned. [laughs]
Is there something you're not telling us?
I'm saying I'm putting it out into the universe and I'm going to try my very best. But I like to plant the seeds and put it out into the universe, because what we speak is what we receive.
You have an amazing opportunity right now and you're running with it. What can you say about it and to the fans?
When things feel right, they just do. I've always been one of those people. I'm not the most patient person I fight for what I want and I'm eager and ready to perform. And sometimes things take longer than you want them, too. But everything happens for a reason and I think 2020, the next year or so, is Sonya Deville's time. I think that a lot of people who weren't believers will become believers and those who were already fans will continue to support because it's going to be a cool journey.
WWE SmackDown! airs every Friday night at 8 p.m. ET on Fox.