WWE WrestleMania 36 Night 1 Results: Goldberg to Take on Braun Strowman Tonight
The first night of WrestleMania 36has begun and it'll be one to remember as the WWE puts on its biggest show without an audience.
The current coronavirus pandemic has forced WWE to move the "Showcase of the Immortals" to two nights and to hold it in its Performance Center in Orlando - along with other undisclosed locations.
WWE announced the lineup for Night 1 of WrestleMania 36 during its Kickoff show with the top two matches being the Universal and RAW Women's Championship bouts.
Becky Lynch, a year from winning both the RAW and SmackDown Women's Championships, will now have the fight of her life against former NXT Women's Champion, Shayna Baszler.
Baszler made her presence felt a few months ago when she attacked Lynch and bit her neck, but the "Submission Magician" has taken out the whole RAW Women's division on her way to getting a title shot.
On the other side, what was originally a spot for Roman Reigns, Goldberg will now take on Braun Strowman for the Universal Championship. Goldberg won the title from "The Fiend" at the Super Showdown event in February, but Roman pulled himself out of the match because of concerns regarding the coronavirus.
Can Strowman win the title that has eluded him so many times on such short notice?
Here's the confirmed list of matches for tonight:
Daniel Bryan vs Sami Zayn (c) - Intercontinental Championship Match
Kabuki Warriors vs Alexa Bliss and Nikki Cross - Women's Tag Team Championship Match
Morrison (c) vs Kofi Kingston vs Jimmy Uso - SmackDown Tag Team Match Ladder Match
Kevin Owens vs Seth Rollins
Becky Lynch (c) vs Shayna Baszler - RAW Women's Championship Match
Elias vs King Corbin
AJ Styles vs The Undertaker
Goldberg (c) vs Strowman - WWE Universal Championship Match
WWE announced two more matches on Saturday to add to the WrestleMania card. The first is a singles bout between Drew Gulak and Cesaro. Gulak has aligned himself with Daniel Bryan to go up against Sami Zayn, Cesaro and Shinsuke Nakamura so it was a matter of time before these two would collide.
Can the former Cruiserweight Champion get his first victory on the "grandest stage of them all"?
The other is a match between Liz Morgan and Natalya. These two don't have a lot of history together, but both ladies were in the most recent Elimination Chamber and whoever wins can use that momentum to vie for a RAW Women's Championship opportunity after WrestleMania.
It wasn't confirmed which days they will fall on, but it's likely one of each will be on the kickoff shows.
A lot is expected to go down tonight and there may be a title change or two. Here's everything that happened on the first night of WrestleMania 36.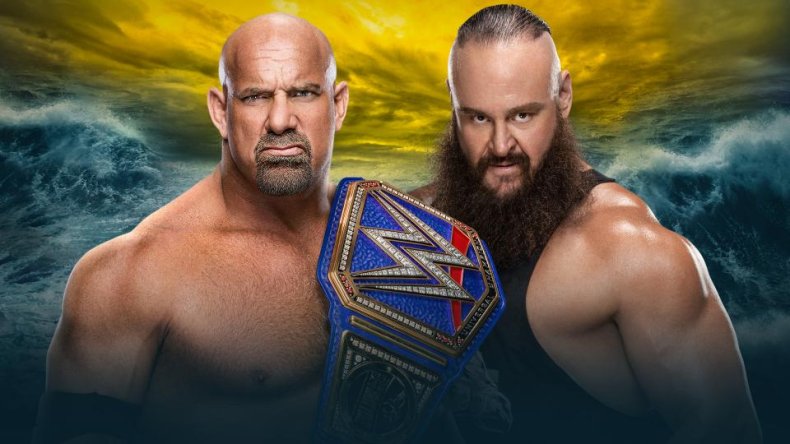 WWE WRESTLEMANIA 36 NIGHT 1 RESULTS
Drew Gulak vs Cesaro - Kickoff Show Match
Cesaro wins via pinfall after an Airplane Spin on his shoulders
Kabuki Warriors (c) vs Alexa Bliss and Nikki Cross - Women's Tag Team Championship Match
JBL is on commentary with Michael Cole
Bliss pins Kairi after the Twisted Bliss
Sami Zayn Promo
Sami is asked about his thoughts heading into his match. Sami says that everyone thought that Braun was inevitably going to defeat the Artist Collective but who stands there with the IC title. He says just because he's in a match with Daniel Bryan, doesn't mean he'll be able to touch him.
Sami says he's walking in and walking out of WrestleMania as Intercontinental Champion
King Corbin vs Elias
Corbin comes to the ring and shows a replay of Elias falling off the balcony from a few weeks ago. He says that it's going to feel good to get his second WrestleMania win in a row. He tells the referee to start counting and announce him as the victor.
Elias appears and Corbin goes to the ramp to attack him. Elias avoids it and hits Corbin over the back with his guitar.
Elias wins via pinfall after a roll up. Elias did have a handful of tights
Becky Lynch (c) vs Shayna Baszler - RAW Women's Championship Match
Lynch wins via pinfall after reversing the Kiruda Clutch
Sami Zayn (c) (with Cesaro and Shinsuke Nakamura) vs Daniel Bryan (with Drew Gulak) - Intercontinental Championship Match
Sami spends the opening minutes exiting and entering the ring. Shinsuke and Cesaro keep cutting Bryan off on the outside
Eventually Bryan gets Zayn after telling Gulak to back off.
Zayn wins via pinfall after hitting Bryan with a Helluva Kick when he went for a top rope maneuver
John Morrison (c) vs Kofi Kingston vs Jimmy Uso - Smackdown Tag Team Championship Ladder Match
Morrison wins
Finish was set up when all three men took down the hook holding the titles. They fought for it, but Kofi and Jimmy headbutt Morrison off who pulls the tag titles off the hook to win the match.
Seth Rollins vs Kevin Owens
Owens wins via disqualification after Rollins hits KO with the ring bell
After the bell, KO gets on the mic and tells Rollins to get back in the ring and have a No DQ match with him. Rollins accepts and the match is restarted
Kevin Owens wins again after a Stunner. The finish was set up when Owens tossed himself off the WrestleMania sign and onto Rollins on the commentary table
24/7 Segment
R-Truth comes up to Mojo Rawley and Rob Gronkowski and asks if he can hide there with them. Both men look at Truth before Gronkowski hits him and attempts to pin. Mojo pulls Gronk off and pins Truth himself to become the new 24/7 Champion
Paul Heyman Promo
Heyman says that McIntyre should be afraid because we are 24 hours away from being exposed. He says that Brock Lesnar isn't human and he'll be the one to walk out of 'Mania with the WWE Championship.
Goldberg (c) vs Braun Strowman - Universal Championship Match
Strowman pins Goldberg after four Power Slams
The Undertaker vs AJ Styles - Boneyard Match
Undertaker wins
The match was a pre-produced, highly-stylized street fight. Undertaker was in his street clothes and fought against AJ Styles. Gallows and Anderson would appear, but Undertaker would put them all away. And he would bury AJ Styles in a grave.