WWE WrestleMania 36: Start Time and How to Watch Online and On Traditional PPV
WrestleMania 36 is finally here this weekend. And while much of the world is staying at home, fans can watch the biggest WWE show of the year two nights.
Originally planned for one night in Tampa, the current COVID-19 pandemic has changed how the WWE is bringing WrestleMania to the fans. The card will now be split between two nights with 16 matches for fans to watch over both days.
This unique time in the world has also affected how the WWE is providing the show to the masses--meaning there will be more than one way to WrestleMania 36 from the comforts of your home.
If you're looking to watch WrestleMania 36 on cable or online, here's all the information you need: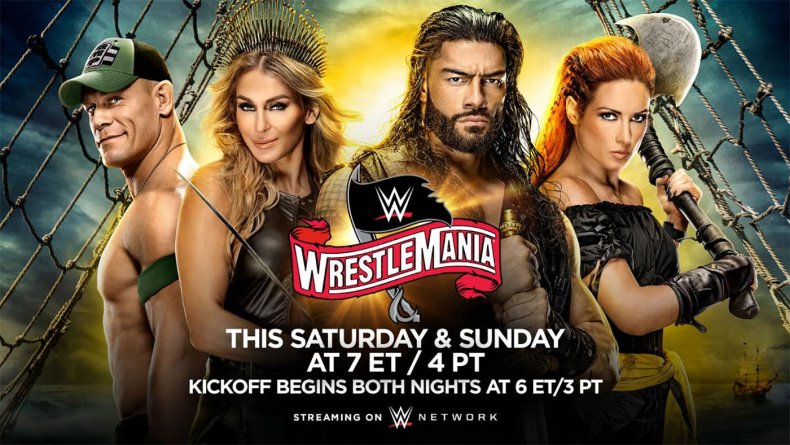 WRESTLEMANIA 36 START TIME
This year's WrestleMania is a two-night affair with the kickoff show beginning at 6 p.m. EDT this Saturday, April 4 with the main card starting at 7 p.m. EDT.
The same is the case for Sunday, April 5.
HOW TO WATCH WRESTLEMANIA 36 KICKOFF
The WrestleMania 36 kickoff show begins at 6 p.m. EDT, and fans can watch it for free on the WWE Network, as well as on YouTube, Twitter, Facebook, Twitch and WWE.com.
Head over to the official WWE YouTube channel to see the kickoff show as it unfolds.
Fite TV will also host the pre-show for free on its site and app.
On cable television, fans can watch the kickoff show on FS1 and Fox Deportes.
HOW TO WATCH WRESTLEMANIA 36
WWE pay-per-views are usually exclusive to the WWE Network, but the current global pandemic has shifted how the promotion will be broadcasting its biggest show.
First, fans can watch WrestleMania 36 through traditional pay-per-view. Check with your cable provider for more information on how to purchase WrestleMania 36.
If watching WrestleMania 36 online is what you're looking for, then you can do so in a variety of ways:
The WWE Network is offering a free trial for one month by signing up with a credit card. Fans can cancel their subscription at any time.
Download the WWE Network app on iOS and Android devices to watch online and on-the-go. The WWE Network is also available on PS4 and Xbox One, simply by searching "WWE Network" on the PlayStation and Microsoft stores, as well as on streaming devices like Roku and the Amazon Fire Stick.
For the first time, Fite TV will be streaming WrestleMania 36 on its service. Fite TV offers either each night of the event separate for $34.99 each or as a bundle for $59.99.
The Fox Now and Fox Sports app will also be streaming both nights of WrestleMania 36 for $59.99.
WrestleMania 36 is scheduled for April 4 and April 5.