Xi Jinping's Hard-Line Diplomacy Plunging China Into 'Political Peril'—Military Expert
China's hard-line diplomacy will end "in tragedy" and plunge the country into "political peril," while its hawkish posture was also accelerating the formation of an "anti-China alliance" just two months into the presidency of Joe Biden, policy experts in Taipei and Beijing warned this week.
The most recent high-profile exchange between officials from Washington and Beijing took place in Alaska last month, when Secretary of State Antony Blinken and Chinese foreign affairs director Yang Jiechi were involved in a televised clash over their respective countries' red lines.
Yang's attitude was "proud" and the rhetoric from both sides "sharp" said Ma Chen-kun, a China military affairs professor at National Defense University in Taiwan.
Xi Jinping's most senior diplomat, who served a term as Beijing's ambassador to Washington until 2005, left the summit in Anchorage a national hero, his fiery exchange with Blinken having "stoked a wave of nationalism and patriotism" that also found its way into the Chinese military, Ma said during a U.S. foreign policy discussion hosted by Taipei's Prospect Foundation think tank on Tuesday.
Having entered the U.S.-China dialogue after "two plus two" meetings in Tokyo and Seoul, Blinken then flew to Brussels for a sit-down with European leaders. What followed was a series of commitments by the U.K., France and Germany to send warships to the Indo-Pacific—a development the Chinese government likened to a "new Eight-Nation Alliance," Ma added.
While references to the multinational coalition of 1900 may be exaggerated, China should take recent developments as a "warning," Ma said. The alliance formed during the latter years of the Qing dynasty after the rulers of China's last empire put their own reputation above the true national interest, the researcher continued.
"It ended in tragedy," Ma added. "Yang Jiechi's emphasis on China's national dignity... follows the same logic of officials in the late Qing dynasty. It will plunge China into international political peril."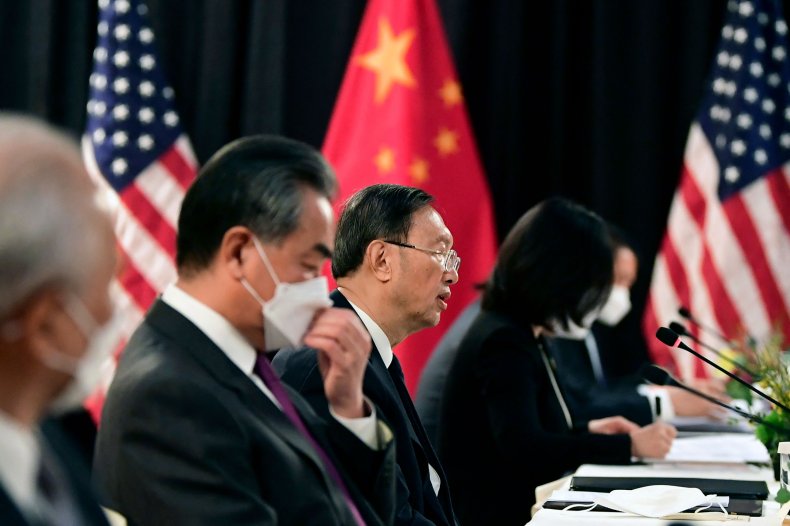 The view from Beijing
Shi Yinhong, a veteran scholar at Beijing's Renmin University who also advises the Chinese government, expressed more subtle concerns about China's "Wolf Warrior" diplomacy in an interview published on Tuesday.
The professor noted the "rapid progress" of President Biden's China policy and the formation of the strategic alliance known as the Quadrilateral Security Dialogue—or Quad—involving the United States, Japan, Australia and India.
A naval exercise involving Quad and led by France concluded in the Bay of Bengal on Wednesday. Analysts say the group's relaunch in 2017 was ostensibly to counter an increasingly expansionist China.
"China is currently showing a foreign policy face the West has never seen before—it is very hard-line," said Shi. "It remains to be seen whether this continues."
He added: "If future Chinese foreign policy is seen as milder in the eyes of the West, confrontation between the U.S.-European alliance and China might not be as serious as it is today."
Shi disagreed with popular opinion in the country, which suggested the intense exchange in Alaska was a reflection of China finally being able to stand on an equal footing with the rest of the world.
"Chinese diplomacy has always been on an equal footing, whether it was under Mao Zedong, Deng Xiaoping or others. China has never been submissive," he said. "What's new is that China now acts tough on many issues, whereas in the past it would be tough on some but not all."
"Including Xinjiang, Hong Kong and Taiwan, China currently has hard-line positions on all of these issues. It's a posture that says: 'Everything is off-limits,' while Western society insists on addressing them all," he noted in his analysis.
Shi's interview was given to Duowei News, a New York-based website for Chinese political news. The service is blocked in China due to sometimes critical commentary. An alternate version of Shi's interview—originally shared on WeChat—was reposted to Weibo and received criticism for suggesting China dial back its hard-line diplomacy.