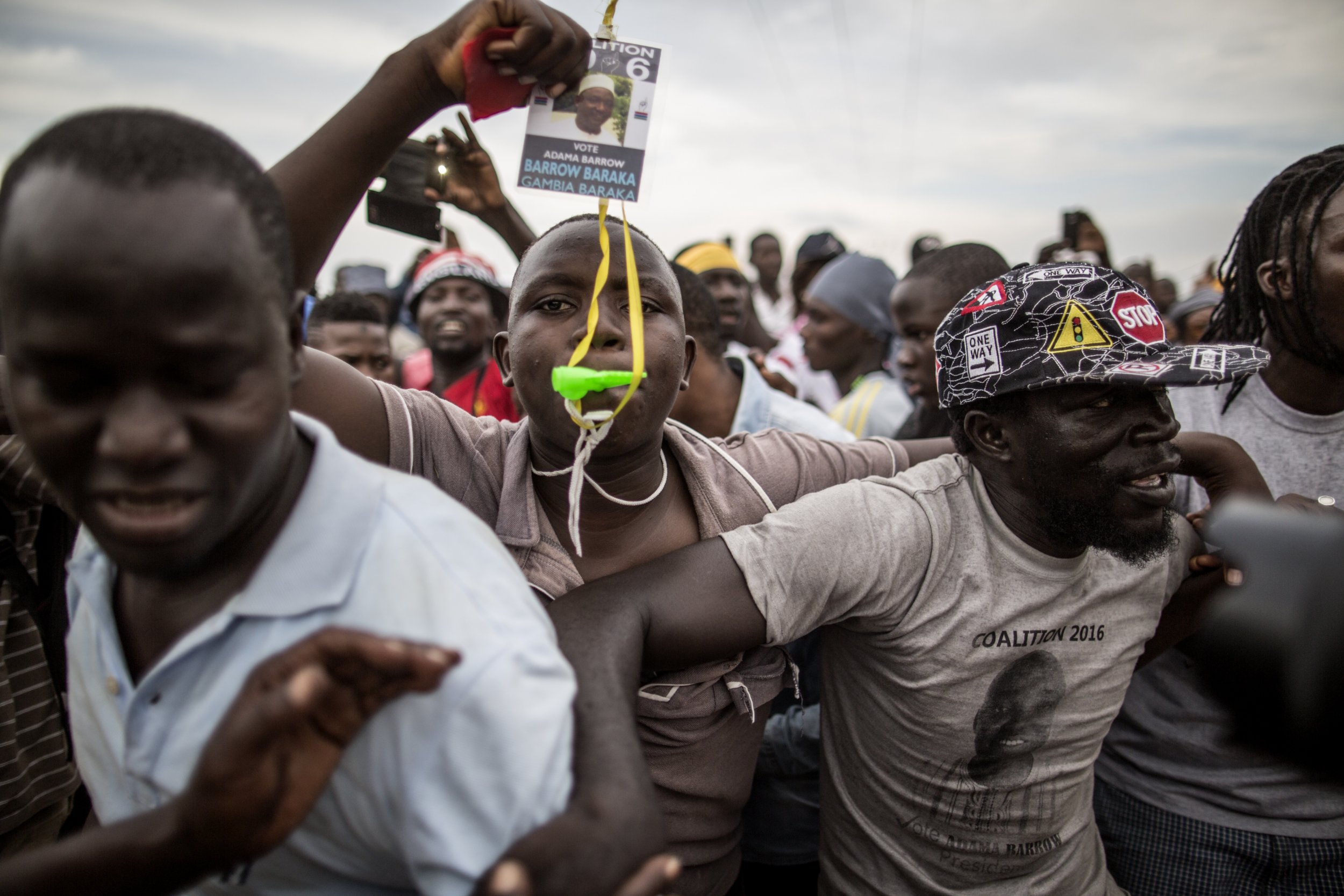 For the past 22 years, Gambians have only known one leader. On Thursday, the population of the tiny West African tourist hotspot will vote on whether to give Yahya Jammeh a further five years in power.
A larger-than-life character who claims to be able to heal HIV/AIDS with herbal medicine, Jammeh seized power in a bloodless coup in 1994. Since then, the 51-year-old president has won four elections, all of which have been accompanied by accusations of fraud, episodes of violence, or both.
But months of sporadic anti-government protests—that have been met with brutal repression from Gambian security forces—have signaled great discontent with Jammeh's regime, which international observers have accused of human rights abuses and limiting freedom of expression. Several opposition parties have united around a single candidate, Adama Barrow, in the hope that pooling their resources may be a means of dislodging Jammeh after more than two decades.
Newsweek considers the two main candidates in Thursday's election.
Yahya Jammeh: The Incumbent
A devout Muslim who carries Islamic prayer beads and a Koran with him for public appearances, Jammeh is synonymous with politics in Gambia. At the last election in 2011—which was denounced by regional body the Economic Community of West African States (ECOWAS) for repression and intimidation tactics—Jammeh won 72 percent of the vote ahead of two opposition challengers.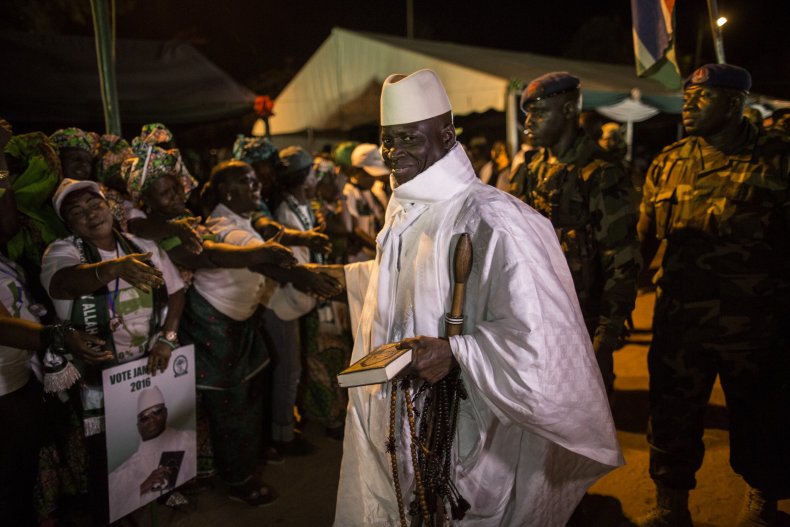 Jammeh claims to have brought social and economic development to the tiny West African state, which has little valuable natural resources and is heavily reliant on agriculture and tourism. The country has averaged a relatively high annual growth rate of 2.5 percent over the past decade and overall levels of poverty have decreased, according to the World Bank.
But the gains have come at a price: forced disappearances of people who speak out against the government are common, and a report by the United Nations special rapporteur on torture in March 2015 found that torture was "prevalent and routine" by security forces in the country. The repressive climate in the country has seen almost 10,500 Gambians enter Italy after using the deadly Central Mediterranean crossing; the country is the fifth-largest sender of migrants to Italy from Africa in 2016, despite being the smallest country on the continent's mainland.
The president holds hardline views on homosexuality: he has previously referred to homosexuals as "vermin" and, according to a 2015 report by Vice News, threatened to "slit the throat" of gay men living in Gambia. Jammeh has also made claims of being a traditional healer in the past, saying that his remedies have cured HIV/AIDS, asthma and infertility among women.
Adama Barrow: The Challenger
For opposition parties in Gambia, there hasn't been a huge amount of choice in the run-up to the elections. Key figures in the opposition—including Ousainou Darboe, the leader of the main opposition United Democratic Party (UDP)—were jailed earlier in 2016 after being convicted of taking part in an unauthorized protest. Another prominent UDP figure, Solo Sandeng, has not been seen since being arrested in April. Amnesty International said that Sandeng died in police custody, allegedly after being beaten; the Gambian government claimed in June that Sandeng had died from shock during the arrest.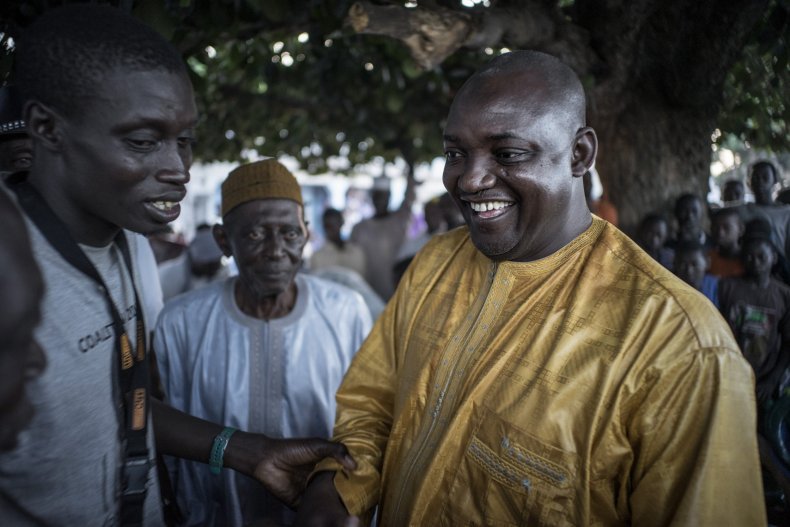 With leading figures off the scene, seven opposition parties rallied together and backed UDP candidate Barrow. (A third presidential candidate, former Jammeh ally Mama Kandeh, is standing on behalf of his own party, the Gambia Democratic Congress.) The 51-year-old businessman previously worked as a security guard at British high street store Argos in London, according to The Times.
Barrow has promised to reform Gambia—including canceling the country's planned withdrawal from the International Criminal Court, announced by Jammeh in October—and has urged Jammeh to go quietly if he is defeated. "People have shown us tremendous support. With that support we are 100 percent sure that we are going to win and with a big margin," said Barrow on Tuesday, according to AFP. But while Barrow's opposition coalition may pose a more significant threat to Jammeh's rule than the president has faced in previous elections, it will still be a massive upset if the challenger is able to overthrow the incumbent following Thursday's vote.