This year is a difficult one to encapsulate with any one method. Stories help, yes, but so do the cold hard facts of numbers.
Of course, when talking about the numbers that reflect the year we've all just endured, it would be impossible to not address the shadow that COVID-19 casted over nearly every conceivable aspect of our daily lives.
First, there are the grimmest of numbers, like the ever-rising death toll and hospitalizations. Then, there are the 15 percent of adults who say they were laid off or lost their jobs because of the coronavirus pandemic, and the 60 percent of people who took a pay cut who are currently still earning less than before the pandemic.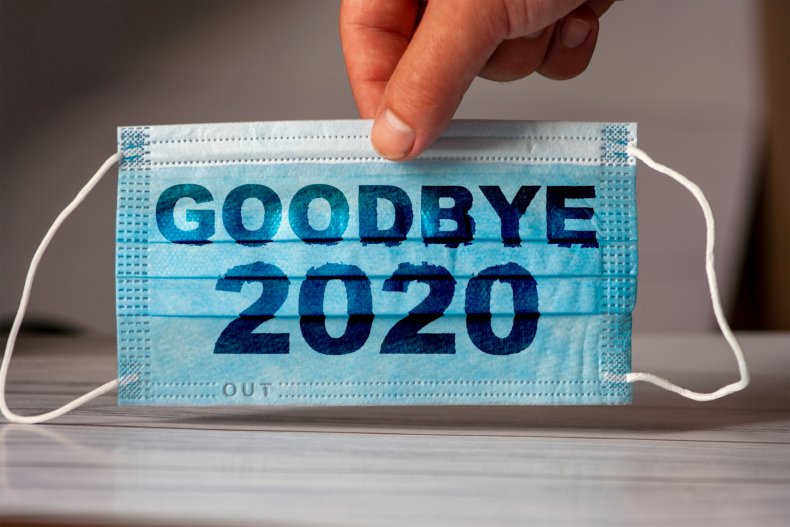 Believe it or not, there were some bright spots for 2020, though, and not just for people who own stock in Netflix or Zoom. However, if you did invest early in the latter, smart work! Stock for Zoom grew by 425 percent, and the amount of video meeting users reportedly increased from 10 million to 300 million during the year.
Meanwhile, Netflix maintained its spot as the world's largest streaming video platform by paid subscribers, and still managed to grow 23 percent to a total 195.15 million paid subscribers by the end of 2020's third quarter. The company's revenue and earnings also increased, by 25 percent and 73 percent, respectively, in the first nine months of the year.
Other popular tech companies in 2020 were digital media player manufacturer Roku, which saw a 57 percent rise in revenue during the first nine months of 2020, and music streamer Spotify, which grew 29 percent year-over-year to a total of 320 million users—that includes 144 million subscribers who opted to upgrade to the paid, ad-free Spotify subscription.
You can get a sense of how we consumed arts and entertainment this year simply by looking at the recent release of Wonder Woman 1984. The film arrived on HBO Max and in theaters on the same day, December 25, and had the highest box office opening of the pandemic era. Its take for the weekend? It raked in $16.7 million. Last year's biggest weekend opener? Avengers: Endgame, which took in more than $357 million. Of course, that's also the biggest money-making film in history, but Wonder Woman 1984 didn't even come close to the more than $103 million its direct predecessor made in its first weekend in 2017.
However, the latest key figure for HBO Max is that the service reportedly has 12.6 million activated accounts, and HBO has reportedly 38 million subscribers overall when factoring in those who pay for the cable channel. One imagines that a good share of those subscribers watched or will watch Wonder Woman 1984, as well as the oncoming slew of Warner Bros. films getting similar dual Max-and-theatrical debuts. (HBO hasn't offered specific numbers but has said that almost half of its subscribers watched the Gal Gadot-starring superhero flick on its first day of release.)
Disney+ also proved to be an unqualified success in 2020. When Disney launched the service 13 months ago, the company anticipated it would reach 60 million to 90 million subscriptions by 2024. By December of this year, it had already hit 86.8 million.
While Netflix may brag of its 195.15 million subscribers, Amazon Prime has 150 million worldwide subscribers, though only 26 million of those are estimated to be users of Amazon Prime Video. (Since Prime Video comes with the Prime subscription for premium shipping and deals, it's harder to pinpoint who exactly is watching the channel.)
As for what people were watching, The Queen's Gambit set the record as the most-watched scripted limited series to date on Netflix with 62 million member accounts tuning in to the show. That nearly matched the most-watched program of the year, Tiger King. The docuseries about an eccentric big cat zookeeper was watched by 64 million member accounts in the first month of its release alone, according to Netflix.
But not everyone spent the year in front of their TVs. The publishing industry actually had a good year, as many took the time to catch up on some reading or to educate themselves on important issues. As The New York Times pointed out, even with much fewer people were commuting to work this year, audiobooks still saw a 17 percent revenue increase for the year. Meanwhile, sales of e-books, which had been in decline in recent years, jumped up more than 16 percent, according to the Association of American Publishers.
OverDrive, the leading digital reading platform for libraries and schools worldwide, reported that its e-reading app Libby became quite popular in the face of library closures. More than 356 million digital books were borrowed using the service in 2020, up 32 percent from last year. This amounts to over 1.2 million books borrowed per day and 13.6 books borrowed per second. If these were physical books placed down next to each other, the 356 million books would span approximately 34,000 miles—or a trip around the world at the equator 1.4 times.
Printed books also saw an increase in sales this year, by almost 8 percent, according to NPD BookScan. So, what are all these books we're reading? During the height of the Black Lives Matter protests, books about race and antiracism were extremely popular. These included How to Be an Antiracist by Ibram X. Kendi and So You Want to Talk About Race by Ijeoma Oluo.
Also popular this year were politically themed tomes, such as Mary L. Trump's tell-all book about her uncle, Too Much and Never Enough, which sold more than 1.35 million copies in its first week. The biggest seller of the year, though, has been Barack Obama's presidential memoir, A Promised Land, which has sold more than 3.3 million copies in North America since it was published last month; it's also been a big hit overseas, reaching number one on the bestseller charts in the U.K., Germany, France, Spain and Brazil, among other countries.
Not every genre in the world of books flourished. NPD BookScan reported sales in the travel category predictably fell by more than 40 percent. On the flip side is another example of how our habits changed with stay-at-home orders: Books on home and gardening were up more than 20 percent.
Of course, phones—more specifically, phone apps—had a big year. App Annie, a mobile data and analytics company, released a year-end report that showed iOS and Google Play Stores hit $112 billion in 2020, a growth of 25 percent from last year. The report also showed worldwide mobile app and game downloads will reach 130 billion across the iTunes App Store and Google Play in 2020. Both app stores experienced 10 percent year-over-year growth this year.
On Android, time spent in mobile apps increased 25 percent from 2019, surpassing 3.3 trillion hours in 2020. Globally, the business app category experienced the biggest growth on Android phones this year, with a 200 percent increase in time spent. TikTok was 2020's most downloaded app, followed by Facebook, WhatsApp, Zoom and Instagram.
Online shopping became a necessity for many. Retail received a huge boost online during the holidays due to people avoiding gatherings and travel. An estimated 3 billion packages were reportedly shipped this holiday season—that represents an increase of approximately 800 million packages over last year's load. Adobe reported holiday shoppers spent $10.8 billion on Cyber Monday this year, up 15.1 percent from 2019, and setting a record for the largest U.S. online shopping day ever. (Amazon stayed secretive about its sales for the year, or at least will until the fourth quarter final totals come in toward the end of January.)
Perhaps the biggest indicator of how we spent the year is what we searched for online. Google Trends compiled its top searches in a number of different categories. Its top overall searches were 1) Election results, 2) Coronavirus, 3) Kobe Bryant, 4) Coronavirus update and 5) Coronavirus symptoms. The most searched people were, in order: Joe Biden, Kim Jong Un, Kamala Harris, Jacob Blake and Ryan Newman (who also topped the list of most searched athletes).
Some other telling finds by Google were on its list of "Beauty how to's" searches: 1) How to cut men's hair at home, 2) How to plop hair, 3) How to color your hair at home, 4) How to wash your hands and 5) How to style curtain bangs.
The top "how to donate to" search was for Black Lives Matter; the top searched movie was Parasite; the most Googled musician was this year's Super Bowl halftime show co-star Shakira; and the top 2 "where to buy" searches were for (in order) PS5 and toilet paper. The most searched song lyrics was "WAP" by Cardi B, featuring Megan Thee Stallion.
Perhaps most indicative of what preoccupied our minds were the searches for "how to make..." which found people Googling: 1) How to make hand sanitizer, 2) How to make a face mask with fabric, 3) How to make whipped coffee, 4) How to make a mask with a bandana and 5) How to make a mask without sewing. Then there were searches that ended with "...during coronavirus," with the most popular being "best stocks to buy," "dating," "dentist," "unemployment" and "jobs hiring."
Speaking of dating, a somewhat less-than-scientific poll by Basic Vodka of 2,000 single Americans found 55 percent tried virtual dating during the pandemic; more than half said they're having less sex than they were before the pandemic; three in four said they're sexually frustrated; and three in five admitted to trying virtual sex during the pandemic.
When people weren't going online to Google about haircuts or checking dating sites, they were likely on social media. Twitter was arguably the biggest outlet for speaking one's mind, as well as keeping track of breaking news. In 2020, "quarantine" was mentioned 1.6 million times and mentions of "home" were up 143 percent from last year. BTS were the No. 1 most-tweeted-about musicians in the U.S. for the fourth year in a row—in fact, four of the top 10 acts on that list were K-Pop groups. People were also eager to learn or share cooking tips, as conversations containing the term "recipes" were up 41 percent from last year.
One of the saddest and most shocking stories of 2020 was the death of Black Panther star Chadwick Boseman. The tweet from his official account announcing his passing was the No. 1 top liked, retweeted and quote-tweeted tweet in the U.S. for the year. Black Lives Matter was also popular among Twitter users, with three out of the top 10 most-retweeted tweets being in support of the movement. In another sign of advocacy, usage of the hashtag #transrightsarehumanrights increased by 557 percent.
TikTok was a big sensation in 2020, too, particularly for younger people. For the first time, the company also revealed its user numbers this year. It reported a growth of 800 percent from January 2018 to 100 million monthly active users in August. TikTok said it has been downloaded about 2 billion times globally and has about 50 million daily active users in the U.S.
In a separate TikTok analysis from early December, the company announced Charli D'Amelio as its top "creator" with 104.5 million followers, while the top viral video came from Bella Poarch miming "M to the B" by Millie B, which has received more than 45 million likes.
Needless to say, even though some of these facts deal with lighthearted moments, as well as signs of personal and social growth, it's safe to assume that many people would prefer to see a lot of the numbers up above decrease in 2021, rather than continuing to increase. Especially if that means we can all spend some more time with other people.