Yellen Expects U.S. to Reach Full Employment Next Year if Biden's Stimulus Plan Passes
President Joe Biden's $1.9 trillion COVID-19 relief package could help the U.S. employment numbers recover at a faster pace, according to Treasury Secretary Janet Yellen.
"I would expect that if this package is passed, we would get back to full employment next year," she said to host Jake Tapper on CNN's State of the Union on Sunday.
"We have a huge economic challenge here and tremendous suffering in the country," Yellen said. "That's the biggest risk."
She said it's "very clear" Americans will get back on payroll under Biden's aggressive package, which includes provisions such as a third $1,400 stimulus check; rental assistance; funding to accelerate COVID-19 vaccination efforts; and $400 additional unemployment benefits.
The Department of Labor reported last week that jobless claims decreased by 33,000 in the last days of January. While the U.S. unemployment rate has been falling, Tapper said, it took nearly seven years for employment numbers to return to where they were after the 2008 recession. Given there are still a significant numbers of Americans who have left the workforce all together, the host asked Yellen when she expected all jobs lost would be fully recovered.
"If we don't provide additional support, the unemployment rate is going to stay elevated for years to come," Yellen responded. She cited a recent analysis by the Congressional Budget Office (CBO), which found that the unemployment rate would reach pre-pandemic levels in 2025 without the level stimulus proposed in Biden's American Rescue Plan.
"We will get people back to work much sooner with this package," she added. "There's absolutely no reason we should suffer through a long slow recovery."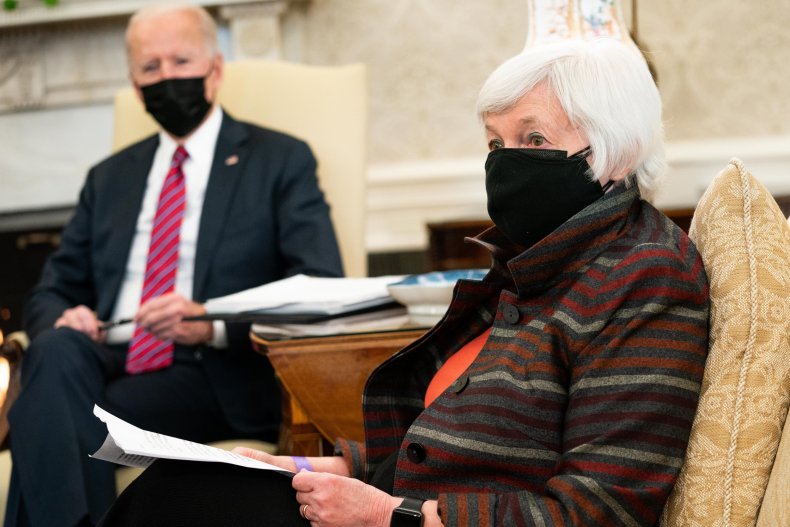 Yellen also responded to fears Biden's package would "flood the economy" and lead to high inflation, an issue her predecessor, former Treasury Secretary Larry Summers, has raised. According to the CBO report, inflation is projected to rise above 2 percent after 2023, with the Federal Reserve allowing inflation to stay above its target level.
The former Federal Reserve chair said she's spent many years "worrying" about inflation, but said "I can tell you we have the tools to deal with that risk" if it were to occur.
She added that the bigger risk at hand is that if the administration doesn't do enough to support an economy "scarred" by the pandemic, citing 10 million Americans who are unemployed and an additional four million that have totally dropped out of the labor force.
Yellen emphasized how a package is needed to prevent a "permanent toll" on the lives of particularly vulnerable communities including women, minorities, small businesses and low-wage workers.
Federal unemployment benefits authorized under former President Donald Trump are set to expire March 14, but Congress is not expected to take a final vote on a package until the end of the month. About 18 million Americans are receiving a form of government unemployment benefit.
"We need a package that's big enough to address this full range of needs," Yellen said. "I believe the American Rescue Plan is up to the job."