What We Know About 'Yellowstone' Season 4: Release Date, Cast and More
Paramount Network has released a new trailer for Yellowstone Season 4 that reveals exactly when fans can watch the next season of the smash hit western.
This comes after last season left fans on a massive cliffhanger, with John Dutton's (Kevin Costner) life hanging in the balance after a shooting. The new promo sees the character bleeding out, and things look pretty bad for the Dutton patriarch.
This new promo has been released after the show has been filming in Montana for the last few months, meaning a lot of details have emerged about Yellowstone Season 4 and its multiple spin-offs. Here's what we know.
When is Yellowstone Season 4 out?
The release date of the new season's of cable's much-watched drama has been set for Sunday, November 7.
The new season will kick off with a double bill on that date. Paramount has not revealed the time when episodes will air, but it is likely to keep its former timeslot of 9 p.m. ET / 8 p.m. CT on the network.
When this news was announced, Paramount+ also revealed that Yellowstone spin-off 1883 now had a release date. The prequel will air its first episode on Sunday, December 19 at 10 p.m. ET / 9 p.m. CT on Paramount Network, while the rest of the episodes will air on Paramount+ weekly.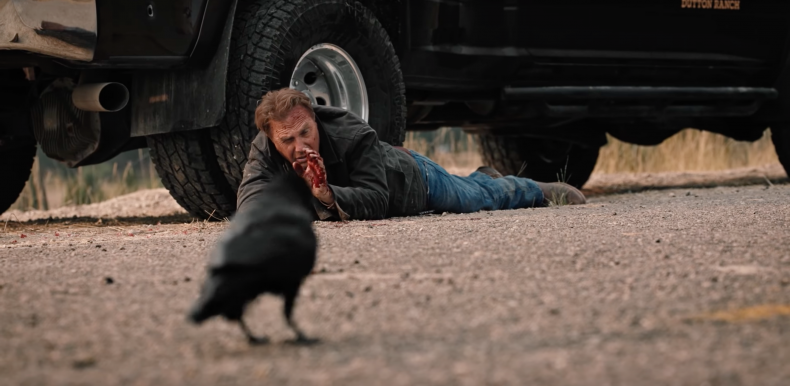 Who is in the cast of Yellowstone Season 4?
In July, Deadline revealed a number of new characters who were joining the show in its new episodes. These included:
Jacki Weaver (Silver Linings Playbook) as Caroline Warner, the CEO of Market Equities with on eye on the Dutton ranch.
Piper Perabo (Covert Affairs) playing an ecological protestor against the police force that protect mass farming on the ranches.
Finn Little (Those Who Wish Me Dead) as Carter, a new ranch hand.
Kathryn Kelly (Nashville) as a new love interest for one of the Dutton cowboys.
There are big questions marks, however, on who is returning from previous seasons. After all, the last season ended with John, Beth (Kelly Reilly) and Kayce's (Luke Grimes) lives all hanging in the balance. While any or all of these characters could be dead, among those almost certain to return are Wes Bentley as Jamie, and Cole Hauser as Rip Wheeler. Confirmed to be returning, meanwhile, is Will Patton after his debut last season as Jamie Dutton's biological father.
What will happen in Yellowstone Season 4?
A plot synopsis has not been released yet, but some intriguing hints have emerged.
The most important of these is the huge hint that John Dutton is still alive. This came via Weaver's character description on Deadline, which calls her "the CEO of Market Equities that is trying to crush the hold that John Dutton (Kevin Costner) has on his sprawling Montana ranch." This very much suggests that he will be back ready to fight this new adversary.
Speaking of adversaries, the new promo ends with Patton's character Garrett saying, "we're at war, you and me," hinting that Jamie's two fathers will be facing off.