Yes Joins Its 'Heroes' in the Rock and Roll Hall of Fame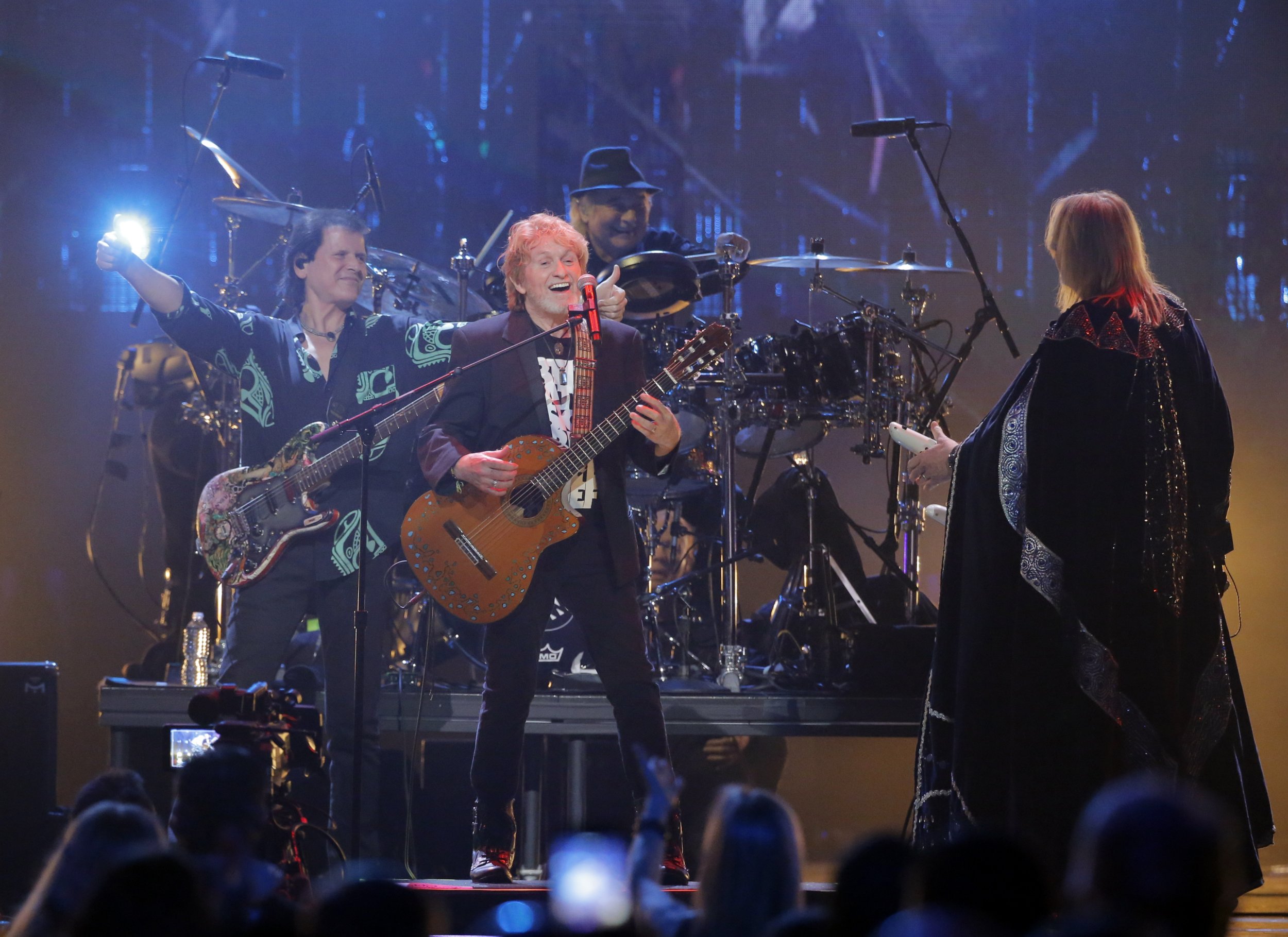 "And we thought we waited a long time to get in the Hall of Fame," said Rush bassist Geddy Lee, as he and Rush guitarist Alex Lifeson delivered a moving tribute Friday to progressive-rock giants Yes at the Rock and Roll Hall of Fame induction ceremony in Brooklyn.
RELATED: Rick Wakeman's piano journey into Yes, Bowie
Indeed, Yes had to wait far too long to get into the Hall. They were nominated twice before, and prog fans have long shown their dismay over the group ultimately not making the final cut. But the moment finally arrived as singer Jon Anderson, guitarists Steve Howe and Trevor Rabin, drummers Alan White and Bill Bruford and keyboardist Rick Wakeman walked onto the stage at the Barclays Center. In his acceptance speech, Anderson recalled his visit to the Hall of Fame in Cleveland three years ago with his wife, Janey. "[All] my heroes were there. Every one of them.... Little Richard…. Bill Haley and the Comets. Stevie Wonder…[Now] we're going to join. I can't believe it. It's truly amazing."
Howe gave a hearty shout-out to Yes's fans, "who obviously have a different ear from the general music lovers, fortunately, for us. They're able to distinguish the textures and the harmonies and the discords and the dynamics of the dramatic and the humble or the soft and the love of the choir."
The most memorable speech, though, came from Wakeman, who was in bawdy, hilarious form. "Does this thing go up?," he asked, pointing to the microphone. "Story of my life. Ah, forget it. I'm very happy here for a couple of reasons, to be inducted. One is the fact, obviously, to be a part of Yes and getting inducted into the Rock and Roll Hall of Fame and the other is something I really probably shouldn't tell you is that, less than half a mile away from this very building is where I had my very first meaningful sexual experience."
But even his stand-up skills couldn't overshadow the band's impressive performances of "Roundabout" and "Owner of a Lonely Heart." On the former, bass parts were handled by Rush's Lee, who was invited to play with the guys by Scotland Squire, the widow of Yes bassist/co-founder Chris Squire (a huge musical influence on Lee), who died in 2015.
RELATED: Steve Howe on his Hall of Fame career
The other 2017 Rock and Roll Hall of Fame inductees are ELO, Joan Baez, Journey, Pearl Jam and Tupac Shakur, and Nile Rogers received the Hall's Award for Musical Excellence.
The 32nd Annual Rock & Roll Hall of Fame Induction Ceremony, presented by Klipsch Audio, will air on HBO on April 29 at 8 p.m. ET.