All The Books Joe Goldberg Reads in 'YOU' Season 3—and Their Hidden Meaning
As well as having a penchant for shedding blood, Joe Goldberg (Penn Badgley) loves rare books and classic literature.
In Season 3 of YOU, he manages to bag himself a job at the local library as a book conservator, utilizing the skills Mr. Mooney (Mark Blum) taught him at the bookstore in New York as a teen.
His position at the library is strategic, as it gives him access to vintage books. He then repairs them and sends them to Ellie (Jenna Ortega), in order for her to sell—which is the least he could do after his wife brutally murdered her older sister and left her without a guardian in Season 2.
Beyond his work at the library, Joe is often spotted reading in his own time. However, what some viewers might not have picked up on is that the majority of books and literary references throughout the third season also foreshadow the tragedies to come.
Newsweek has a full recap of all the major books Joe reads in YOU Season 3, and the hidden meaning behind them.
Joe Goldberg's Reading List in YOU Season 3
Episode 1 — "And They Lived Happily Ever After"
Book: The Great Gatsby, by F. Scott Fitzgerald
Meaning: In Episode 1, Joe is reading The Great Gatsby to his son Henry, who proceeds to throw up all over the pages. As Henry projectile vomits, Joe is reflecting on his lack of connection to his son and blames it on his past.
In Fitzgerald's classic novel, Gatsby becomes fixated with a green light at the end of his dock, believing it to be a sign from Daisy Buchanan (who lives across the bay in East Egg). Ever since the pair met during the war, the protagonist has held out hope that they will be reunited and he will be able to offer Daisy everything she desires once he's improved his social standing; literally everything he does after that point is for her, and he becomes desperate when things start to unravel.
Likewise, Joe refers to his neighbor Natalie (Michaela McManus) as the "green light at the end of my dock." Of course, much like Gatsby's fantasy, the illusion is soon shattered, as Love (Victoria Pedretti) winds up killing her rival.
Beyond the green light reference, there are other similarities between YOU and The Great Gatsby, in that, much like when Tom Buchanan frames Gatsby for Myrtle Wilson's death, Joe goes out of his way to cover up his wife's crimes, instead of allowing her to be accountable for her actions.
One cannot help but be reminded of Fitzgerald's famous quote at the end of the novel: "They were careless people, Tom and Daisy—they smashed up things and creatures and then retreated back into their money or their vast carelessness or whatever it was that kept them together, and let other people clean up the mess they had made."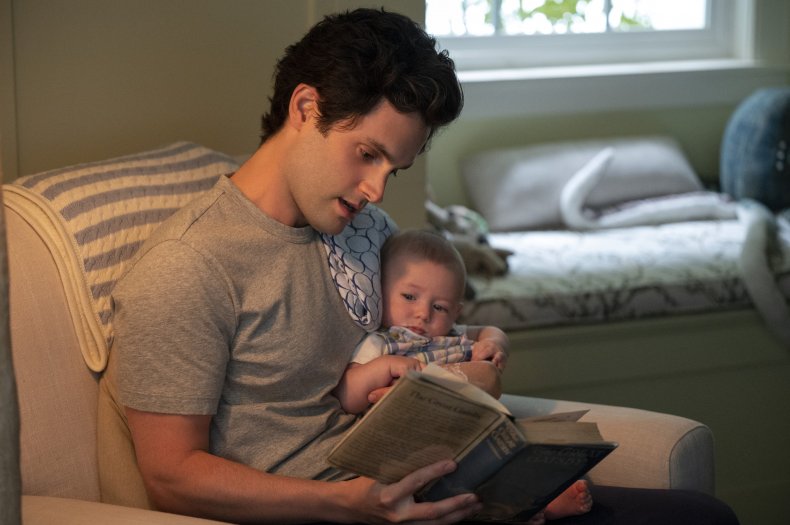 Book: Tender Is the Night, by F. Scott Fitzgerald
Meaning: Also by Fitzgerald, Tender Is the Night is a story about marriage and infidelity, and is the book Natalie picks out for Joe at the library.
Joe wonders if the book is an "invitation or a warning," foreshadowing their (almost) affair towards the end of Episode 1.
Later in the season, Joe cheats on Love with Marienne (Tati Gabrielle) and Love embarks on an extra-marital affair with Natalie's stepson, Theo (Dylan Arnold).
Episode 2 — "So I Married An Axe Murderer"
Book: Wildflowers of New York, by Andrew Garn
Meaning: To cover up the fact he's stealing a rare copy of Peer Gynt for Ellie, Joe pretends he wants to take out a book called Wildflowers of New York.
While it could be mere coincidence, the title seems to foreshadow the events of the season finale, which saw Love attempt to poison Joe with wolfsbane, a wildflower.
Episode 3 — "Missing White Woman Syndrome"
Literary Reference: Lady Macbeth
Meaning: In Episode 3 of YOU, Joe refers to Love as "Lady Macbeth" as she tries to come up with ways to frame Natalie's husband Matthew (Scott Speedman) as the killer.
Lady Macbeth is a character from William Shakespeare's tragedy Macbeth, who convinces her husband to commit regicide.
Although Joe does not kill Matthew, there are plenty of other instances in YOU where Love encourages Joe to kill.
Lady Macbeth also dies off-stage in the last act of the play in an apparent suicide, while Love's death in the season finale was set up to look like a murder-suicide.
Episode 4 —"Hands Across Madre Linda"
Book: Peer Gynt, by Henrik Ibsen
Meaning: Peer Gynt is a five-act play by a Norwegian dramatist, Henrik Ibsen. It also tackles themes of procrastination and avoidance.
As mentioned above, in Episode 2 Joe steals a copy of Peer Gynt for Ellie. However, he is later caught by Marienne in Episode 4, after she realizes it's missing.
As he returns the book, Joe is thinking of all of the ways he and Love could deal with Gil (Mackenzie Astin), who they have been holding captive in the basement of the bakery.
The couple's inability to come to a decision (combined with the disturbing news they dealt him about his son) results in Gil taking his own life. They then frame him for Natalie's death and plant a fake suicide note next to his body in his house.
Literary Reference: Richard Yates
Meaning: In Episode 4 of YOU, Theo compliments Joe on their clean-cut lawn and pristine garden. He says Joe has a "Richard Yates level of attention to detail."
Yates is an American author whose debut novel Revolutionary Road told the story of a young couple who moved to the suburbs on the East Coast, similar to Joe and Love's move to Madre Linda.
Revolutionary Road also deals with the troubles of parenting and childhood trauma, in particular the character Frank's feelings of failure and guilt. Joe, too, is wracked with guilt about how much he and Love are exposing baby Henry to.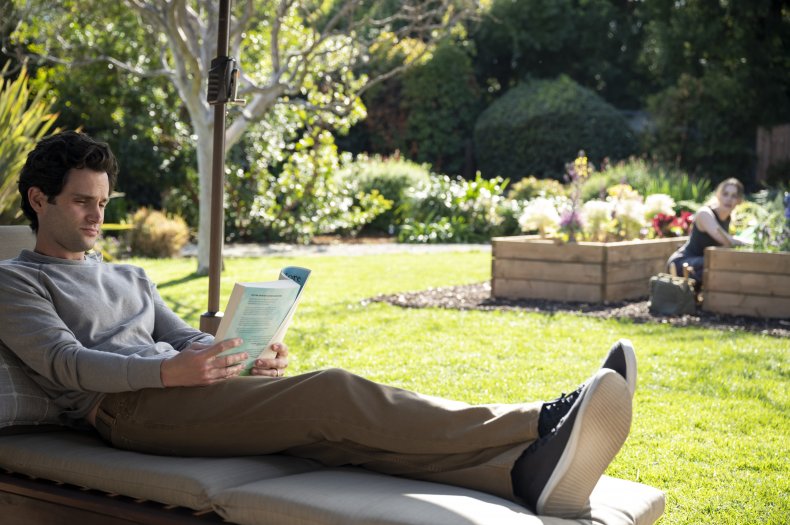 Episode 8 — "Swing and a Miss"
Book: More Than Two, by Eve Rickert and Franklin Veaux
Meaning: More Than Two: A Practical Guide to Ethical Polyamory is a non-fiction book about healthy, non-monogamous relationships.
At the end of YOU Season 3, Episode 7, Sherry (Shalita Grant) voices her and her husband Cary's (Travis Van Winkle) interest in opening their relationship to Love and Joe, with a night full of sex between the four on the cards.
In Episode 8, Joe starts reading More Than Two, after agreeing to open his and Love's relationship with Sherry and Cary. He has no desire to keep the spark alive with Love, but, rather, hopes it will distract her while he makes designs on Marienne.
Episode 10 — "What Is Love?
Literary Reference: The Lottery, by Shirley Jackson
Meaning: In the final episode, Joe's inner voice narrates: "Shirley Jackson once said Suburbia is where they start to come apart."
The quote is from Shirley Jackson's short story, The Lottery, about a small fictional town that observes an annual rite where a human life is sacrificed at random to purge the town of all that is bad, to allow for good things to come.
The fact the killing takes part in a small, quiet town emphasizes dark and violent things can happen anywhere, just like in YOU'sfictional town of Madre Linda.
The full quote from The Lottery reads: "I suppose it starts to happen first in the suburbs,' and when Brad said, 'What starts to happen?' she said hysterically, 'People starting to come apart.'"
In the finale, things come to a head, with Joe ultimately killing his wife and burning their white-picket-fenced house to the ground with Love inside. Joe then waves goodbye to suburbia and heads for Paris, France, in another bid to start his life over.
YOU Season 3 is streaming on Netflix now.