As Facebook Ad Boycott Expands, YouTube Could Be Next Target
Facebook, Instagram and Twitter have all been swept up in a viral advertising boycott this month—and experts say YouTube could be next.
The Google-owned video platform is no stranger to a backlash about its ad practices, but has so far remained largely untouched by the criticism being made against social networks for failing to combat hate speech, extremism and misinformation.
A campaign spearheaded by a coalition of civil rights groups, Stop Hate for Profit, has now grown to include hundreds of businesses, backed by big-names brands including Unilever, Starbucks, Adidas, Ford, Coca-Cola, Best Buy, Target and more.
Despite initially being focused on the Mark Zuckerberg-led Facebook, the protest has quickly spread, with many companies deciding to temporarily halt ad spending across social media as a whole as relationships and standards are being evaluated.
As a primary advertising destination for brands, experts say YouTube could be hit by the campaign if it continues to escalate. On the flip side, it could also end up benefiting from the ad spend blackout if well-financed firms turn to it as a viable alternative.
"It's likely that YouTube will become involved and can do very little to circumvent it," Tim Gibbon, director at communications consultancy Elemental, told Newsweek.
"Activists will want to remove bad actors from every platform, and rightly so. A safe bet is to say they won't want to stop at one platform when others play a role."
"In 2019, YouTube generated $15 billion in ad revenue and in quarter one this year the ad revenue was $4 billion," Gibbon explained. "Any boycott could be significant to YouTube's ad revenue, especially if it's sustained. Google will want to resolve any issues and ensure its relationships with brands and creators remain intact."
There have been signs that YouTube executives are keen to ramp up efforts to combat hate on the platform as the boycott on Facebook continues to expand.
At the end of June, the dominant video platform banned a series of white supremacist channels for repeatedly violating its rules surrounding hate speech, including accounts managed by David Duke, Richard Spencer and Stefan Molyneux.
"We have strict policies prohibiting hate speech on YouTube, and terminate any channel that repeatedly or egregiously violates [them]," a spokesperson told The Verge.
This week, YouTube demonetized three channels run by the YouTuber Shane Dawson, which each had millions of subscribers, after the creator apologized for past videos in which he used racial slurs and appeared in "blackface," Tubefilter reported.
Journalist Chris Stokel-Walker, author of the book YouTubers, tweeted: "YouTube has just recognised now, after years on the platform, that Shane Dawson is problematic. Definitely nothing to do with the fact that it had an enormous ad boycott in 2017 and that Facebook is going through an enormous ad boycott now, no siree."
In 2017, the video platform faced a widespread advertising revolt, as companies pulled marketing from the website after their ads were found to be appearing beside hateful or offensive content, including instances of racism and anti-Semitism.
At the time, a slew of powerful firms ceased ad spending on YouTube, including AT&T, Verizon, Walmart, Starbucks, PepisCo, Johnson & Johnson, Nestle and more.
In the more recent past, it has faced widespread criticism for hosting scams, conspiracy theories, offensive, sexually-suggestive and exploitative video content.
Ultimately, the ad business returned and the moment soon passed. In June last year, YouTube said in a blog it was bulking-up its policies against hate content.
Some outlets questioned the timing of the last month's enforcement, coming a full year after that post and coinciding with the ad exodus that was hitting rival tech platforms. On Monday, Reddit also purged 2,000 communities for breaking hate policy.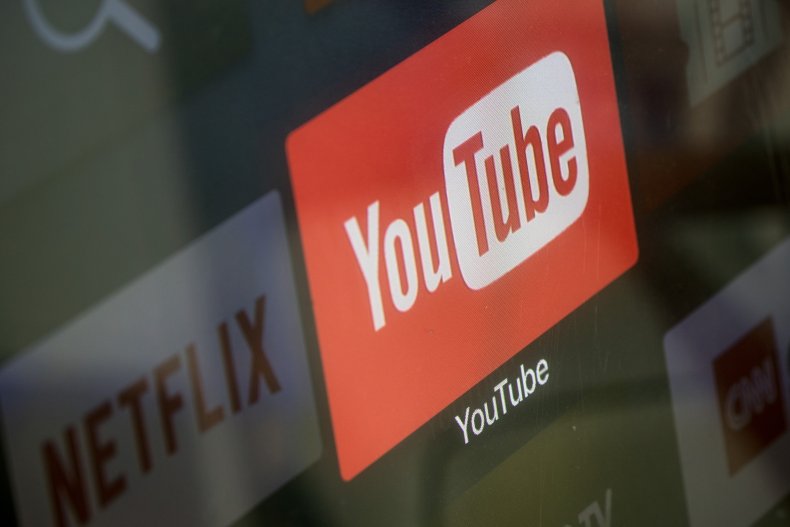 It remains unclear if the Stop Hate for Profit campaigners will turn their attention to YouTube, but experts indicated it could become a possible target.
"YouTube will be a significant target, it already has a history on this issue," Michael Beverland, professor of marketing at the University of Sussex Business School, told Newsweek. "The reaction of advertisers to the YouTube campaign will be interesting as it is a platform for launching... longer form, more emotionally-resonant ads."
"I think the campaign will spread, it's been gathering momentum for a while and it has also clearly had an impact where it hurts—the online advertising revenues."
For now, YouTube seems in the clear, and some experts believe it could take advantage of the situation if the boycott remains solely focused on social media.
"The big thing to remember is that YouTube is owned by Google, the other giant of online advertising," Charlotte Sheridan, director of The Small Biz Expert marketing agency, told Newsweek, noting how it compares to Facebook.
"By choosing to boycott both, advertisers would potentially be left with little choice. I would imagine that a lot of brands may turn their attention to YouTube as a Facebook alternative," Sheridan added. "When it comes to hours spent on the platform YouTube outperforms all other social media channels." For now, the boycott rolls on.
The graphic below, provided by Statista, shows the scope of the Stop Hate for Profit advertising boycott on Facebook so far, based on the biggest spenders from 2018.