YouTuber Arrested for Tying Balloons to Dog and Sending It Floating Into Air
Social media is awash with people doing outrageous things for views, however one Indian YouTuber has taken this too far by tying helium balloons to his pet dog, and sending it floating into the air.
In the now-deleted footage, Gaurav Sharma, who has over four million subscribers, can be seen fastening his Pomeranian dog 'Dollar' to a bunch of large pastel-colored balloons.
The terrified animal then floats up into the air before colliding with a nearby balcony, as a woman wearing a mask looks on.
The 32-year-old from New Delhi was detained under animal cruelty laws after performing the stunt on May 21.
Sharma later released another video to YouTube issuing an apology.
He said: "I admit my mistake, but I personally had taken all the safety measures before flying the video.
"I love my pet like my child. It was the wrong content that has gone out I am also a pet lover. I got influenced by seeing some video from outside.
"I apologize for that and I will appeal to all of those watching to not get influence by my video."
The Deputy Commissioner of Police (DCP) for South Deli, Atul Kumar Thakur, released a statement saying that they had received a complaint from the organization People For Animals.
He said: "We registered an FIR under sections of the Disaster Management Act and Prevention to Cruelty to Animals Act.
"The accused, a resident of Panchsheel Vihar in Malviya Nagar, was arrested, but released later on Thursday evening, as it is a bailable offence.
"He told us he is a YouTuber and made the video for his channel."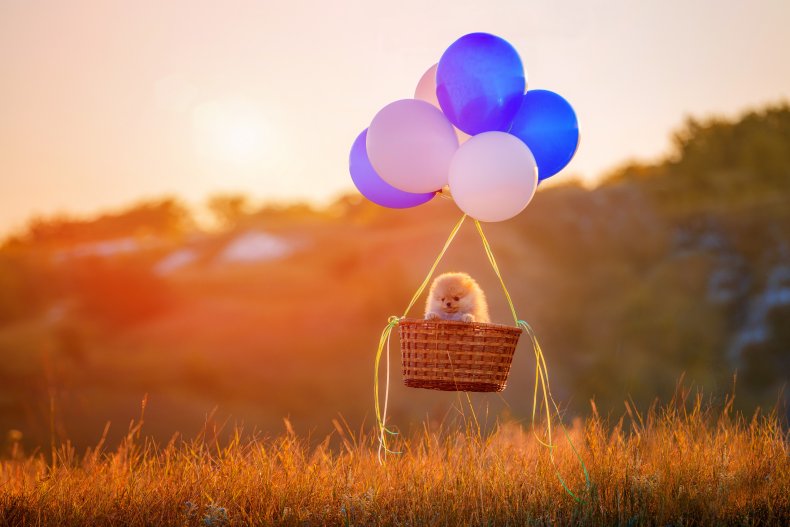 However, if you would prefer to learn about dogs actually acting of their own accord in a safe environment, you may enjoy this video of a golden retriever who barricaded himself in the bathroom.
In the footage posted to TikTok by @goldenlarrydavid, the dog refuses to come out of the room, before pushing the door shut on his exasperated owners.
In another clip, when one woman decided to tell her dog a story involving all his favorite words, the animal had a hilarious reaction.
TikTok user @leniiitas, known as Lenita, shared footage to the app of her gorgeous dog Zeus.
In the clip she is filming the animal and an automated voiceover says: "Using all my dogs favorite words in a story."
She then lists the words, in the overlaid text on the video, which are: "Walk, Park, Treats, Good Boy, Handsome, I love you, Snack."
When she tells the dog a tale using all these words repeatedly the pet looks totally crestfallen, before it becomes too much for him to bear and he storms off barking.