Marie Yovanovitch Gets Standing Ovation at Jazz Club after Trump Impeachment Testimony
The former U.S. ambassador to Ukraine, Marie Yovanovitch, got a rousing reception at a jazz club in Washington DC, in footage taken two days after she gave emotional evidence on Capitol Hill.
On Friday, Yovanovitch appeared before the House Intelligence Committee to testify about her removal as the ambassador to Ukraine in the ongoing impeachment inquiry against President Donald Trump.
She told lawmakers: "I mean, after 33 years of service to our country, it was terrible. It's not the way I wanted my career to end."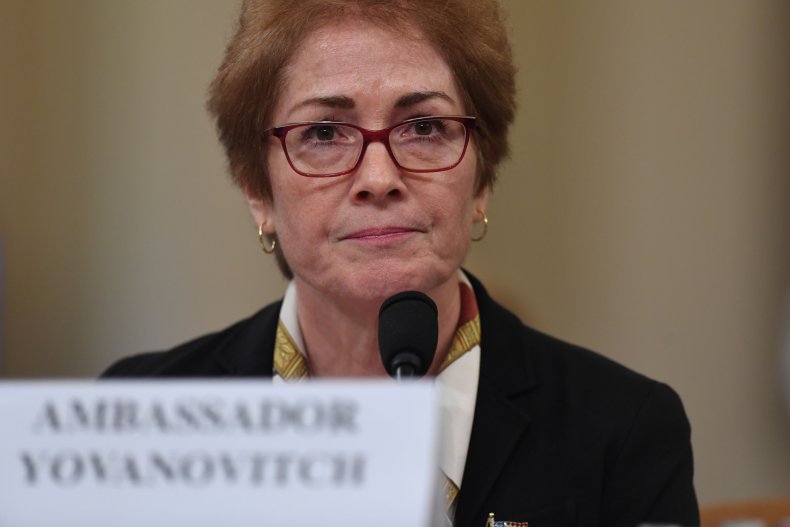 During the hearing, Trump tweeted that "everywhere Marie Yovanovitch went turned bad" and that he has the "absolute right to appoint ambassadors" as he saw fit.
But in a dramatic moment, Intelligence Committee Chairman Adam Schiff asked Yovanovitch to comment on Trump's Twitter attack, prompting her to say, "It's very intimidating."
Meanwhile on Sunday night, she was spotted attending a show by Cuban-American jazz trumpeter Arturo Sandoval at the jazz club Blues Alley, in Georgetown.
As she took her seat in the club, she was spotted by another audience member, and the crowd broke out into applause.
Members of the audience are heard shouting "thank you", "I love you so much" and "we are so grateful."
Footage of the incident was captured and shared on social media by Lisa Dickey who captioned the clip, "Spontaneous ovation tonight at a DC jazz club for #MarieYovanovitch," adding, "Grateful for your courage and integrity, Ambassador!"
Yovanovitch nodded her head and took her seat during the applause. The video was viewed more than 200,000 times by Monday morning, and re-tweeted thousands of times. One Twitter user wrote: "Glad that people are showing their gratitude and affection."
It was the second time in two days she has received such a rousing reception. People stood and clapped on Friday after she gave five hours of evidence to the committee.
Journalists noted that people were shouting her nickname "Masha" as she exited the room.
The outburst was an unusual one as citizens who sit in on congressional hearings are told to keep quiet, The Independent reported.
Despite her unceremonious ouster from her diplomatic post, politicians on both sides of the aisle have praised her service.
Even Fox News host Chris Wallace praised her opening testimony, saying on the Trump-supporting network, "I think that if you are not moved—and we'll see what happens in the cross-examination—but if you are not moved by the testimony of Marie Yovanovitch today, you don't have a pulse."