Zambia Newspaper Editors Arrested as Government Accused of Pre-Election Crackdown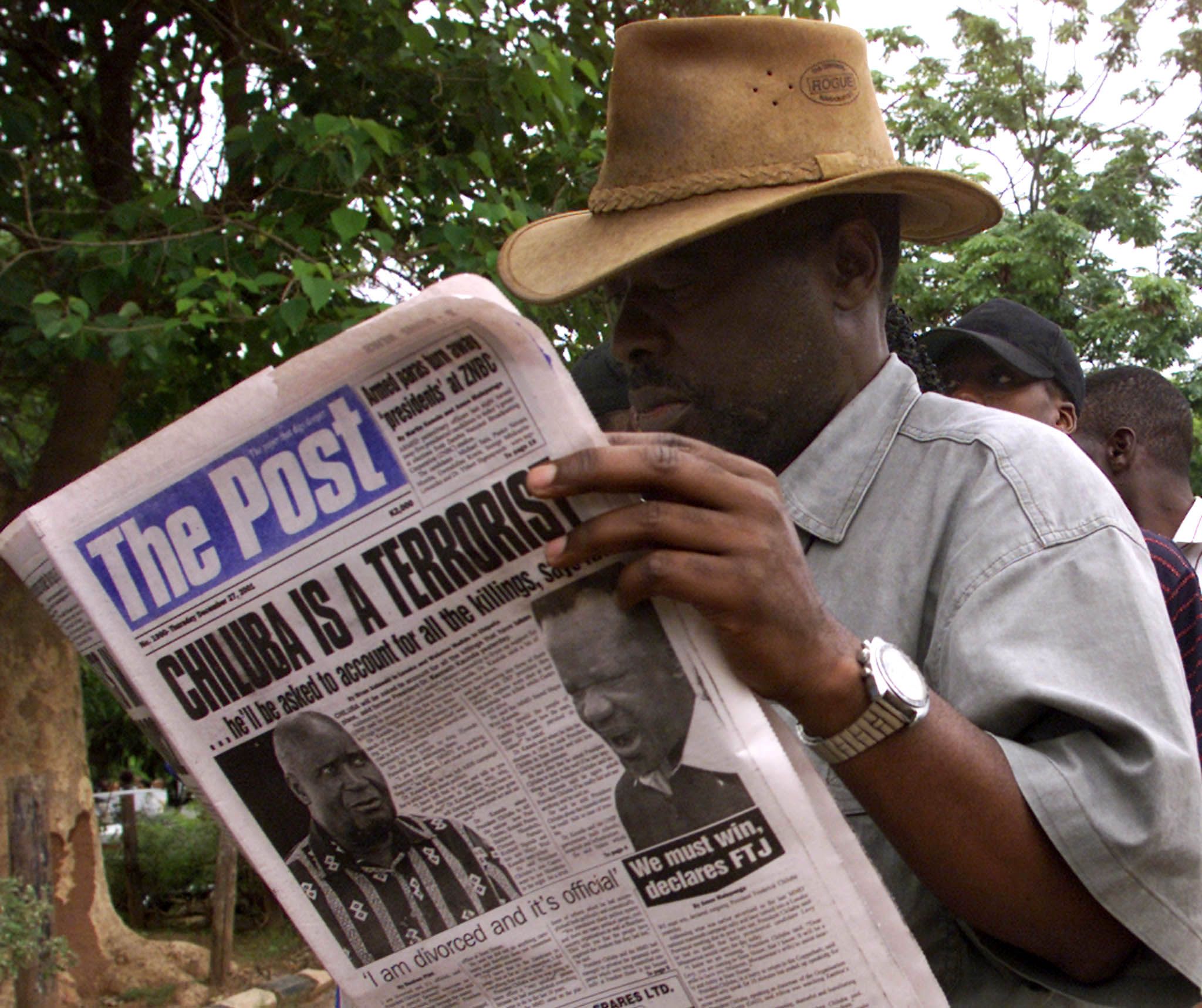 Zambian police have charged three people connected with an independent newspaper that was shut down in what activists are saying is a crackdown on freedom of speech ahead of a general election.
The country's tax agency, the Zambia Revenue Authority (ZRA), closed The Post newspaper's offices in the capital Lusaka on June 21, citing $6 million in unpaid taxes. But the newspaper has claimed the unpaid bill is part of an ongoing dispute and has continued to publish from an undisclosed location, posting an acerbic editorial against President Edgar Lungu on Tuesday that claimed its journalists would not be coerced into stopping production.
The paper's managing editor, Joan Chirwa, told Reuters on Tuesday that editor-in-chief Fred M'membe, his wife Mutinta and deputy managing editor Joseph Mwenda had been arrested late on Monday. A Zambian police spokesperson said that the three had been charged and will appear in court next week on numerous charges, including breaking into a building. The Post' s office had been shut by the ZRA but Chirwa said they had obtained a court order to resume operations, which followed an appeal at the Revenue Appeals Tribunal. The police, however, denied this order had been signed by ZRA.
Zambia's press is subject to various limitations and the Southern African country is ranked 114th out of 180 nations in the 2016 World Press Freedom Index compiled by Reporters Without Borders. Press freedom agencies have said the move is designed to crack down on opposition to Lungu's government ahead of August's vote.
"By disregarding the orders of the Revenue Appeals Tribunal, Zambian authorities make clear that shutting down The Post was not about procedure, but rather a politically motivated attempt to silence criticism," said Kerry Paterson, senior Africa research associate at the Committee to Protect Journalists (CPJ). The chairperson of the Media Institute of Southern Africa's Zambia chapter, Hellen Mwale, has said the arrests were "politically motivated and only aimed at crippling the newspaper" and demanded that the suspects be released.
The ZRA has not publicly commented on the issue. Speaking on the Post 's closure on Monday, Lungu said that the decision was "an independent action to recover a tax debt as per the mandate of the ZRA." Lungu also told those who thought the Post was being victimized to "raise money to pay ZRA and the matter will be cleared overnight."
Preparations for the August vote have been marred by violence. The Electoral Commission of Zambia warned that it would suspend campaigning and disqualify candidates from running if clashes between supporters of different candidates continued. Lusaka was also the site of xenophobic violence and rioting in April, which was sparked by a series of ritual killings—in which the victims were dismembered and mutilated—that were blamed on foreign nationals. Hundreds of people were arrested and more than 1,000 riot police deployed to Lusaka to quell the violence.
Lungu, who came to power in a January 2015 by-election following the death of former President Michael Sata, is running for re-election in August's poll but should face a stiff challenge from rival Hakainde Hichilema. Lungu only won the by-election by a margin of less than 2 percent, polling 48.3 percent compared to Hichilema's 46.7 percent.