Zelensky Accuses Putin of Abandoning Dead Soldiers: 'Impossible to Breathe'
Ukrainian President Volodymyr Zelensky has accused Russian President Vladimir Putin of abandoning his country's dead soldiers, stating that in some parts of Ukraine it is "impossible to breathe" due to the smell of rotting flesh.
"The invaders do not even mourn their own casualties," Zelensky told The Economist in an interview published on Sunday. "This is something I do not understand. Some 15,000 [Russian soldiers] have been killed in one month...[Vladimir Putin] is throwing Russian soldiers like logs into a train's furnace. And, they are not even burying them. Their corpses are left in the streets. In several cities, small cities, our soldiers say it's impossible to breathe because of the stench of rotting flesh."
He then compared Putin's treatment of Russian soldiers to the actions of the Ukrainian Army, who he says have been "fearlessly" defending the country while saving those who are wounded.
"[The soldiers] say they must stay and bury those killed in action and save the lives of those wounded...as long as people are still alive, we must continue to protect them. This is the fundamental difference between the way the opposing sides in this war see the world," he added.
Zelensky's statements come over a month after Putin began his invasion of Ukraine. Since then, more Russian troops have been killed in the war than U.S. soldiers have in the past 20 years. Meanwhile, a senior NATO official estimated last week that between 7,000 and 15,000 Russian soldiers have died, while tens of thousands more have been wounded, captured, or gone missing.
However, Russia disputes those claims and has said on March 25 that just 1,351 of its troops have died in the war thus far.
In comparison, Ukraine said earlier this month that roughly 1,300 of its soldiers have been killed. However, the U.S. has not yet given an estimate on Ukrainian servicemen casualties, according to the Associated Press.
The conflict has also resulted in historic losses of Russian military leaders. At least seven of its generals have reportedly been killed in the fighting—marking a rate that hasn't been seen since World War II, the Washington Post reported.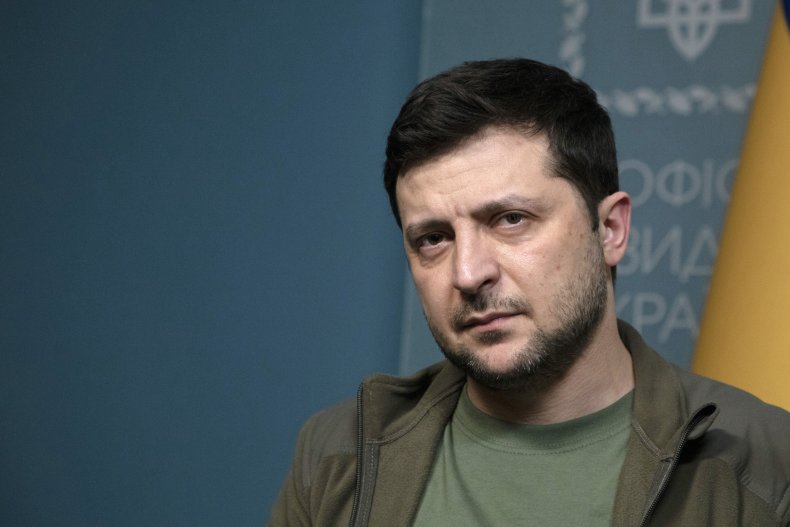 Russian forces have so far failed to capture any major Ukrainian city. The fighting so far has caused devastating destruction across the nation and has resulted in the deaths of over 1,100 civilians, the United Nations reported. At least 10 million Ukrainians have been displaced from their homes, including nearly 4 million who have been forced to flee the country.
On Sunday, Zelensky told The Economist that Ukrainians "believe in victory," and will not stop fighting to defend their homes and independence, adding that his biggest priority is to be able to protect the lives of as many people as possible.f
"Victory is being able to save as many lives as possible...because without this nothing would make sense. Our land is important, yes, but ultimately, it's just territory," he told the outlet, adding that he believes the war will end "with us still standing here defending [Ukraine]."
Newsweek has reached out to the foreign ministries of both Russia and Ukraine for additional comment on the ongoing war, but did not hear back in time for publication.