Zelensky on Baby Killed in Odessa Strikes: 'How Did She Threaten Russia?'
Ukrainian President Volodymyr Zelensky questioned how a three-month-old baby could "threaten Russia" after a Russian missile strike killed the infant child and at least seven others Saturday.
Zelensky said the attack targeted the southern Ukrainian city of Odessa, via aircraft from the Caspian Sea. So far, at least 18 people have been reported to be wounded.
"Ordinary peaceful people. Among those killed was a 3-month-old baby girl. How did she threaten Russia? It seems that killing children is just a new national idea of the Russian Federation," Zelensky said in a message to the nation. "We will identify all those responsible for this strike...No one will be able to hide. No matter how long it takes us, all these bastards will be responsible for every death they caused."
Sergei Nazarov, an aide to Odessa's mayor, said the missiles struck a residential neighborhood in the far west of the city, The New York Times reported. Images and videos shared on social media appeared to show damage and smoke billowing out of a large housing complex. Ukrainian Parliament member Yevheniia Kravchuk told ABC News on Sunday that Russian forces "clearly targeted" a civilian building.
The attack also came on the weekend of Orthodox Easter, in which millions of Orthodox Christians around the world celebrate the resurrection of Jesus.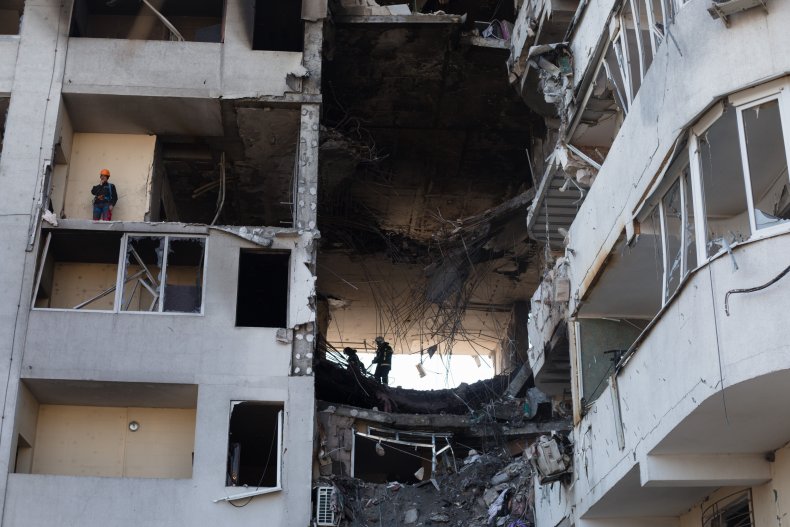 "All of this is while peaceful Odessa was preparing for Easter Sunday," the city's mayor, Gennadiy Trukhanov, added in a statement, according to the Times.
Russia rejected calls from the United Nations to allow for a four-day "humanitarian pause" between Holy Thursday and Orthodox Easter Sunday "to allow for the opening of a series of humanitarian corridors," according to the Ukrainian National News Agency.
The latest strike hit Ukraine on the two-month mark of Russia's invasion, which first began on February 24. The offensive comes as Russian forces attempt to seize control across Ukraine's southern and eastern territories after facing fierce opposition around the nation's capital, Kyiv. Zelensky said Sunday that "the Russian state has become a terrorist, and it is not ashamed."
He added that in the besieged port city of Mariupol, home to some of the bloodiest fighting in the war, new information has emerged regarding mass slayings of citizens. Earlier this week, Russian forces declared that Mariupol had officially been conquered.
"New graves of people killed by the occupiers are being found. We are talking about tens of thousands of dead Mariupol residents," Zelensky said Sunday, adding that Moscow is continuing to use so-called "filtration camps" to deport Ukrainian residents to Russia, which he likened to Nazi concentration camps during World War II.
"The honest name for them is, in fact, different—it's concentration camps. Like those built by the Nazis in the past," he noted.
Nonetheless, the Ukrainian leader said that the country's forces would continue to prevail. Evoking a message from the weekend's Easter celebration, he added that "there will be a Resurrection. Life will defeat death."
"The truth will defeat any lies. And evil will be punished. And Russia will have to learn these truths again, it's only a matter of time. It is only a matter of time before all Russian murderers feel what a fair response to their crimes is," he said.
Newsweek contacted Russia's foreign ministry for additional comment.