Video Shows Aftermath of Missile Strike on Apartment Block in Odesa
Video released on Saturday shows the aftermath of a Russian missile strike on an apartment block in the Ukrainian port city of Odesa, which has killed five people and wounded 18 others, according to the chief of staff to Ukrainian President Volodymyr Zelensky.
Andriy Yermak, head of the Office of the President of Ukraine, made the announcement on Facebook on Saturday as video of the scene was shared on messaging app Telegram.
"Five killed and 18 wounded Ukrainian citizens. These are only the ones that were found," Yermak wrote.
"And most likely, there will be more," he went on. "Among the killed is a three-month-old baby. The little one who was supposed to meet her parents on her first Easter. Nothing is sacred. Absolutely. Evil shall be punished."
Russia has yet to comment on the accusations. Newsweek is still trying to verify claims.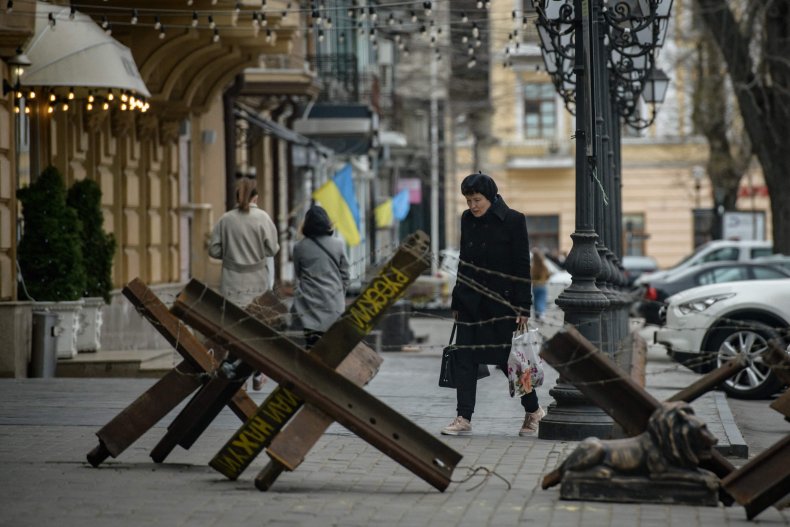 Anton Gerashchenko, an adviser to Ukraine's minister of the interior, said in a Telegram post on Saturday that Ukrainian forces had managed to shoot down several missiles but that at least one had landed and exploded.
"Residents of the city heard explosions in different areas," Gerashchenko said, adding that "residential buildings were hit."
Footage showing the aftermath of the missile strike was shared on Telegram by UNIAN, the Ukrainian Independent Information Agency based in the nation's capital city of Kyiv.
That 11-second video showed a cloud of black smoke apparently rising from a residential building. It appears to have been filmed from a moving vehicle.
Ukrainian Foreign Minister Dmytro Kuleba took to Twitter on Saturday and condemned the missile strike. "The only aim of Russian missile strikes on Odesa is terror," Kuleba wrote.
"Russia must be designated a state sponsor of terrorism and treated accordingly. No business, no contacts, no cultural projects. We need a wall between civilization and barbarians striking peaceful cities with missiles," the foreign minister went on.
Serhiy Bratchuk, spokesperson for Odesa Regional Military Administration, originally broke the news of missile strike on Telegram, according to news site Ukrinform.
"Trying to report as soon as possible the fallout of missile strikes on cities and various objects across our country, citizens, media and bloggers often rush to post videos on social networks and name the exact locations of enemy strikes. A rescue operation is underway! If someone isn't saved, this will be your fault!" Bratchuck wrote.
The missile strike comes amid Russia's ongoing invasion of Ukraine, which the Russian government has dubbed a "special military operation."
Russian forces reportedly attempted to storm a steel plant in the port city of Mariupol where Ukrainian soldiers and civilians were located on Saturday.
There has been intense fighting in and around Mariupol as the Russians have attempted to take control of the city. The war in Ukraine has entered a new stage, with fighting expected to be concentrated in the country's east, after Russian forces failed to take Kyiv in the earlier stage of the conflict.
Newsweek has asked the Ukrainian and Russian foreign ministries for comment.