Zelensky Says Russia Has No 'Iota of Courage to Admit Defeat and Withdraw'
Ukrainian President Volodymyr Zelensky said that Russia's military is too cowardly to concede defeat, and touted his own country's military prowess as a counter-offensive is launched in southern Ukraine.
Zelensky struck an assured tone in a national speech on Tuesday where he also highlighted Ukraine's growing closeness with the Western-based NATO alliance. The Ukrainian president's remarks come after an infusion of weapons from Western allies and as the country seeks to beat back Russia's territorial gains in Ukraine.
Zelensky said in the speech that Russian occupiers "will not have a safe rear anywhere on our land." He said that intercepted communications of Russian soldiers show they are "truly afraid of our armed forces." Russia's military is able to sustain conflict, nearly in its fifth month, on the "basis of bottomless stocks of old Soviet weapons," he said.
"They no longer have strategic strength, character or understanding of what they are doing here on our land," said Zelensky. "They also don't have even an iota of courage to admit defeat and withdraw troops from Ukrainian territory."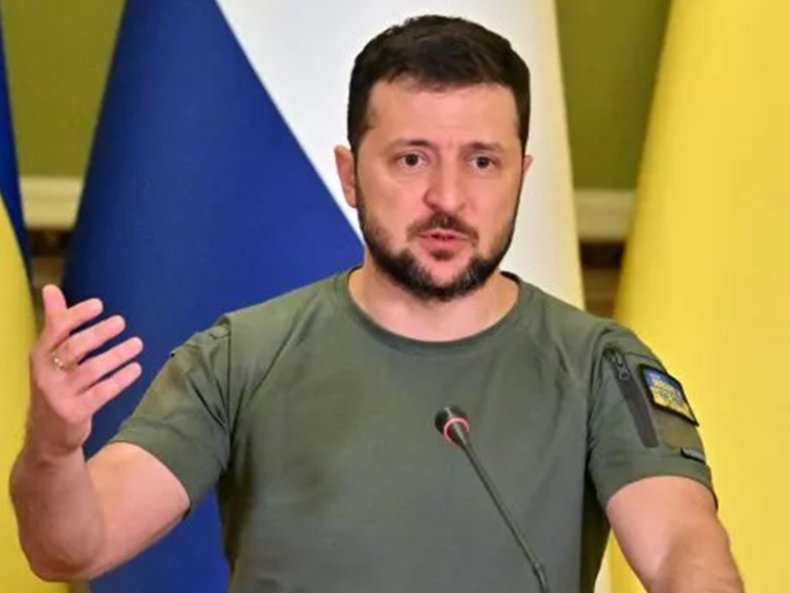 Ukraine's military on Tuesday claimed that it destroyed a Russian munition dump and killed 200 soldiers with a missile strike near Nova Kakhovka in the southern Kherson region. Ukraine's military also said that it had killed a Russian general in a strike.
Ukraine said it carried out the strikes using the High Mobility Artillery Rocket System (HIMARS) long-range missile system that was part of a U.S. military aid package.
Oleksii Reznikov, Ukraine's defense minister, was also confident this week in an interview with British newspaper The Times, saying the country has a "million strong" force to fight Russia.
The upbeat remarks from Ukrainian officials come after Russia has made significant strategic gains in Ukraine's eastern Donbas region. A map of Russian territorial gains tracked by the Washington, D.C.-based think tank the Institute for the Study of War shows the Kremlin occupies large swaths of eastern and southern Ukraine.
Zelensky said in his speech that Ukraine has became an associate member of NATO's special multilateral program on technological interoperability. While Ukraine is not a full member of NATO, he said the designation will allow Ukraine to implement NATO standards and participate in the development of new standards.
He also said he talked with Mariusz Błaszczak, deputy prime minister and minister of defense of Poland, about the "Krab" self-propelled tank that he said "will powerfully feed our enemy with fire."
Newsweek reached out to the Russian government for comment.