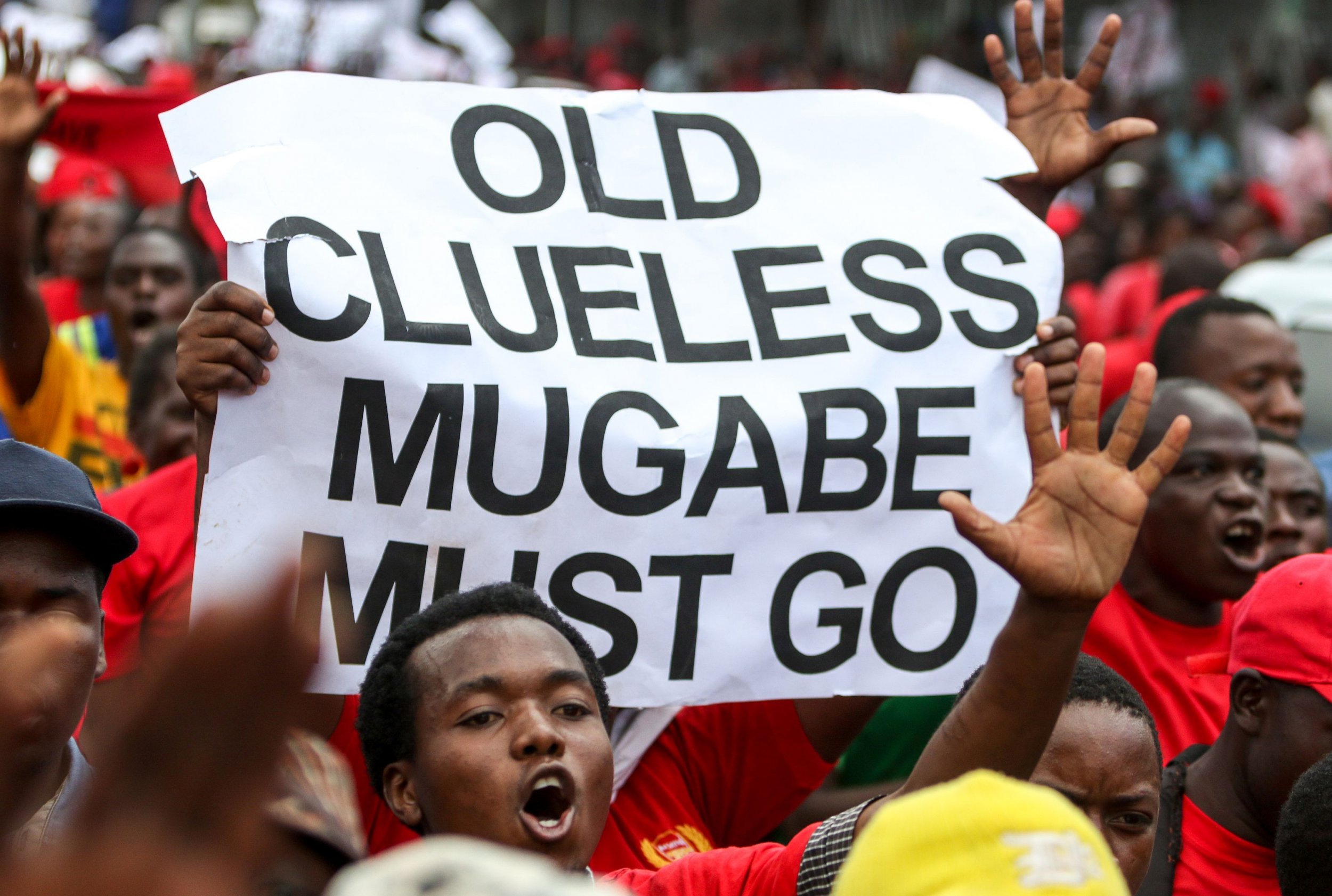 Zimbabwe's ruling party has dismissed mass protests by opposition supporters calling for President Robert Mugabe to step down, saying the veteran leader must be voted out of office.
Thousands of supporters of the Movement for Democratic Change-Tsvangirai (MDC-T) rallied in the streets of the capital Harare on Thursday, headed up by opposition leader Morgan Tsvangirai. The demonstrators protested against the state of the Zimbabwean economy and a lack of jobs in the southern African country, as well as calling for the resignation of 92-year-old Mugabe, Africa's oldest serving head of state.
"President Mugabe was elected by the people of Zimbabwe and if they are now saying he must go then I wonder where?" said Simon Khaya Moyo, a spokesperson for Zanu-PF, according to the state-owned Herald newspaper. "If they [the MDC-T] want him to go then they should campaign and go for elections and win, that is the democratic way of changing the government."
Tsvangirai has twice run against Mugabe in elections in 2002 and 2008. While he lost in a controversial vote in 2002, Tsvangirai finished ahead of Mugabe in 2008 with 47.9 percent of the vote compared to the Zanu-PF leader's 43.2 percent. But since neither candidate won an outright majority—although Tsvangirai maintains the vote was rigged and that he had won in the first round—a second round of voting took place, which Mugabe won after his opponent pulled out. Tsvangirai later served as prime minister between 2009 and 2013 as part of a power-sharing deal.
Thursday's demonstration was the largest in years in Zimbabwe, where police often clamp down on opposition protests with force. Protesters held signs with messages such as "Old clueless Mugabe must go" and "Where are our 2.2 million jobs?" referring to a promise made by Mugabe prior to the 2013 elections to create more than 2 million jobs, AP reported.
"Mugabe has no solution to the crisis. We are here to tell Mugabe and his regime that you have failed," said Tsvangirai in an address to the rally, the BBC reported.
Mugabe has been in power since Zimbabwe's independence in 1980 and recently indicated he would stand as the ruling Zanu-PF's presidential candidate in the 2018 elections if his health permitted. The leader has also said he wants to live to the age of 100 and that he has no plans to retire.