Zimbabwe's Mugabe Plans to Live to 100 and Won't Retire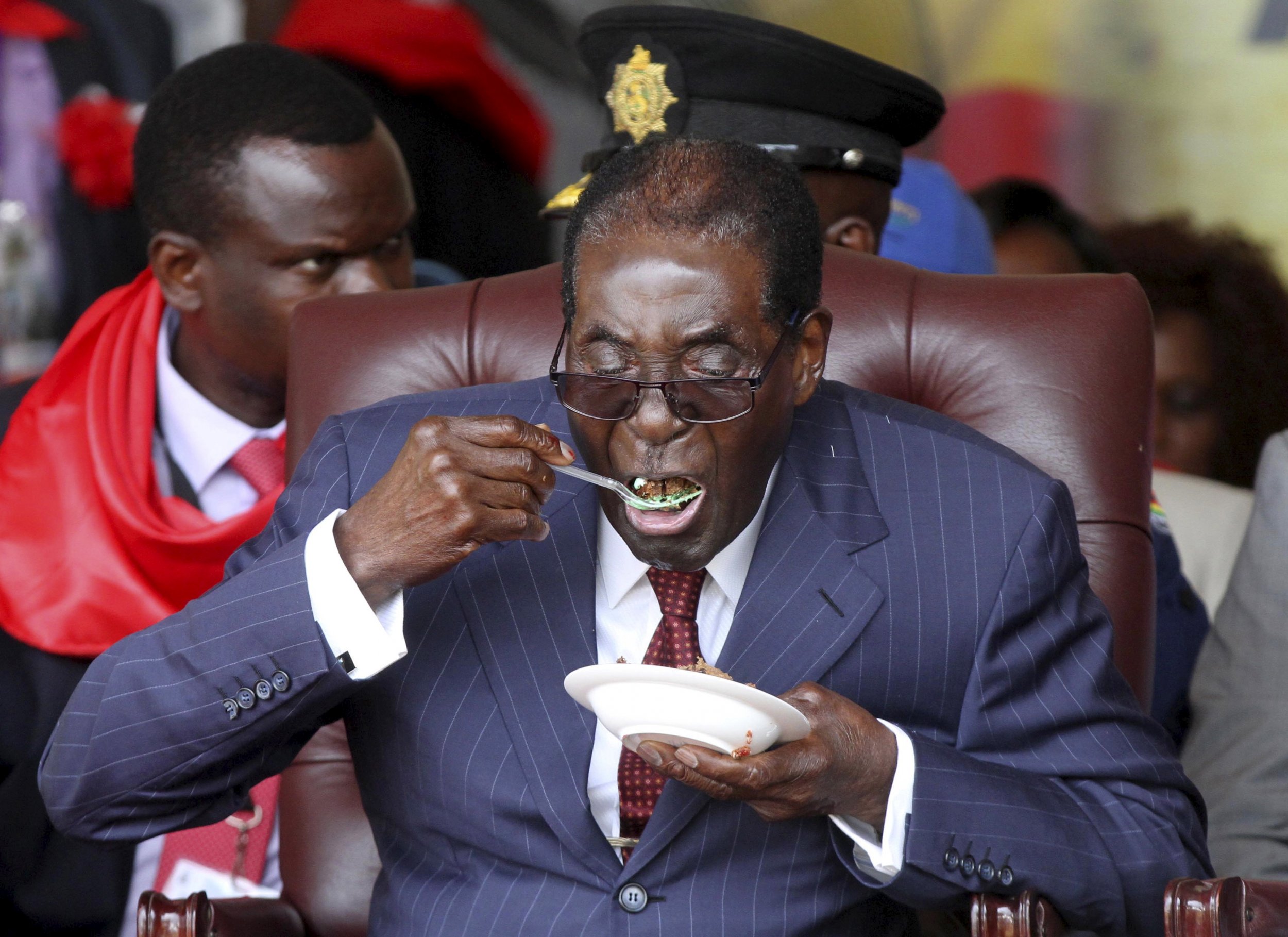 Zimbabwean President Robert Mugabe has already been in charge for 36 years and, at 92, is the world's oldest serving head of state. But the veteran leader says he is not done yet.
Mugabe plans to live until he is 100 and indicated that he would remain president for life in a Thursday interview with state channel Zimbabwe Broadcasting Corporation (ZBC) TV, Reuters reported.
The former freedom fighter also dismissed reports of succession battles within his Zanu-PF party and added that the next party leader would be democratically elected, not chosen by him, suggesting that his wife Grace Mugabe would not be an automatic heir to his position.
Mugabe served as Zimbabwe's first prime minister following independence in 1980 and took over as president in 1987. He was chosen to lead Zanu-PF in 2014, meaning he will be the party's presidential candidate in the 2018 elections. If Mugabe was to win that election and serve the full term, he would be 99 by the time he is finished.
"Why successor? I am still there. Why do you want a successor? I did not say I was a candidate to retire," said Mugabe in the ZBC TV interview on Thursday.
The president's health is a constant source of speculation in Zimbabwe. Several recent public incidents—including the elderly statesman falling down a flight of stairs at Harare airport in February 2015 and Mugabe reading the wrong speech at the opening of the Zimbabwean parliament in September 2015—have suggested the veteran leader's health could be failing. But Mugabe dismissed any such concerns, saying that he was still fit and did morning exercises every day.
The issue of who will succeed Mugabe as Zanu-PF leader has dominated the party's internal politics in recent months, with two main camps emerging: one backing his wife Grace Mugabe and the other behind Vice President Emmerson Mnangagwa. Grace Mugabe has established herself as a leading figure within the party after becoming head of its women's wing in December 2014 and assuming a position on the party's decision-making body, the Politburo.
But Mugabe appeared to pour cold water on the idea that he had prepared a path for his wife to take over from him. "Others say the president wants to leave the throne for his wife. Where have you ever seen that, even in our own culture, where a wife inherits from her husband?" said Mugabe. The president added that the next Zanu-PF leader would be democratically elected by a vote at a party congress.
Zanu-PF's political dominance in Zimbabwe has been aided by the lack of a strong opposition: the main opposition Movement for Democratic Change (MDC) won just 49 seats compared to Zanu-PF's 158 in the 2013 elections, although the electoral process was widely criticized as unfair.
A former vice president under Mugabe, Joice Mujuru, announced on Tuesday the formation of a new political party, Zimbabwe People First, to challenge Mugabe's Zanu-PF. Mujuru was purged from the ruling party in December 2014 after Mugabe accused her of plotting to depose him, following a sustained campaign against Mujuru by Grace Mugabe. The president dismissed the challenge posed by Mujuru in the ZBC interview, saying that the new party was doomed to fail.