Dancing in the Streets: How Zimbabwe Reacted to Robert Mugabe's Resignation as President After 37 Years
The streets of Zimbabwe's capital Harare erupted in joy on Tuesday after the country's leader, Robert Mugabe, resigned after 37 years in power.
Mugabe, who at 93 years old was the oldest nonroyal head of state in the world, stepped down after a weeklong power struggle that followed a military takeover.
The military had placed Mugabe under house arrest a week after the leader had sacked his former vice president, Emmerson Mnangagwa, in what was seen as a bid to place his wife, Grace Mugabe, in the line of succession.
The ruling ZANU-PF party announced that Mnangagwa would be sworn in as the country's new president on Wednesday. Zimbabwe is due to hold elections in 2018, in which Mugabe was slated to stand.
On the streets of Harare, people waved flags and sang songs rejoicing in the end of Mugabe's reign. The president is the only leader that many Zimbabweans have known, having ruled since the country became independent from British colonial rule in 1980.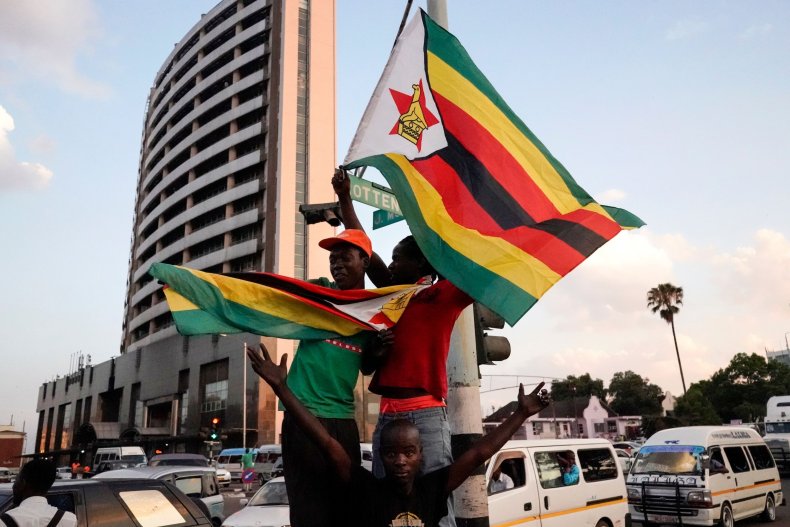 Many chose to celebrate with members of the military, who have been lauded by the population as liberators for setting in motion the processes that led to Mugabe's removal. But others, including the head of regional bloc the African Union (AU), Guinea President Alpha Conde, said that the military takeover "seems like a coup" and that the AU would never support it.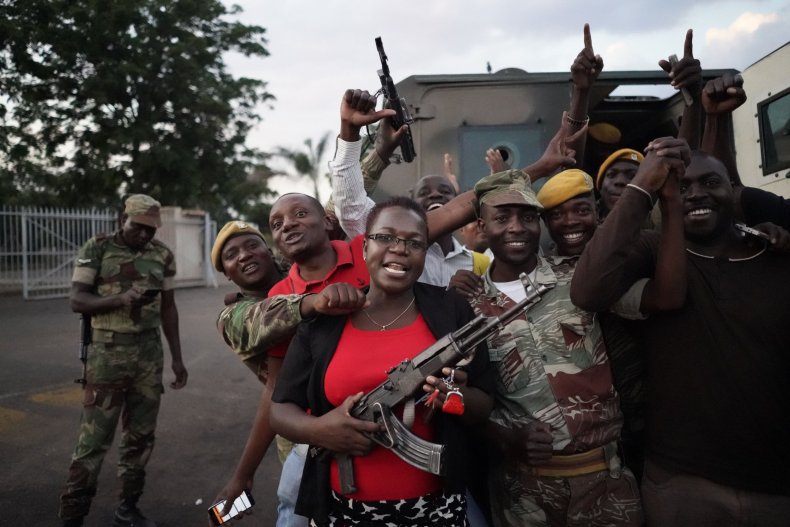 MPs in Zimbabwe's Parliament reacted with jubilation when the speaker, Jacob Mudenda, announced Mugabe's resignation Tuesday. After Mugabe's continued refusal to step down, parliament had opened impeachment proceedings against the now former president.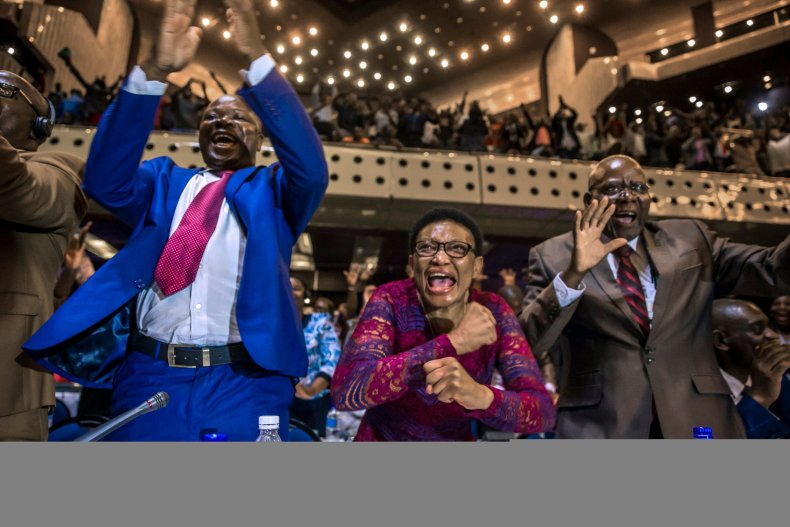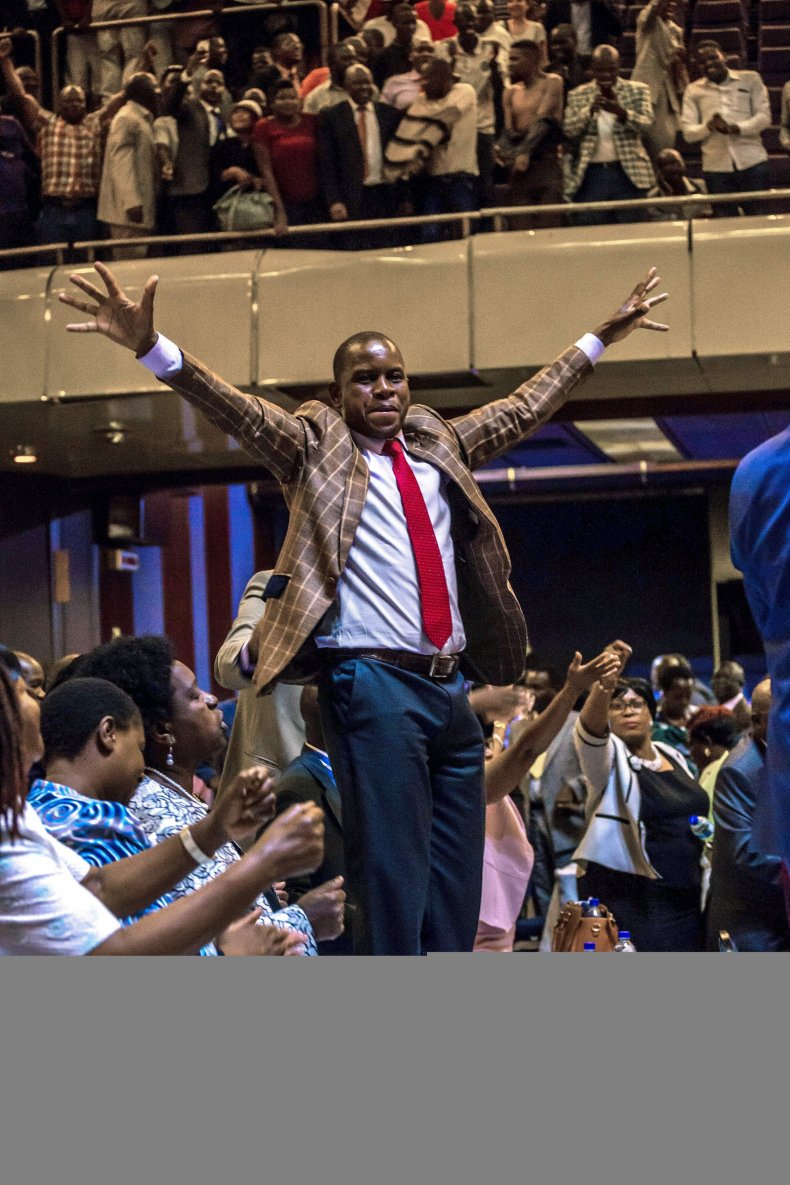 Mugabe's intransigence had led to days of peaceful protests in Zimbabwe, as civilians called for the president to step aside.
Under Mugabe's rule, Zimbabwe has been transformed from the so-called breadbasket of Africa to an economic disaster. Mugabe's controversial land reform policy—under which white-owned farmlands seized violently and often redistributed to his cronies—contributed to a crippling economic crisis that saw Zimbabwe abandon its national currency and endure one of the worst periods of hyperinflation ever witnessed.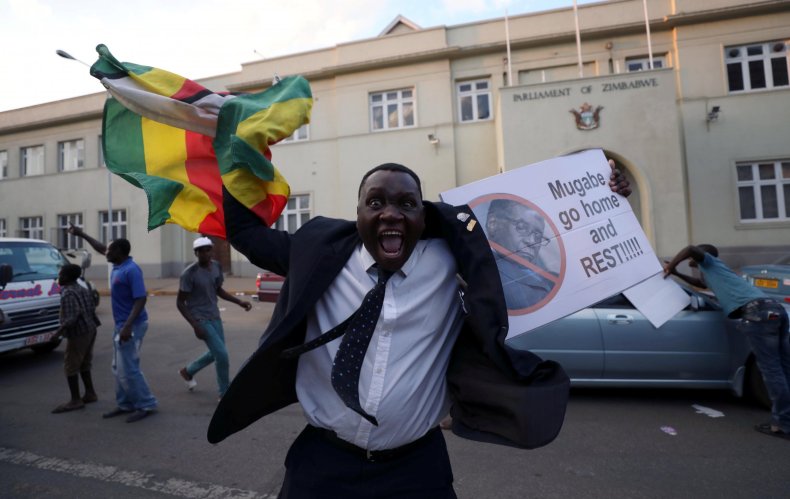 All eyes are now on the future of the southern African country. Some have expressed doubts about Mnangagwa, who served alongside Mugabe in Zimbabwe's liberation war and is accused of helping to oversee the Gukurahundi massacres in the 1980s, when tens of thousands of people in western Zimbabwe were killed in a brutal campaign by the armed forces. (Mnangagwa has denied any involvement in the massacres.)
But for today at least, Zimbabweans seem determined not to worry about the future and to celebrate the present.