Could Zion Williamson Sue Nike after Knee Injury Caused by Sneaker Blowing Up?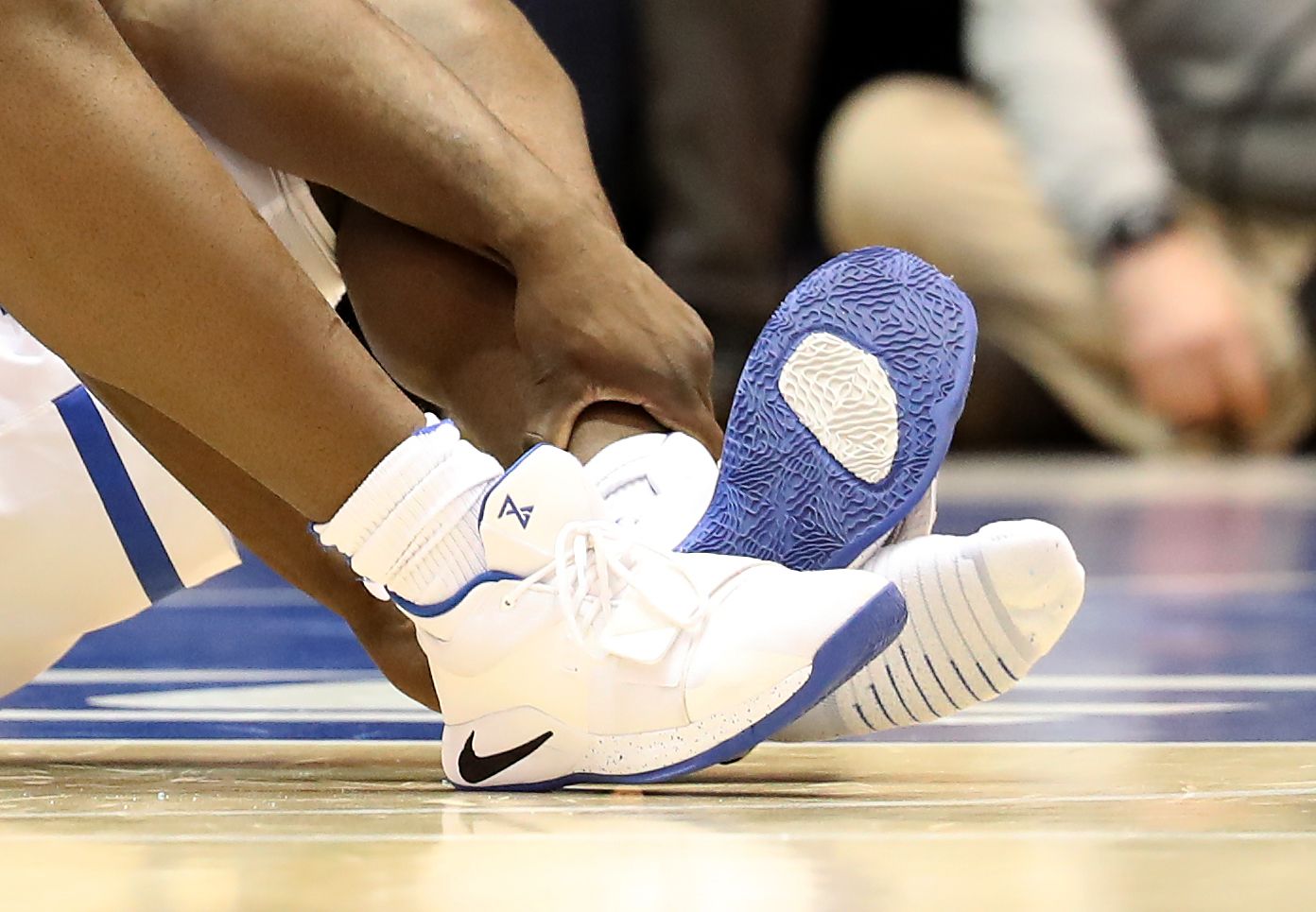 The concept according to which there is no such thing as bad publicity will be sorely tested after Zion Williamson suffered a knee injury as his Nike shoe fell apart.
On Wednesday night, with 36 seconds gone during Duke's 88-72 loss at home to North Carolina, the Blue Devils star appeared to lose his footing while dribbling away from Luke Maye. However, it soon became apparent Williamson hadn't slipped but that his left shoe had completely ripped apart once he planted his foot down.
The 18-year-old limped off clutching his knee and after the game Duke coach Mike Krzyzewski described the injury as "mild knee sprain".
The company immediately apologized for the incident and promised to investigate the issue.
"We are obviously concerned and want to wish Zion a speedy recovery," it said in a statement. "The quality and performance of our products are of utmost importance. While this is an isolated occurrence, we are working to identify the issue."
As soon as pictures of Williamson's sneaker began circulating, Nike faced a huge backlash on social media.
However, the implications for the swoosh brand could stretch way beyond being ridiculed on Twitter if the diagnosis on Williamson's injury is worse than expected.
The teenager isn't just another college basketball player, he's arguably the most exciting prospect in years and the overwhelming favorite to be the first overall pick of this year's NBA draft.
A serious injury could have a knock-on effect on Williamson's future, potentially even jeopardizing his chances of landing a contract in the NBA.
That, in turn, would also prevent him from signing the kind of lucrative endorsement deals he is forbidden to sign while playing in the NCAA, where all athletes are considered to be amateurs.
Should Williamson's injury even partially impair his ability to perform on the court, he could consider legal action against Nike.
According to Sports Illustrated, the Blue Devils' big man could argue his injury was caused by a defective product. Under Article 2 of the Uniform Commercial Code, which has been adopted in North Carolina, retailers have to deliver goods that are merchantable.
Clearly, a basketball sneaker that comes apart with such ease does not fit in the category.
Should the injury damage Williamson's chances of having an NBA career and of reaping the financial reward associated with it, he could have legal grounds to blame Nike.
The sporting apparel giant would in turn question whether the sneaker was tampered with and would in all likelihood want proof Williamson's injury was directly linked to the shoe blowing up.
The player isn't the only party who could consider legal action either.
According to ESPN, the Blue Devils are in the fourth year of a 12-year deal with the sports apparel giant to provide shoes and apparel for their basketball program.
Duke's relationship with Nike stretches back to 1992, when the university first signed an exclusive deal with the company.
While the terms of the deal aren't public, Sports Illustrated suggested it probably includes a commitment from the swoosh brand to provide "high quality" products to the university.
A sneaker whose sole is ripped apart does not fit that bill.
Of course, both of these scenarios might remain completely hypothetical if, as it is hoped, Williamson's injury doesn't amount to anything more serious than a knee sprain.