Impeach Trump? Where 2020 Democrats Stand on Calls to Remove President From Office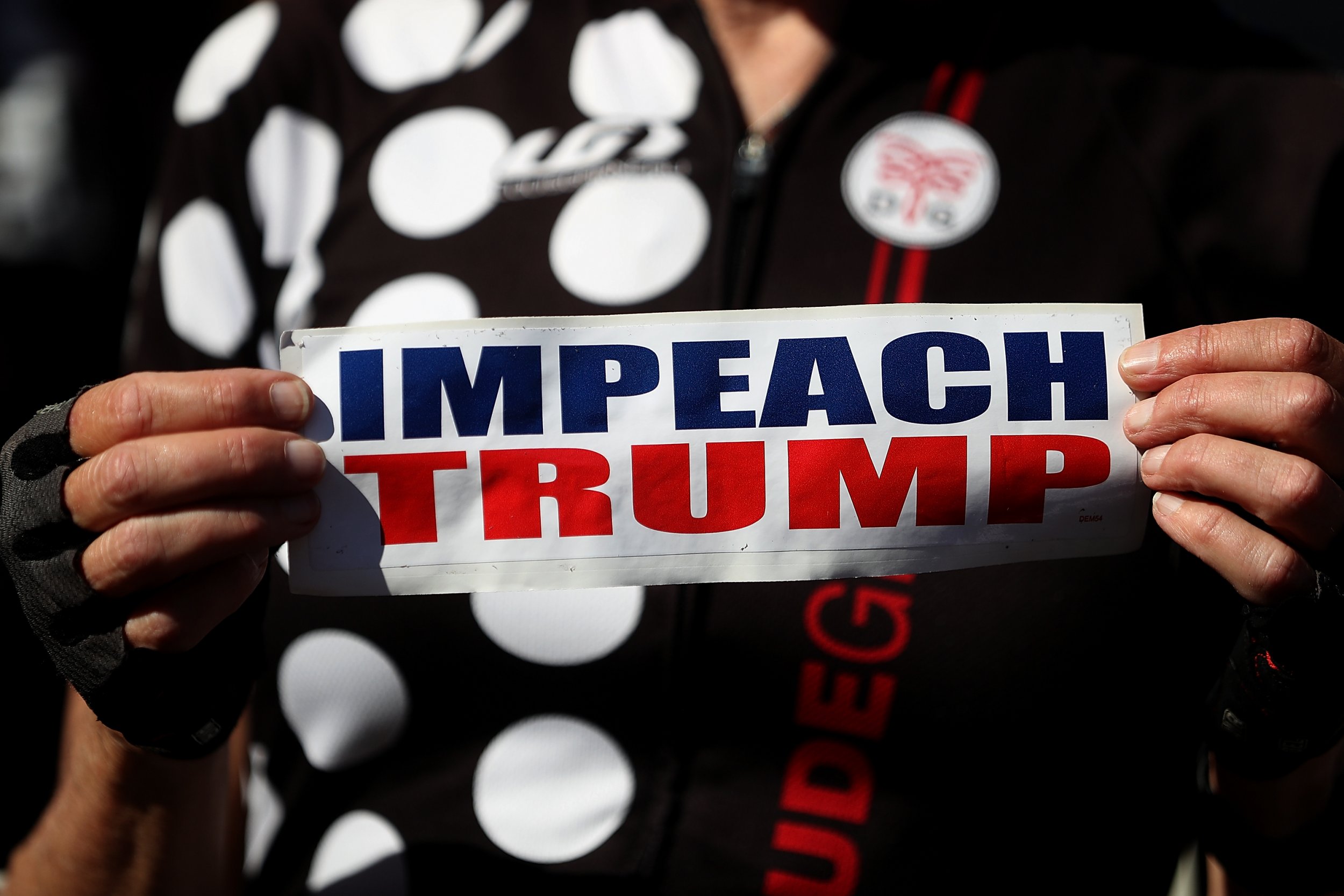 Last week's release of the Mueller report has continued to leave Democratic presidential candidates split on the key question of whether President Donald Trump should be impeached. At the same time, House Democratic leadership is grappling with increasing calls for the party to begin the process, reiterating their belief that the ongoing congressional probes must play out before such divisive action is taken.
The special counsel's 448-page report detailed several instances in which the president tried to thwart the investigation, noting that he was "mostly unsuccessful" because "the persons who surrounded the President declined to carry out orders or accede to his requests," according to the report.
One of those people included former White House counsel Don McGahn, who refused an order from Trump to have then-acting Attorney General Rod Rosenstein fire Mueller, deciding that "he would resign rather than trigger what he regarded as a potential Saturday Night Massacre."
"If there are people in the House and the Senate who want to say that's what a president can do, when the president is being investigated for his own wrongdoings or when a foreign government attacks our country, then they should have to take that vote and live with it for the rest of their lives," presidential candidate Senator Elizabeth Warren said Monday evening during a CNN town hall.
The Massachusetts progressive took the lead on the impeachment debate Friday evening, saying on Twitter that due to Trump's attempts to foil Mueller's investigation and his campaign's acceptance that Russia tried to interfere in the 2016 elections in a "sweeping and systematic fashion," as the report states, the "House should initiate impeachment proceedings against the President of the United States. "
Four other 2020 Democratic candidates weighed in on the issue during their own CNN town halls on Monday, including Mayor Pete Buttigieg, of South Bend, Indiana, and Senators Bernie Sanders, Kamala Harris and Amy Klobuchar.
Like Warren, Buttigieg and Harris said Congress should begin impeachment proceedings.
"I think [Trump has] made it pretty clear that he deserves impeachment," said Buttigieg, who has risen sharply in recent polls. "I'm also going to leave it to the House and Senate to figure that out, because my role in the process is trying to relegate Trumpism to the dustbin of history, and I think there's no more decisive way to do that—especially to get Republicans to abandon this deal with the devil they made—than to have just an absolute thumping at the ballot box."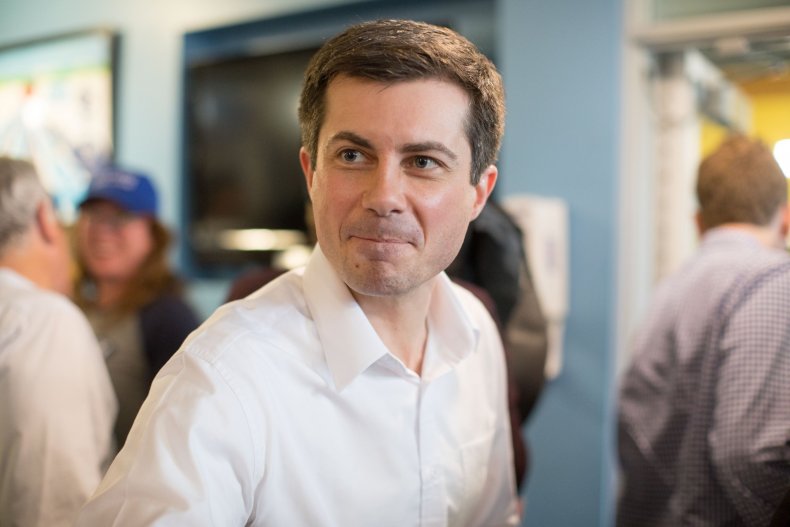 Harris, California's former attorney general, said Congress "should take the steps toward impeachment" because of the evidence surrounding obstruction of justice. While Mueller did not make a determination on obstruction and appeared to pass the matter on to Congress, Attorney General William Barr and Deputy Attorney General Rod Rosenstein determined that Trump should not face charges.
"I think we have very good reason to believe that there is an investigation that has been conducted which has produced evidence that tells us that this president and his administration engaged in obstruction of justice," Harris said.
Sanders and Klobuchar were more reluctant to call for the ousting of the president, saying they preferred House Democrats to conclude their investigations before taking such a stance that could unintentionally bolster Trump.
"If for the next year and a half going into the election, all that the Congress is talking about is impeaching Trump, and Trump, Trump, Trump and Mueller, Mueller, Mueller and we're not talking about health care, raising the minimum wage to a living wage, combating climate change, sexism, racism, homophobia, and all of the issues that concern ordinary Americans, what I worry about is that works to Trump's advantage," Sanders argued. "There has got to be a thorough investigation, and I think the House Democrats will do it."
Klobuchar said the revelations outlined in the Mueller report were "appalling" and believed that Trump "should be held accountable," but she first wants to hear congressional testimony from Barr, Mueller and Trump associates mentioned in the report before calling for impeachment.
"I'm not going to say whether [the report] is or isn't [impeachable], but there is very disturbing things that would lead you to believe there's obstruction of justice," she said. "If the House brings the impeachment proceedings before us, we will deal with them."
Speaking to reporters last week in Nashua, New Hampshire, Beto O'Rourke, the former congressman and presidential candidate, also showed reluctance toward impeachment.
"The fact that people want to see this country work again, come together, I don't know that impeachment and those proceedings in the House and Senate is going to answer those questions for people," he said. "We can solve this once and for all in November 2020."
The hesitance by Sanders, Klobuchar and O'Rourke is in line with Democratic leadership in the House, which is grappling with increasing calls from more progressive and rank-and-file members to begin impeachment proceedings. But House Speaker Nancy Pelosi and others have continued to tamp down such calls, urging Democrats to continue down the road of congressional probes rather than trying to forcibly oust the president.
"While our views range from proceeding to investigate the findings of the Mueller report or proceeding directly to impeachment, we all firmly agree that we should proceed down a path of finding the truth," Pelosi wrote in a letter to House Democrats just prior to a conference call Monday evening to further discuss the matter. "It is also important to know that the facts regarding holding the President accountable can be gained outside of impeachment hearings."
Pelosi's call with Democrats featured at least one prominent Judiciary Committee member, Val Demings, who pushed back against stalling impeachment proceedings, arguing the party was "struggling to justify why we aren't beginning impeachment proceedings," according to several reports.
Judiciary Committee Chairman Jerrold Nadler issued a subpoena Friday for the full, unredacted Mueller report and all of its underlying evidence—teeing up a likely legal battle with Barr and the Justice Department—in addition to subpoenaing McGahn and requesting that Mueller provide testimony.