Full Mueller Report Subpoena Issued So Congress Can Probe 'Full Scope' of Trump's 'Alleged Misconduct': Nadler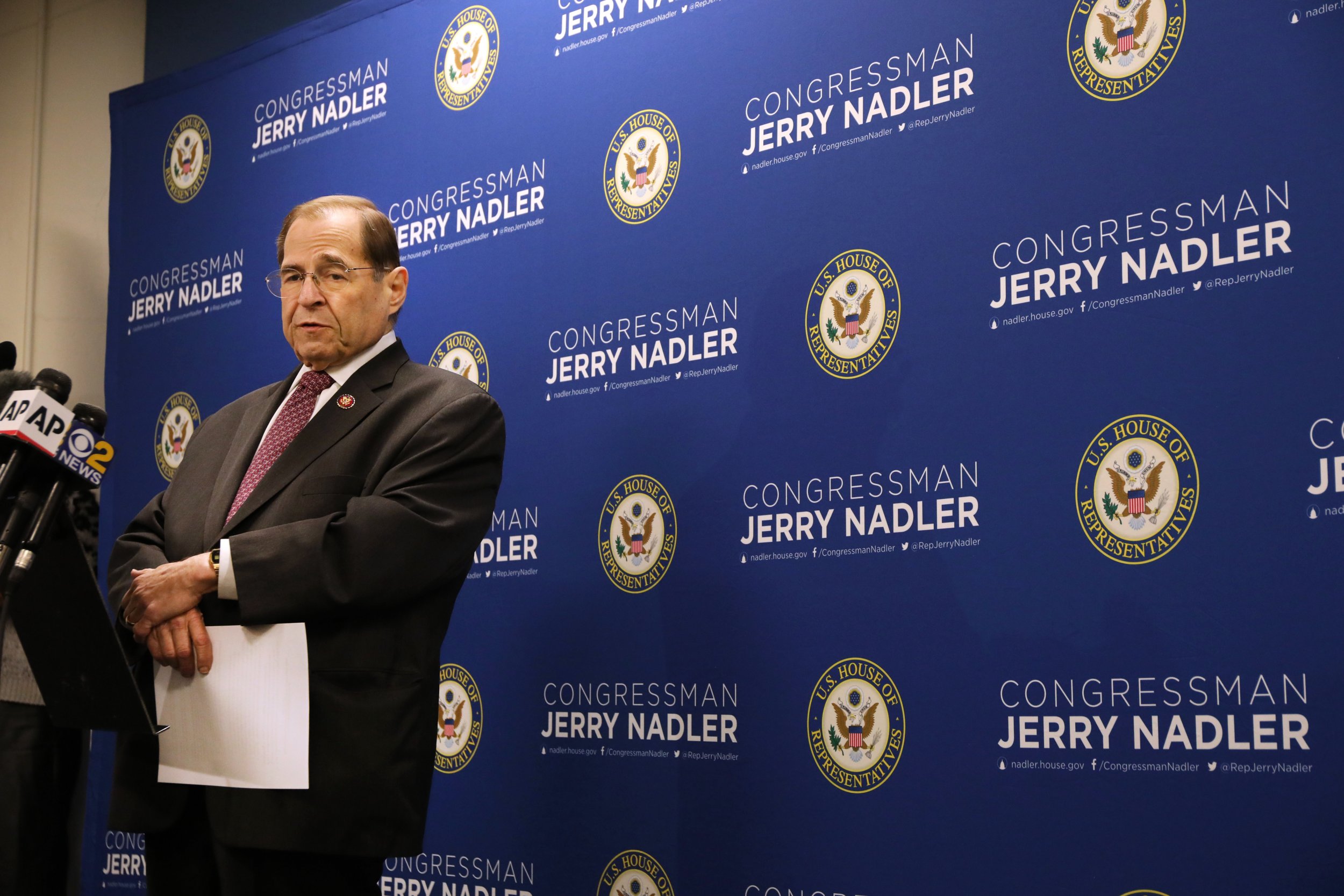 House Judiciary Committee Chairman Jerrold Nadler issued a subpoena Friday morning to the Department of Justice for special counsel Robert Mueller's full, unredacted report and all underlying evidence.
"My committee needs and is entitled to the full version of the report and the underlying evidence consistent with past practice," Nadler, a Democrat from New York, said in a statement with the subpoena. "The redactions appear to be significant. We have so far seen none of the actual evidence that the special counsel developed to make this case."
Nadler said DOJ was "required to comply" with the subpoena by May 1.
Such a request tees up a likely legal battle between DOJ and Congress, with Attorney General William Barr previously stating he was unwilling to provide the full report and its underlying evidence to members of Congress due to classified information and fear of leaks.
"I am open to working with the department to reach a reasonable accommodation for access to these materials; however, I cannot accept any proposal which leaves most of Congress in the dark, as they grapple with their duties of legislation, oversight and constitutional accountability," Nadler continued.
The top Republican on the committee, Doug Collins of Georgia, ridiculed the chairman in a statement. He said that a demand for the unredacted report and underlying evidence was something that, "by law, can't be shared outside the Justice Department."
"Today's subpoena is wildly overbroad. It commands the department to provide Congress with millions of records that would be plainly against the law to share, because the vast majority of these documents came as a result of nearly 2,800 subpoenas from a grand jury that is still ongoing," Collins said.
Of the May 1 date, Collins said, "This is politically convenient for the chairman because the attorney general has offered to appear before our committee the following day, allowing the chairman to grandstand and rail against the attorney general for not cooperating on an impossible timeline."
Trump called parts of the Mueller report "total bullshit" in a morning tweet.
Top House Democratic chairmen, including Nadler, have also requested for Mueller to testify to Congress sometime in May.
The 448-page report, conducted by Mueller and his team of attorneys over 22 months, was released to the public Thursday with redactions. It concealed information that is deemed classified, could hinder an ongoing investigation, contains grand jury materials or would "unduly infringe on personal privacy and reputational interests" of third parties.
In testimony to Congress earlier this month, Barr told lawmakers he would "see if there's a way we can accommodate" Nadler and Senate Judiciary Committee Chairman Lindsey Graham, should they be unsatisfied with Barr's redactions in the report. Barr said he made the redactions in consultation with Mueller's team. DOJ has said that top congressional leaders, like Nadler and Graham, would be able to view some of the redacted material in a secure location. But top Democrats say they should be provided with the full report and underlying evidence in order to proceed with their own investigations into possible obstruction by the president.
"Even the redacted version of the report outlines serious instances of wrongdoing by President Trump and some of his closest associates," Nadler said. "It now falls to Congress to determine the full scope of that alleged misconduct and to decide what steps we must take going forward."
Mueller detailed several instances by Trump that were investigated for obstruction of justice, including a directive to former White House counsel Don McGahn to fire Mueller, but concluded that "the President's efforts to influence the investigation were mostly unsuccessful… largely because the persons who surrounded the President declined to carry out orders or accede to his requests."
The Judiciary Committee earlier this month voted to authorize subpoenas for McGahn, McGahn's former chief of staff Ann Donaldson, former White House adviser Steve Bannon, former spokesperson Hope Hicks and former chief of staff Reince Priebus, in addition to the Mueller report. The timeline for if and when those remaining subpoenas will be issued is not yet known.
At a press conference following the release of the report, Nadler said that Trump's impeachment was "one possibility," and believed the "structure" of the special counsel's report was "written with the intent of providing Congress a road map" to removing the president from office.
House Democratic leadership said that, with the release of Mueller's report, it was time for Congress to take the next step. Whether that entails impeachment proceedings, more investigations or new legislation remains to be seen. Leadership continued to tamp down impeachment calls following Mueller's report, with House Majority Leader Steny Hoyer telling CNN that "going forward on impeachment is not worthwhile at this point."
House Speaker Nancy Pelosi, in a letter to her Democratic colleagues Thursday evening, said they will continue to review the report's findings and "will update you on the next steps that must be taken." She said House Democrats will have a conference call on Monday to discuss the "grave matter."
"Congress will not be silent," the speaker vowed.
This story has been updated to include a statement from Doug Collins.