With inflation and gas prices soaring and President Joe Biden's approval ratings near historic lows, the Republican Party should have a strong wind at its back in its quest to retake control of the United States Senate. Yet as Labor Day, the traditional launch of general election campaigns, fast approaches, one big shock in American politics is that the stage appears set for Democrats to keep the upper house of Congress—and possibly even expand their current razor-thin control.
Such a prospect seemed far-fetched only a few weeks ago—before Republicans picked extremists as their Senate nominees in several states ("our parade of kooks," one GOP insider calls it), before those candidates committed a series of political faux pas and before the U.S. Supreme Court redefined the stakes by overturning the constitutional right to abortion. What's more, several GOP nominees earned endorsements from former President Donald Trump by embracing his lie that the 2020 election was rife with fraud and the January 6th attack on the Capitol was no big deal. Those views are popular among GOP primary voters but a major turnoff to independents and Democrats, polls show.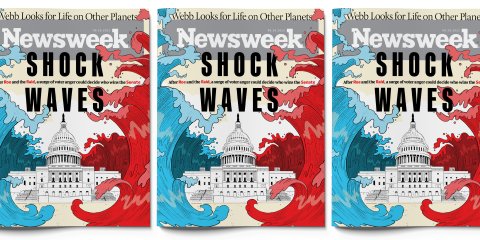 The same partisan divide seems to be forming around the August 8 search by the FBI of the former president's Mar-a-Lago residence for classified documents he allegedly took with him when he left the White House—which Trump-backed Senate candidates swiftly condemned. Early polling shows Republicans are mostly sympathetic to the ex-president but a large majority of Democrats and a plurality of independents approve of the FBI's actions and believe Trump broke the law while in office.
The result: political whiplash. The latest odds from the polling-data crunchers at FiveThirtyEight now put the chance of Democrats retaining control of the Senate at 61 percent; a flip from two months ago when the same gang gave the Republicans a 60 percent shot. Two other prominent prognostication sites are even more bullish on the Democrats' chances: RaceTotheWH gives them a 61.89 percent chance and DecisionDeskHQ, 64.8 percent.
Against all odds, the Senate is suddenly the Democrats' victory to lose. The FBI search, while dominating the news now and providing the GOP with a big fundraising opportunity, hasn't had an impact on prognosticators' expectations for the Senate.
The Democrats now control that chamber of Congress with a 50-50 split plus the tie-breaking vote of Vice President Kamala Harris. To hold on, with 35 seats up for grabs and 10 of those races deemed competitive, the Democrats must make it through the 2022 election without a net loss. Earlier this year, success seemed unlikely, especially since four of the competitive seats currently held by Democrats are in battleground states—Georgia, New Hampshire, Nevada and Arizona—that were only narrowly won in 2020 by the now-unpopular Joe Biden. Given that the party in the White House usually loses seats in Congress in the midterms and the Democrats' grip on the Senate was already tenuous, the conventional wisdom held that Team Blue would be lucky to keep two of those four seats.
Now, however, the Democratic candidates in all four states are ahead in the polls and Democratic nominees in Pennsylvania, North Carolina and Ohio either lead or are statistically tied with their opponents in races to replace retiring Republican senators. Plus, Democrats smell blood in the water in Wisconsin, where incumbent GOP Senator Ron Johnson has a dismal job approval rating of 37 percent and recently suggested he'd like to see an end to Social Security as we know it—a highly unpopular stance.
Add it all up, and if the Democrats run the table, they'll boost their Senate majority to 54-46. Nobody expects that—and the Republicans still seem poised to retake the House. But keeping the Senate would be a big boon to the White House. A GOP-run House would block Democratic legislative priorities, but Biden could still install federal judges and other appointees that require Senate confirmation. And rolling into the 2024 election, Democrats could blame obstructionist House Republicans for lack of progress on issues like abortion, LGBTQ rights, gun safety and immigration reform.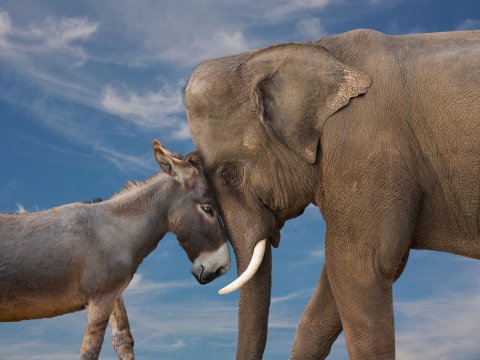 Outwardly, the official GOP line is to be dismissive and sanguine. "This entire narrative is wishful thinking," Chris Hartline, spokesman for the National Republican Senatorial Committee (NRSC), tells Newsweek. "Right now, we feel great about our candidates and the political environment is going to get worse for Democrats as we get closer to the election."
But elsewhere many Republican strategists express grave concern about the Democrats' advances—and are plotting their way back. Fundraising emails from Republican quarters use blunt phrases like "we're losing" and "this is getting bleak" while exhorting rank-and-file donors to give more. The GOP plans an advertising blitz this fall, much of it aimed at latching the Democratic Senate candidates more closely to the unpopular Biden. They're also sending aid where it looks like it's needed most—for example, the NRSC last month dispatched new advisers to Georgia to help steady the messy Senate campaign of former football star Herschel Walker.
With three months to go until Election Day, a lot can still change, of course. The first half of August alone saw a stunning succession of big news, from blockbuster job-creation data and the passage of a major climate bill to boost the Biden agenda to the search of Mar-a-Lago and the apparent escalation of various federal and state criminal probes into the ex-president to enrage his supporters.
The impact of the FBI action in particular is a great curiosity. GOP nominees in every battleground state issued angry statements condemning the Biden Justice Department's alleged politicizing of law enforcement and rushed out fundraising emails to profit off the outrage of Trumpists. "It will help motivate MAGA voters who don't love their GOP nominees," says GOP strategist Jason Roe of Michigan, who is consulting on several House and state legislative races this year. "This raid incited a strong reaction among Republicans. Even people in the party who don't like Trump are angry about it."
Yet a Morning Consult survey taken two days after the search found the event had a modest impact on the non-GOP voters needed to win Senate races. The poll, done for POLITICO, found 58 percent of registered voters believe Trump broke the law while president, including 59 percent of independents. Veteran GOP strategist Jim Dornan sees that as an indication the search won't have much long-term impact. "This will be forgotten by Labor Day," he says. "The right-wingers are trying hard to make it an issue but no one really cares except Trump's hardcore base. My bet is that independents care more about what Trump is being investigated for."
Either way, Democrats are reveling in their overall reversal of fortune and trying to figure out how to keep up the momentum.
It's Not Just the Economy, Stupid
If Republicans thought that a struggling economy alone could carry them into power in the Senate regardless of the quality of their candidates, the number of competitive races in 2022 seem to be proving otherwise. Inflation hit a 40-year high in July before easing slightly to 8.5 percent this month and Yet voters in state after state are nonetheless either favoring or seriously considering Democrats for the Senate as Republicans nominate scandal-ridden candidates and double down on abortion bans.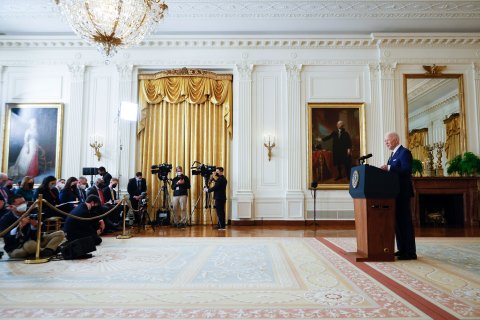 "You hear this conventional wisdom that all voters care about are kitchen-table issues and pocketbook issues, but that does not seem to be the case right now," says GOP campaign consultant Mike Madrid, a one-time political director for the California Republican Party. "I have never seen an environment where 75 percent of voters think we're headed in the wrong direction and the President is sitting at an approval rating in the 30s but the party he represents is competitive in the House and possibly has an advantage in the Senate."
To be sure, the Democrats still have a daunting task ahead. But the idea that the economy trumps all—famously encapsulated by Bill Clinton strategist James Carville, who declared during the 1992 election that "it's the economy, stupid," to focus the campaign on the most important issue to voters—has been belied a few times over the past decade. The economy was improving or in excellent shape in 2010, 2014 and 2018 when the party controlling the White House nonetheless lost dozens of seats in Congress. Now it's the opposite—an economy that many experts say is sliding into recession, faced with widespread product shortages and sharply higher gas and food prices, is still not proving an automatic key to majority for the out-of-power party.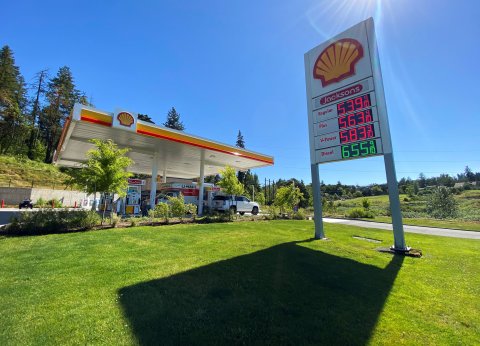 "The reason that Democrats still have some hope, despite this worsening environment, is the fact that they have good candidates in many races, while Republicans have weaker or more problematic ones," says Cook Political Report analyst Jessica Taylor. "However, I caution that this is early polling. We have seen increasingly in the past decade that voters see these races as a choice of party, not necessarily of a person."
Maybe. But one intriguing nuance of this year's polls is that the Democratic incumbent senators in battleground states—Arizona's Mark Kelly, Georgia's Raphael Warnock, Maggie Hassan in New Hampshire and Nevada's Catherine Cortez Masto—all poll significantly higher in matchups with their opponents than Biden does in job performance in their states. What this reflects, says Matt Bennett, co-founder of the centrist Democratic think tank Third Way, is that senators, thanks to their statewide appeal, can transcend their party's struggles.
"It's a very bad year to be running as a Democrat and a very bad year to be defined almost entirely by the party brand, so House candidates and down-ballot candidates are going to have a hard time because the Democratic brand is not doing great," Bennett says. "But Senate candidates are not defined by the party label entirely. [Democrats] John Fetterman [in Pennsylvania] and Tim Ryan [in Ohio] and people like that have very distinct personal brands. They can overcome the party brand."
That's happened before, too. In President Barack Obama's first midterms in 2010, Republicans picked up 63 seats in the House but did not capture the Senate after blowing at least two pick-up opportunities, in Nevada and Delaware, by nominating extreme-right candidates. Two years later, in 2012, the GOP again failed to take over the Senate thanks to self-inflicted losses in Missouri, Indiana, Colorado and Virginia; Senate Republican Leader Mitch McConnell of Kentucky later blamed those losses on voters nominating "unelectable" candidates.
A similar phenomenon to 2010 and 2012 could doom McConnell's hopes of regaining control of the Senate this year, Taylor says. Republican nominees like TV talk-show host Dr. Mehmet Oz in Pennsylvania, who faces Fetterman (now the Lt. Governor), Walker in Georgia, who faces Warnock, and best-selling author J.D. Vance in Ohio, are seen as flawed first-time candidates up against experienced, powerhouse campaigners.
By contrast, Republicans failed to recruit some well-known GOP leaders who might have given them a better shot at holding or winning several states. Governors Doug Ducey of Arizona, Chris Sununu of New Hampshire and Larry Hogan of Maryland all opted against a Senate run in part because they knew to win required them to embrace Trump to some extent. All, however, are veteran campaigners who have won statewide office before and would have been more formidable opponents, says Nora Keefe, spokeswoman for the Democratic Senatorial Campaign Committee.
"Historically in Senate races, you want somebody who has some sort of electoral history, someone who can bring a unique coalition of voters that are needed to win statewide races in a midterm season," she says. Or, as Dornan puts it: "As with any job, having experience can be very helpful."
'We Totally Could Blow This'
Hartline, McConnell and other prominent Republicans outwardly project optimism, but angsty GOP operatives are sounding alarm bells. "I share the sentiments out there among the Republican political class that the Senate is not a slam dunk by any stretch of the imagination," says Dornan, who worked on Trump's 2015 exploratory campaign committee and this year is advising Republican candidates in Oregon, Maryland and California. "Some of these candidates could be disasters for us."
Roe agrees: "Things over the last few weeks have gotten a little more complicated with our candidates, Pennsylvania and Georgia in particular."
In late July, a Republican political action committee headed by John Bolton, a national security advisor during the Trump administration, issued a press release headlined "Trump Hurts Republican Chances in Key Senate Races." In it, he called the former president "a significant drag on the general-election prospects of Republican candidates." The ex-president's involvement in spurring the January 6 attack on the U.S. Capitol and constant lies about the 2020 election are "poisonous to independent and undecided voters," Bolton said in a fundraising email. Candidates who won Trump's endorsement by parroting his claims now risk "political suicide if they stress their closeness to Trump or allow their opponents to portray them as mini-Trumps."
Beyond the Trump factor, though, GOP candidates are beset with their own problems. In Georgia, it's Walker with a series of revelations about secret children and bizarre, incoherent remarks on topics like climate change and pollution. In Arizona, Kelly faces 36-year-old businessman Blake Masters, who asserts the January 6 attack was an FBI setup and has bemoaned the U.S. involvement in World War I and II. In Wisconsin, it's Johnson, who doesn't only promulgate the lie about the 2020 election but also has been stuck in recent weeks insisting he doesn't really want to kill Social Security and Medicare after telling a talk show host he wants to give the government the ability to cut spending on those enormously popular programs.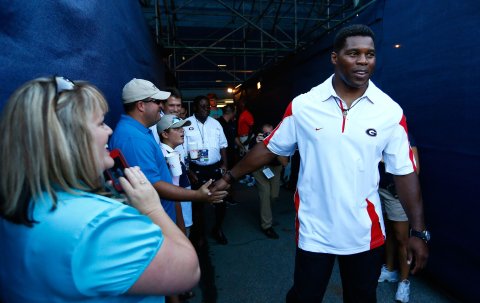 "We could totally blow this," a longtime aide to one of five retiring GOP senators grouses. "It's a clown car of candidates. It's not good."
Agrees Dornan: "There are a lot of retirees in Wisconsin. So Johnson either doesn't know his audience or he's so beholden to this insane ideology that has nothing to do with what his constituents believe. If I was his campaign staff, I'd be pulling my hair out right now."
Meanwhile, in Pennsylvania, Oz, who won his primary by just 951 votes after absorbing tens of millions of dollars in negative ads against him by opponents, is widely unpopular. Just 28 percent of likely voters in a Suffolk poll in June viewed him favorably, whereas 45 percent viewed Fetterman favorably; the Democrat held an 11-point lead in a Fox News poll in late July in the race to replace retiring Senator Pat Toomey, a Republican. Fetterman has been hammering Oz nonstop about the fact that he generally lives in New Jersey, and Oz has failed to effectively respond. "The Oz campaign is clearly not prepared to run against Fetterman," Dornan says.
Roe says he's seeing dramatic changes afoot in the Walker camp and expects something to shift soon in the Oz camp, too. "It's not just a misstep here and there, it's several missteps and they just keep happening," he says. "That's where the national committees have got to step in and try to assert some leadership. In the Herschel Walker case, they just revamped their team completely and brought in a lot of veterans, both within the state and from outside the state. I haven't seen any changes in Dr. Oz's campaign, but his biography is not playing well in Pennsylvania."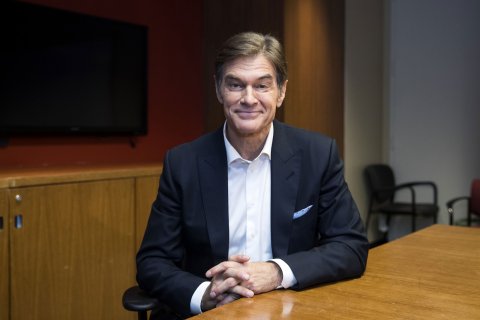 Out in Ohio, which has voted red in four of the past six presidential elections, Vance also took a beating in a brutal, crowded GOP primary. Then, after winning it in May, he largely stopped making public appearances for weeks. His Democratic opponent Ryan, a 10-term Congressman from Youngstown, took advantage, putting in as many as four appearances a day around the state and advertising relentlessly. In mid-July, when Vance reported he'd only raised about $2.3 million and had just $628,000 cash on hand during the second quarter, the political world was stunned. Ryan, in the same period, raised $9.1 million and had $3.6 million in cash on hand even after a massive TV and online advertising campaign. Worried, the NRSC this month reserved $525,000 in airtime for the first general-election television ads for Vance since he won the GOP nomination.
On the Democratic side, the effort has been to brand Ryan as a centrist who supported Trump's anti-China trade policy while painting Vance as a right-wing extremist who opposes abortion with no exceptions and sparked outrage by implying that spouses should remain in violent marriages for the sake of the children. "That's so far out of the mainstream," Ryan tells Newsweek. "That's why we're gonna win, even bringing in all of the different economic stuff and all of the Biden stuff."
The Democratic Money Machine
It's not just Ryan who has been raising boatloads of money this year. Second-quarter fundraising for Democratic Senate candidates has been eye-popping. According to Federal Election Commission filings, Warnock raised $17.2 million versus $6.2 million for Walker; Fetterman, $11 million versus $3.8 million for Oz; Kelly, $13.6 million versus $4.6 million for Masters; Cortez Masto, $7.5 million versus $2.8 million for GOP nominee Adam Laxalt; and Hassan $5 million versus a combined $2 million for the two leading Republicans vying in the September 13 primary for the nomination to oppose her. Even Representative Val Demings, running to unseat GOP Senator Marco Rubio in Florida in a race that few see as competitive, hauled in a stunning $12.5 million; Rubio pulled in about $4 million in the same period.
Democratic strategists say money flooded in both in early May when a draft decision leaked portending the U.S. Supreme Court was about to overturn Roe v. Wade and then again in late June when the actual ruling came down. Campaigns also report a surge in the numbers of people calling to volunteer, suggesting that the issue is breathing new energy into Democratic prospects that had flagged in the face of the troubling economic data.
"Abortion and the overturning of Roe has been a really galvanizing issue for Democrats," Keefe says. Calls by Republicans for Congress to pass a national abortion ban will help keep the issue alive, she says, as will news stories like the case of a raped 10-year-old Ohio girl who to had to travel to Indiana to end her pregnancy. What's more, an August 2 referendum to bolster abortion rights in Kansas —a state that went for Trump by almost 15 points in 2020—passed with 59 percent of the vote, a result that Keefe and others see as proof that the issue resonates even in conservative areas.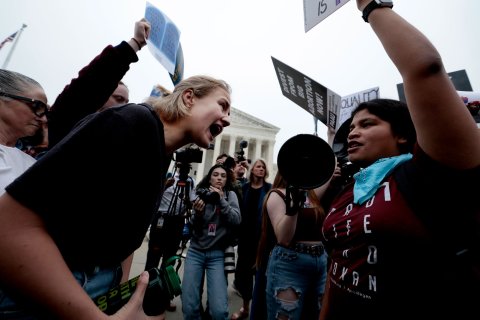 "Senate Republican candidates have told us in their own words exactly how they feel about the issue of abortion, they do not believe in exceptions for rape, incest or the life of a mother," Keefe says. "That'll be on full display for voters."
Republicans counter that abortion motivates donors and volunteers, but may not drive voter turnout as Democrats expect. A mid-July survey by The New York Times/Siena College found just 6 percent of registered voters cited abortion as their top issue while 36 percent named the economy.
"It will play a role in motivating the base, probably on both sides, and to some extent in terms of fundraising," the NRSC's Hartline says. "But it's pretty clear and pretty consistent even post-Roe that the economy, inflation and gas prices are the top issues and there's no reason to believe that that's going to change anytime between now and November 8."
Bennett, however, sees the issue only growing in salience as more stories like that of the 10-year-old rape victim surface between now and November. And while abortion may not be the top issue for voters, it's still important to many, including the key constituency of women ages 18 to 49—six in 10 of whom say they're "more motivated" to vote in November as a result of the Supreme Court decision, mostly for candidates who will protect access, according to a new Kaiser Family Foundation survey.
"Some really terrible things are going to happen with women and girls, and if these stories are told effectively in ads, it'll help with, if nothing else, with Democratic enthusiasm," Bennett says.
Also coming into play: the Republicans' lack of campaign funds to counterattack via TV ads. GOP strategist Nachama Soloveichik worries that Oz, for instance, has failed to define Fetterman, who "has a pretty liberal record" and supported progressive Senator Bernie Sanders of Vermont in his 2016 presidential bid. A bump in campaign contributions coming off the FBI search could help the Republican effort—the GOP has rushed out a slew of heatedly worded fundraising emails urging donors to help them answer "this act of cowardice and corruption," this "attack by an anti-American president who is afraid of a MAGA majority!"—but it's too soon to tell if this will make a meaningful difference.
"I saw the other day a story about Fetterman supporting sanctuary cities," Soloveichik says, referring to places where undocumented immigrants can live without fear of local police checking their immigration status. "That is not a mainstream issue. And what about crime being so high? It's a great issue for Republicans, terrible issue for Fetterman. But if you don't have money [to get the word out] in a state like Pennsylvania, nobody's going to know about it."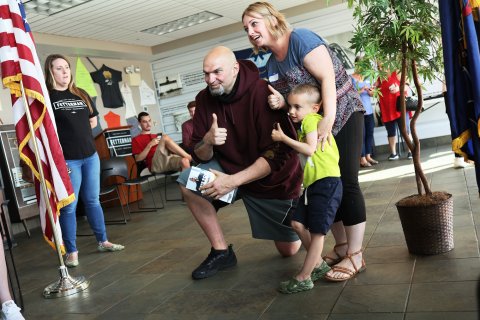 A Dicey Race in Nevada
Even with all the recent good news for Democrats, observers caution that Republicans have months ahead of them to define their opponents as "woke" liberals whose support of big-ticket federal government programs have contributed to high inflation. As Hartline put it, races that look competitive in August won't seem that way in October.
"The Democrat narrative is that their incumbents have a brand that's independent of Joe Biden's," he says. But eventually, "voters will start to think about the election in terms of a binary choice between a Republican and a Democrat, and that will decide some of these elections." Sustained advertising by the GOP in the fall, he says, will help tilt voters back to favoring Republican candidates—at least in enough races to allow the party to take back the Senate.
Hartline focuses on two Democratic incumbents, Warnock in Georgia and Cortez Masto in Nevada, states where disapproval of Biden is highest among those he won in 2020. In both places, recent polls show the senators ahead of their GOP challengers. But Georgia has long been a red bastion that took a surprising blue turn in 2020 and may be due for a course correction in a year when the popular Republican governor, Brian Kemp, is at the top of the ballot.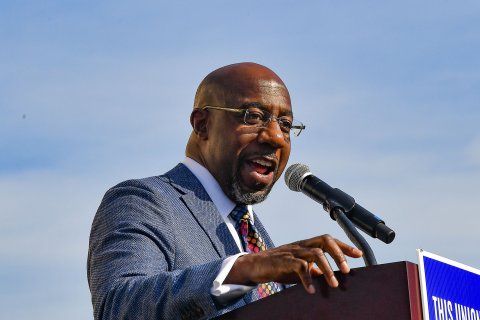 Warnock's fate is a matter of great debate among insiders—a couple of recent polls have had him up by 9 to 10 points over Walker, others slightly behind, for an average edge of 4.4 points, according to RealClearPolitics. Operatives on both sides of the aisle agree, though, that Cortez Masto in Nevada is the most vulnerable incumbent to Republican defeat.
The first-term senator was up by just 3 points over her GOP opponent Laxalt, a former one-term state Attorney General, in the most recent polling, taken by Emerson College in early July. The Silver State has voted Democratic in four straight presidential elections and currently has two Democratic senators. But Madrid says the large Latino population—nearly 30 percent of the population, the Census Bureau says—is disenchanted with the party because of concerns about the economy. Those voters, who tend to be more Catholic and thus more likely opposed to legal abortion, won't be as motivated by the demise of Roe to vote blue.
"Nevada is a particularly good pick-up opportunity for Republicans," Madrid says. "The Democrats have got a very big Hispanic problem and they do not have their arms around it at all."
Bennett, the Democratic strategist, agrees that Cortez Masto could be in trouble, noting that the state has fewer of the college-educated independent voters who are helping make Arizona and Georgia competitive for Democrats. "That is gonna be really, really tough," he says. "The state has a very transient population. There's a lot of new voters who don't know her. And the question always is, can she overcome the red shift in the state? It's just hard to say which candidate we'll come up with on top."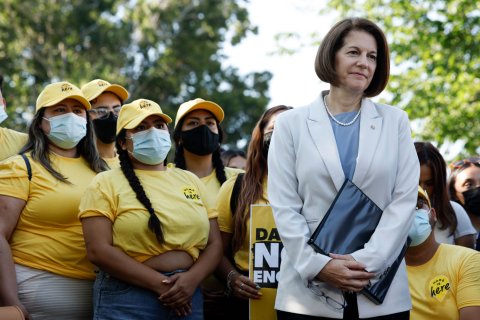 Cortez Masto's saving grace, as with so many of these 2022 races, could be the weakness of her opponent, Nevada Independent columnist John L. Smith says. A dozen members of Laxalt's own family opposed his failed reelection bid for state attorney general in 2018, and he's among the most prominent Nevada figures parroting the falsehood that Biden stole the 2020 election. Laxalt has "absolutely wedded himself to Donald Trump in a state with a lot of independent voters and a lot of nonpartisans," Smith says. "I'm not so sure that's the smartest strategy."
If Democrats lose Nevada, they'd need to pick up at least one other seat in a different state to hold the Senate, with Pennsylvania looking most likely. If they lose both Nevada and Georgia, that would imply the national mood had shifted toward Republicans during the fall campaign, so the prospect of Democrats flipping seats in Ohio, Wisconsin or North Carolina then becomes significantly less likely.
Says GOP strategist Soloveichik: "I would still rather be a Republican in this national environment than a Democrat."
Both Sides Still Optimistic
Republicans may grouse about the prospect of losing what should have been winnable races this fall, but they take comfort in the knowledge that midterm elections are usually rough for the party in the White House even in years when the economy isn't this problematic. "If Biden's numbers continue in the 30s, we could see a full-scale wipeout that carries in even weak Republican candidates," Dornan says. "I don't think a lot of people are quite paying attention yet. I think that if the national mood is the same after Labor Day, the Democrats are in real trouble."
Hartline goes further, suggesting that the coming red wave could even jeopardize Senators Patty Murray in Washington and Michael Bennet of Colorado, both of whom Taylor, the Cook Political analyst, lists as safe for reelection.
Not surprisingly, Keefe from the Democratic Senatorial Campaign Committee finds that prospect laughable. What's more, she says, Democrats "are not defending any seats in any states that Donald Trump won in 2020," which puts the party on more solid footing. "We have a map where we think we can hold on to the Senate and even expand our Senate majority."
Perhaps. But some GOP strategists see a striking similarity to the many stories in 2020 about endangered Republicans who then ended up winning big.
"This reminds me of how everyone thought that Senator Lindsey Graham was in trouble in South Carolina and he won by 10 points," says Soloveichik, who is running campaigns for the GOP gubernatorial nominee in Illinois among several others this year. "If I were a betting person, I would put my money on J.D. Vance or any Republican in Ohio. The political realities of some states is you can be a great candidate but a Democrat is just not gonna win short of something really crazy."
Bennett's retort is short and to the point: "Stranger things have happened."