3 Out of the Top 6 Biggest Cities in America Now Have Vaccine Mandates
Three of the six largest cities in the United States by population will require people to be vaccinated against COVID-19 in order to participate in some aspects of public life.
On Monday, Philadelphia became the latest city to announce plans for a vaccine requirement. Beginning January 3, people there will need to be vaccinated to dine at restaurants or bars. For the first two weeks of the mandate, restaurants will be allowed to accept negative tests. But starting January 17, testing will no longer be allowed.
Mayor Jim Kenney pointed to rising cases and hospitalizations in Philadelphia for the mandate, local news station KYW-TV reported.
"We just don't want to go back to where we were a year ago and it's really not that much of a burden to ask people to be vaccinated, which I don't understand why anyone wouldn't get vaccinated," he said.
With its announcement, Philadelphia now joins two other large U.S. cities that previously announced vaccine mandates.
In New York City, officials required vaccinations for people to attend indoor dining, gyms and theaters since August. Last week, Mayor Bill de Blasio announced the mandate would be expanded to children ages 5 to 11, citing the new Omicron variant.
"We've got Omicron as a new factor," de Blasio said on MSNBC. "We've got the colder weather, which is going to really create new challenges with the Delta variant. We've got holiday gatherings. We in New York City have decided to use a preemptive strike to really do something bold to stop the further growth of COVID and the dangers it poses to all of us."
Meanwhile, Los Angeles also enacted a vaccine mandate in November.
While some public health officials praise the requirements as a way to convince more people to take the jab and limit the virus' spread, others have argued the mandates are an overreach and can even put workers at risk of conflict with customers.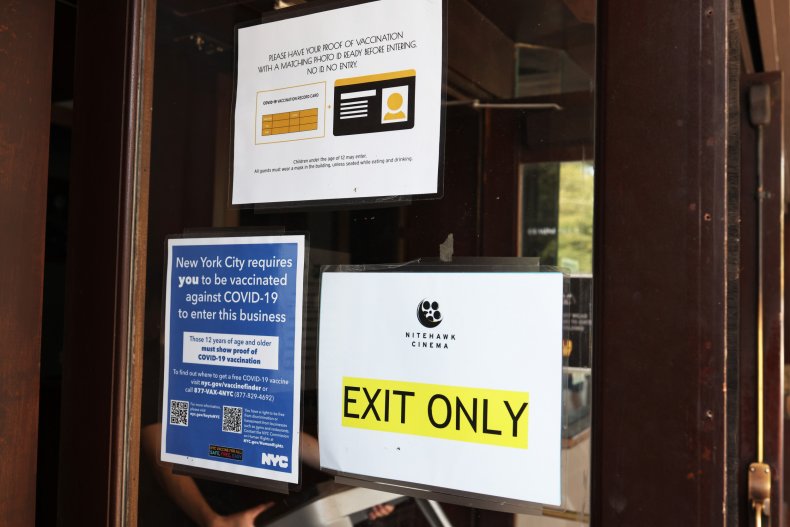 Other major metropolitans have so far resisted instituting vaccine mandates. Chicago, Houston and Phoenix—the third-, fourth- and fifth-largest cities in the U.S, respectively.—do not have any vaccine requirements for the general public.
In a statement to Newsweek, a spokesperson for the Houston Health Department wrote with regards to imposing such mandates: "Entities in Texas are prohibited from such action under Executive Order No. GA-40."
Philadelphia's announcement of a new vaccine mandate comes as Omicron raises an uncertain future for the pandemic. Though scientists are still learning about the latest variant, public health officials point to the vaccine and booster shots as ensuring protection.
COVID cases in the U.S. have also increased during the past few months. On Sunday, the U.S. was reporting an average of 116,742 new cases per day—up from an average of 78,701 per day one month earlier, according to data from the Centers for Disease Control and Prevention (CDC).
Newsweek reached out to health departments in Chicago and Phoenix for comment Tuesday but did not hear back by publication. This story will be updated with any response.